Humans have been cooking over open fires at least since the Paleolithic era, and 200,000 years later, homo sapiens still loves food cooked over charcoal. The folks who've recently opened The Charcoal Restaurant get this.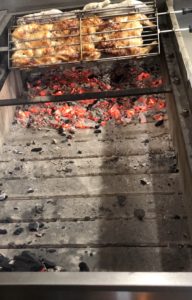 Using an impressive grill table loaded with glowing charcoal to roast chickens on hand-turned spits, they turn out delicious charcoal-grilled chicken in the style of Jerusalem street food.
The chickens are halal – processed and prepared according to Islamic law as set out in the Qu'ran – and they burn quality natural wood charcoal, not briquettes.
This shopping center space on North Hurstbourne Parkway near Westport Road is just large enough to accommodate four tables and a short row of window-facing stools. Decor is simple, with dark-gray walls bearing a color photograph of Jerusalem and random food words like "shawerma" painted in English and Arabic.
Place your order from large, colorful backlighted menu boards hanging over the open kitchen, which houses the massive charcoal grill that oddly resembles a fiery foosball game loaded with whole flattened chickens.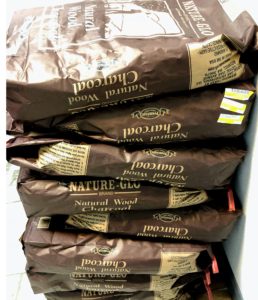 The short, simple menu offers four choices for dinner, each with two sides included: a chicken quarter ($7.99), a half chicken ($9.99), and a whole bird ($18.99). A falafel plate is $8.99. Sandwiches built on lavash-style flatbread come with waffle fries on the side. A falafel sandwich is $5.99; chopped and spiced chicken shawerma is $7.99, and a whole chicken with flatbread (no sides) is $14.99. Service is on disposable plates with plastic flatware.
The half-dozen sides are also available a la carte, ranging in price from 99 cents (for a tub of garlic sauce) to $2.99 (for hummus or baba ganoush). Salads are $2.99 (for tabouli, a tahini salad, or seasonal arugula salad), or $3.99 (for a garden salad).
No alcohol is served; soft drinks, bottled water, and juice are $1.99. Turkish coffee, the menu said, is free, but to my regret was out of supply during our visit.
Chicken, obviously, is the attraction, or as the restaurant describes it on the menu and social media, "an authentic Mediterranean charcoal chicken, served with a staple garlic sauce … staying true to its roots in Jerusalem."
A whole chicken seemed excessive, and a quarter not enough, so like Baby Bear's porridge, the $9.99 half-chicken plate (pictured at the top of the page) was just right. After we had ordered, one of the workers brought around free samples of chopped chicken shawerma, which tasted so spectacularly succulent, spicy, and flavorful that we were tempted to go back and change our order. Next time for sure.
This is not to say that there was anything wrong with the halved chicken. The chickens are spatchcocked – backbone cut out and the bird flattened – facilitating a good, crisp charcoal browning all over. This breast, wing, thigh and leg half was done perfectly, with the skin crisp and charred in spots, the meat within juicy and moist and, like just about everything here, infused with garlic.
The garlic sauce was a kissing cousin to Lebanese toum, reflecting the close kinship of the cuisines of Southwest Asia. Garlic, olive oil, and lemon juice are processed into a white, emulsified paste that looks like mayo but tastes like all the garlic in the world. The hot, raw garlic taste was too powerful for me to enjoy on its own, but in tiny dabs it further elevated the already celestial chicken.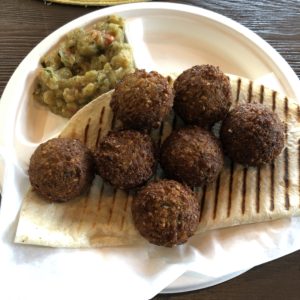 Falafels ($8.99 for a plate) were among the best I've tried. Seven pingpong-ball-size spheres of mashed chickpeas, chopped parsley, spices and flour were deep-fried very dark golden brown, crunchy and crisp on the outside, dense within, with a deep, earthy chickpea flavor that gets even better with a dab of tahini served on request on the side. A side order of flatbread that was billed as tandoori bread but looked a lot like lavash had been browned on a panini grill. It made a good wrapper for the falafel balls.
A tabouli salad was on the green side, heavy on parsley and lemon juice, light on bulghur wheat and olive oil, dotted with bits of tomato and onion. It was a good rendition, although the high lemon-to-oil ratio made it a bit tart.
Hummus was very creamy, rich and delicious, generously drizzled with olive oil and a lot of lemon. Baba  ganoush was made in the Turkish style, not the usual creamy and rich puree like eggplant hummus but chunky and fresh, a mix of chopped eggplant, onion, parsley and tomato in, you guessed it, a lemony-garlicky vinaigrette in place of tahini.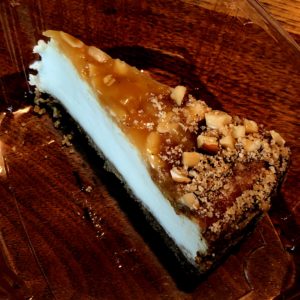 There's just one dessert, and it's a winner: Baklava cheesecake ($3.99) was a firm and tart slice of cheesecake with the traditional crumb crust but baklava ingredients – chopped walnuts and honey – on top.  
A memorable, affordable lunch for two came to $20.12, plus a $6.04 tip calculated by the point-of-sale tablet. A boxed slice of baklava cheesecake to go added another $3.99 plus tax and tip.
The Charcoal Restaurant
2805 N. Hurstbourne Parkway
749-8888
Thecharcoalrestaurant.com
facebook.com/TheCharcoalRestaurant
Robin Garr's rating: 85 points.
Noise level: Even with a party at every table in this small restaurant for a Saturday lunch, the noise level remained sedate. (Average sound was 74dB, the level of normal conversation.)
Accessibility: There are no apparent barriers to wheelchair users in this strip mall space.