Holy pancakes and waffles, Batman! This place has got a bat-ton of food, piled as high as Gotham's towers! With great power comes great responsibility, and SuperChefs' latest and most impressive location meets that standard and then some. 
Indeed, SuperChefs' superhero-themed bill of fare may challenge Ramsi's for largest and most diverse menu on Bardstown Road. I count nearly 40 breakfast choices, which are joined by 16 lunch options at midday; during dinner hours (Thursday through Saturday only), you'll find 25 more selections on a dinner menu that switches over to a super-villain theme.
It's affordable, too, with most breakfast and lunch dishes priced under $10, topping out at $12.99 (for wings and waffles, a pancake platter, and something called a scorpion super scriddle that incorporates bacon, sausage and eggs into a cake). Most dinner entrees range from $12.99 (for the Ali Bombaye burger) to $21.99 (for the Bane, a seared chicken breast with mango jus); beef Wellington is a justifiably pricey outlier at $31.99.
You probably remember SuperChefs' founder and chef, Darnell Ferguson, who first turned up in Louisville around 2012 as the proprietor of pop-up breakfast spots borrowing morning space from establishments that wouldn't open for their own business until later in the day.
In July 2015 he opened his first full-service dining room, on Fairfax Avenue in St. Matthews, giving full rein to his superhero hobby and his Christian faith in decor featuring bold, colorful superhero art and bible verses. Unhappily, after only six months in operation, it was severely damaged in an January fire.
Rather than rebuilding on the ashes, Ferguson renovated – in inimitable superhero style – the Highlands storefront that had briefly housed Strati Wild Italian. SuperChefs opened last July, set with attractive black tables and sturdy wood-and-metal chairs, poster-size images of Superman and Wonder Woman, stylized Gotham scenes, and a Last Supper scene with superheroes in the seats. At night, startling neon green and purple lights add an eerie tone to signal a daily shift from superhero to a super-villain theme.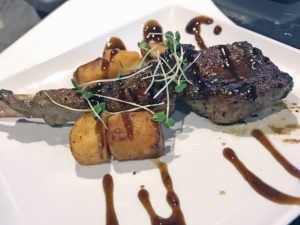 The dinner menu is divided, mysteriously, into Henchmen (apps), Kryptonite (salads), Partners in Crime (sides), Villains (full-size entrees), and Goons (fried pasta dishes). Many of them take the name of super-villains, sometimes with a clear connection to the dish. (The $12.99 Hulk sandwich, for example, is built on a green waffle.)
SuperChefs features a full bar, so we summoned happy-hour glasses of an offbeat sangria ($7.50) built on an oddball blend of vodka and rosé wine.
Amid all the lights, color and heroes and villains, it would be easy to get lost in the shtick and lose sight of the reality that Ferguson is an excellent chef. Don't do that. A graduate of Sullivan University's culinary program, he consistently turns out creative, well made and thoughtful dishes.
Caesar salad ($4.99 small, $8.99 large) and fried green tomato salad ($6.99 small, $9.99 large), were both very good, served on rectangular white plates. The Caesar was made with kale, quickly followed by an apology for the shortage-forced substitution for romaine. This was fine with Mary, a kale lover; I'd rather have been asked in advance. Still, the freshly grated Parmesan and creamy-tangy dressing were fine.
The fried green tomato salad was good, too, although the small version came with only a puny ration of two smallish, crisply breaded tomato wedges. Fresh, clean baby spinach leaves, dabs of mild goat cheese, grape tomatoes, candied pecans and dried cranberries added flavor and texture interest, and the sweet-sour vinaigrette was good.
A single "Pop's Pop" lamb pop was a single trimmed lamb chop, tender, juicy and flavorful, a bargain for just $4.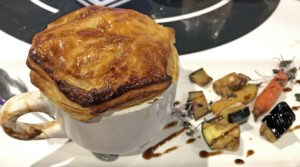 Green Goblin gave his name to an impressive veggie pot pie ($16), perhaps in homage to its green veggies (yellow squash, zucchini, red peppers, and more), borne in a rich, creamy sauce, served in a coffee mug with a round of flaky, toasted puff pastry on top.
The Riddler (pictured above) played a look-alike game with his namesake meatloaf cupcakes ($18.99), a clever fool-the-eye dinner that resembles a quartet of cupcakes, actually fashioned from dense, juicy meatloaf "iced" with creamy homemade mashed potatoes and drizzled with a bright-red sweet-hot sauce.
State-fair ribbon-winning quality homemade caramel cake ($7.99) was memorable for its moist, dense yet tender, deeply caramel flavor, its Incredible Hulk portion size, and its attractive plating with whipped cream and pools of caramel.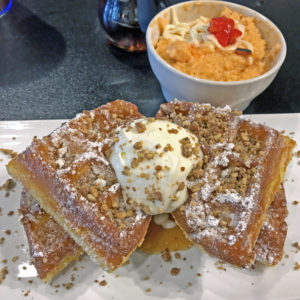 On a return visit for lunch, I filled up, and then some, with a breakfast-for-lunch plate of bourbon waffles ($10.99) drizzled with caramel sauce, with a side of high-quality red-pepper grits laced with enough hot sauce to give them an endorphin-boosting kick. A pair of cod tacos ($4 each) were okay, but lacked the flavor punch I'd expect in a taqueria.
Dinner for two, with the cocktails, came up to $78.40, plus a $18 tip for a friendly, fun server who worked extra hard without a lot of bussing or table-runner help. Lunch for two, with iced tea, was $23.63 and a $5 tip.
SuperChefs
1702 Bardstown Road
409-8103
eatsuperchefs.com
facebook.com/SuperChefsBreakfast
Instagram.com/Superchef_23
Robin Garr's rating: 86 points