Fresh from delicious brunch experiences at LouVino and Con Huevos, I must ask a simple question: Who doesn't love brunch? I certainly do!
Some folks love brunch buffets, and there's a lot to like about a sumptuous feeding trough of pans loaded with breakfast and lunch goodies. But I like a set menu of brunch dishes even better. Sure, I'm down for unleashing my inner glutton at a massive buffet, but my inner foodie recognizes the value of chef-created individual dishes.
Both Con Huevos and LouVino offer thoughtful, inviting selections of brunch dishes that consistently show the delicate, complex but balanced nuances of flavor that reveal serious creative spirit and dogged attention to detail in the kitchen. Then they present these dishes with artful plating that underscores this commitment. In short, they care about quality, and it shows.
Brunch is served at LouVino from 10 a.m.-3 p.m. Sundays, and the menu features a dozen choices, most of them clustered in price from $10 (for many items) to $12 (for a farmer's market scramble with weekly variations on locavore meats, veggies and cheese). Outliers are an $8 order of stuffed french toast and an $18 steak-and-eggs.
LouVino's estimable bar is open for brunch; its coffee ($2.75) is fresh, delicious, and so robustly strong that it gives you a good excuse to use up the rich heavy cream and raw sugar provided.
Chicken biscuit sliders ($11), pictured at the top of the page, made hearty sandwiches out of two split biscuits overflowing with just-melted slices of pepper jack cheese, fine, crisp and flavorful bacon, and long, thin strips of delicious, juicy breast meat that had been crisply fried, then drizzled with a creamy, not-too-fiery pale-orange poblano aioli.
The biscuit tops resided alongside the loaded halves so you could opt to fashion slider sandwiches or eat the fluffy biscuits separately. A little butter would have been nice for that, but none was provided, so we summoned some, and after a short wait, our server delivered a small metal cup containing four or five tiny cubes of butter too cold and hard to spread on the flaky biscuits. A minor complaint to be sure, and the unexpected 50-cent upcharge likely represents the time and effort that the chefs spent turning it into a perfect brunoise. It would have been nice to know about the charge in advance, though.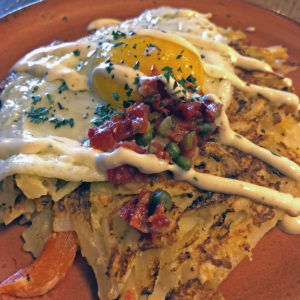 Crispy potato hash browns ($10.50) were just as good as the sliders, and particularly impressive in their thoughtful combination of flavors that sang in perfect harmony. A layer of crunchy, creamy potatoes, almost like a stack of potato pancakes, formed an appetizing base for strips of smoked salmon and tomato, topped with a large, perfect, sunny-side-up egg, a tart and tangy roasted tomato-caper relish. and a creamy drizzle with a subtle dill flavor.
A really delicious brunch was $29.15, plus an $8 tip. Our server, Maureen, took good care of us even while keeping a Sunday afternoon crowd happy.
Brunch at LouVino
1606 Bardstown Road
365-1921
louvino.com
facebook.com/louvinowinebar
instagram.com/louvinolou
Robin Garr's rating: 90 points
Other locations at 11400 Main St., Middletown, 742-1456, and in Fishers, Ind., suburban Indianapolis; a Cincinnati location is planned this year.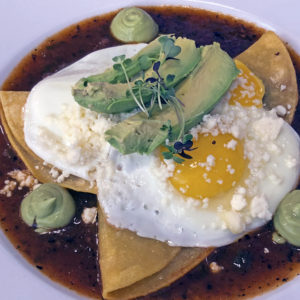 Con Huevos may be one of my favorite restaurants in Louisville. Why would anyone love a storefront so tiny that it houses only four tables and a five-seat bar? Please repeat that hymn of praise that I sang above, the one about consistency, detail, artful presentation, and commitment. Got it? Go, soon.
And here's great news for East Enders: Another Con Huevos is coming soon! The second Con Huevos, at 4938 US 42 in the Holiday Manor area, may open during March if all goes well, co-owner Izmene Peredo said. It will seat 100 and add a liquor license. "We will finally be able to sell some cocktails like Guadalajara mornings, a mimosa with tequila," Peredo said.
Brunch and lunch are served seven days a week, not just Sundays, from a menu that incorporates both breakfast and lunch dishes. Seven huevos (eggs) dishes are all $10.99 to $11.99, as are three-taco plates and most burritos. Sandwiches range from $10.99 to $13.49.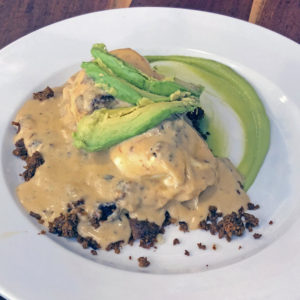 Chipotle poached huevos ($11.99) are biscuits and gravy, Mexican-style and delicious. A large, split crumbly, buttermilk biscuit and crisp, crunchy chorizo crumbles made a base for a ladle full of delicious, gently spicy chipotle-scented gravy. It was topped with two precisely circular, perfectly poached free-range eggs garnished with avocado slices. All these flavors went wonderfully together. A side of fresh fruit was nicely handled, melon cubes and leaf lettuce bathed in lemon juice, plated on a bright raspberry sauce that added an extraordinary burst of flavor.
Huevos rancheros ($10.99), Con Huevos' signature dish, pictured above, makes a great eye-opener. A firm, flavorful corn tortilla is folded over lightly spicy refried black beans, topped with two just-right sunny-side-up eggs, surrounded with intensely flavored salsa ranchera redolent of dried red chiles. It's all plated with dollops of avocado mousse and crumbled queso fresco, and garnished with avocado slices and tiny crisp sprouts.
Two cups of brewed Mexican coffee ($2.75) were strong, clean and dark enough to invite an extra Half-and-Half.
Con Huevos is not a budget breakfast eatery. Two dishes and coffee totaled $30.19, plus a $7.55 tip. It's well worth it. I'd eat there just about every day if I could.
Con Huevos
2339 Frankfort Ave.
384-3027
conhuevos.com
facebook.com/ConHuevosRestaurant
instagram.com/conhuevosbreakfastandlunch
Robin Garr's rating: 91 points