Three years ago two interesting new locally owned fast-casual eateries came to town, and I loved them both: Con Huevos set a new standard with its delicious, chef-driven Mexican breakfast and lunch. Joella's first introduced us to Nashville-style hot chicken, a feisty genre that might remind you of Indi's hot fried chicken but that's really not the same.
Both eateries have recently opened branches in the metro's eastern suburbs. Naturally I had to check them out.
Con Huevos
Shortly after the news broke in February that Con Huevos' Chef Leonardo "Paco" Garcia was a semifinalist for the James Beard Foundation's Best Chef – Southeast, Con Huevos management doubled down with the news that they'd soon be opening a suburban branch in Holiday Manor.
It took only about two months for them to spruce up and open the good-size storefront next door to Starbucks. Considering Con Huevos' excellent Mexican coffee, that Starbucks now faces keen competition.
The Con Huevos menu is the same as the Clifton branch, and the general layout of the restaurant is similar, too: a long, narrow room with stylish wood-look tables lined up along one side and bar seating along the other. Place your order up front, take a number, and wait for your food to arrive. The room is elegant and stylish in cool colors of silver and gray, in contrast with the more exuberant Latin look of the tiny Clifton space. (Stay tuned for developments there, though, as the urban branch will soon grow into the retail space next door.)
Twelve breakfast and brunch dishes are tightly clustered in price, from $10.49 (for omelette de papá or Mexican sopes) to $11.99 (for four choices). Lunch items are $7.99 (for a quesadilla) to $13.49 (for a sirloin carne asada sandwich). Four variations on the taco are all $11.49 for three.
With help from my sister, Amy, we got through three dishes in a late-morning brunch, it it would be hard to name a champion among three strong contenders.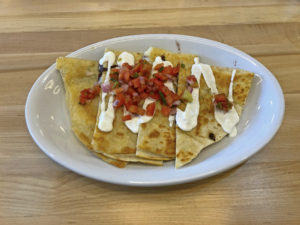 A quesadilla ($7.49) featured a creamy, savory mix of refried black beans – a flavorful spin on the usual pintos – and earthy Oaxaca cheese folded into a tender white-flour tortilla and topped with tangy crema and a mound of fresh-made pico de gallo. A typical Mexican dish, yes, but the Con Huevos touch puts it all together in perfect proportions so every element has an equal voice in the chorus.
I always like the idea of chilaquiles ($10.99), pictured above, but then get bogged down halfway through, because you are essentially eating a giant bowl of fried tortilla chips soaked in spicy salsa. There's nothing wrong with that at Con Huevos, though, where it's nicely done with still-crisp, savory corn chips saturated with green tomatillo salsa, dolloped with mild queso fresco, topped with a perfect pair of eggs fried sunny-side up, and decorated with pretty pink pickled onions and a few pea shoots.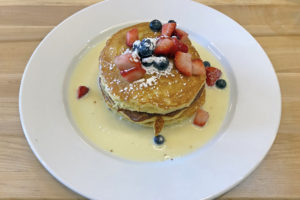 Pancakes make any breakfast better, and that goes double when it's a dessert-like order of sweet, fluffy and feather-light cornmeal-scented Tres Leches pancakes ($7.49).
With two cups of strong Chiapas coffee, lunch for three was $34.95, plus a $7 tip.
Con Huevos Holiday Manor
4938 U.S. 42
384-3744
conhuevos.com
facebook.com/ConHuevosRestaurant
Robin Garr's rating: 91 points
Noise level: When there's a crowd it does get noisy, but we were still able to talk with our table companions. (Average sound level 74-84 dB.)
Accessibility: There are no apparent barriers to wheelchair users.
Joella's
Like the original Joella's shop near Cannons Lane, the suburban branch, too, replaces a BoomBozz Pizza, staying under the corporate umbrella of Tony Palombino, who created both concepts. (Schulte Restaurant Group bought Joella's in November.)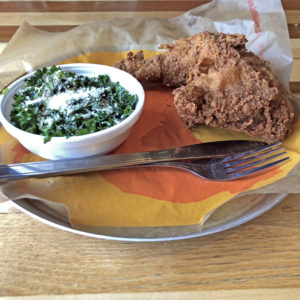 It opened almost a year ago in the Middletown Commons shopping center, and like the original, musters a rough-edged, rustic look with raw wood and simple furnishings to give it a rural vibe. I like their take on the Nashville treat, and if I'm not quite ready for "Fire-in-Da-Hole" inferno-level spice, I'm delighted with the endorphin rush of the next level Hot-spicy fire.
The menu is brief and mostly chicken, of course. Quarter-chicken plates with two sides are $9.50 and a half bird for $12. Sandwiches are $9, dinner salads $7.75. Nashville hot chicken, as fans know well, is a spicy bird prepared in a multistep process of brine, dry rub and marinade followed by spicy breading and frying, served on a piece of white sandwich bread to sop up the fiery juices.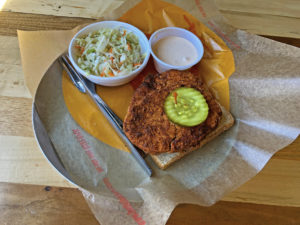 We tried both a no-heat Southern style leg quarter and hot-spicy vegan tenders. Both deliciously hit their heat and flavor targets, with glassy-crisp crust that shatters when you bite. The Southern chick was lovably juicy and tender, with appropriate black-pepper flavor in the crust. The vegan "chickin'," a soy-based faux-bird analogue, was surprisingly persuasive, with tender chunks of white protein ably mimicking the real thing within a glass-crisp coating that was hot enough to bring out a sweat.
Appetizing sides of fine-chopped kale salad, sweet-tart vinegary slaw and creamy mashed potatoes all satisfied. With a fresh unsweet iced tea and ice water, lunch for two was $22.77, plus a $6 tip.
Joella's Hot Chicken – Middletown
13401 Shelbyville Rd #101
254-1111
joellas.com
facebook.com/joellashotchicken
Robin Garr's rating: 89 points
Noise level: A good lunchtime crowd maintained a buzz but not a roar, posing no challenge to conversation. (Average sound level 68-78 dB.)
Accessibility: This shopping center location appears fully accessible to wheelchair users.