Whatever might prompt two members of an indie rock band with a 17-year record and three songs on the Billboard 200 to leap from the world of music to the hard work of opening Lupo, an Italian restaurant that features pizza and pasta?
That's just what vocalist and guitar player Adam Turla and cellist-keyboardist Sarah Balliet of the band Murder by Death have done, though. In August they joined Sarah's brother Max Balliet, owner of the popular Holy Molé taco truck, to open Lupo, a fine, casual eatery in a nicely restored 19th century red-brick house on the far inner end of Frankfort Avenue where Clifton meets Butchertown.
Lupo aims to fill a vacant middle ground in the city's Italian-restaurant spectrum, slipping casually under the high-end, fancy service Italian dining rooms but a notch above our plethora of pizzerias and Italian-American family spots. Then they doubled down by bringing a distinct Neapolitan style to the pizzas, harking back to pizza's origin in Naples, a thin-crusted, wood-oven form that's significantly evolved in the many variations of American pie.
Decor is simple and attractive, exposed red-brick walls hung with old movie posters, including an ominous image of Ingmar Bergman's 1968 "l'Ora di Lupo" ("the time of the wolf"), the Swedish master's only horror film. Hardwood floors, undraped tables and wood-and-metal chairs could make for a noisy scene, but acoustical pads overhead hold the noise level down to a dull, happy roar. Three comfy, high-back banquettes line the front-room windows; the back room holds an oversize community picnic table that can accommodate a dozen diners, and a small, cozy bar that seats about six.
Lupo's menu isn't overly long, but it's diverse. Nine appetizers range in price from $3 (for pork-fried almonds, pickled-veggie giardiniera or marinated olives) to $14 (for porchetta, rolled pork belly Italian-style). Its version of arancini, stuffed Italian rice ball ($12) is formed from fried-lobster risotto. Three salad choices are all $8.
Pizzas come in a single size, about 10-inch, more than enough for the two of us to share along with other goodies. Eight options begin with a classic Margherita ($12) and quickly venture out into more imaginative territory, such as the popular "Sting Like a Bee" ($15) topped with sopressata sausage drizzled with spicy local honey, and the "Roasted and Toasted" ($14) loaded with roast eggplant, semi-dried tomatoes, capers, cheeses, basil and walnuts. Pizza prices top out at $16 (for the "Happy Clam" topped with littlenecks, fennel and garlic or the "Bitter Pig" with country ham and arugula). All pizzas are finished with olive oil and Parmigiano, and additional toppings are available from $1 to $4.
Four fresh house-made pasta dishes range in price from $15 (for sweet-potato pansotti with sage brown butter and pumpkin seeds) to $17 (for ricotta gnocchi with lamb sugo).
The thoughtful bar menu offers mostly craft beers, many local; a short but well-chosen, mostly Italian wine list, and a half-dozen creative cocktails.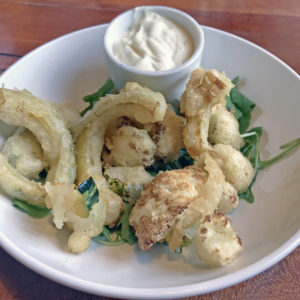 Our dinner got off to a rousing start with a shared platter of fritto misto ("mixed fry," $12), Italy's answer to tempura. Light, airy and crisp batter, hot, not oily, cloaked a generous ration of cauliflower florets, half-circles of tender delicata squash and a half dozen chunks of tender, flaky reconstituted salt cod, all plated on sprigs of fresh arugula. Aioli with preserved lemon made a startlingly good dip.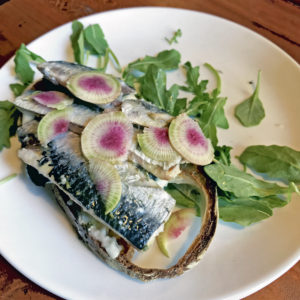 Another app, sardine tartine ($12), highly recommended by friends, wasn't our favorite thing. Silvery fillets of fresh sardines were firm and flaky but had apparently been quick-pickled, a technique that left them awfully sour, topped with a ration of hot sliced radish and plated on aioli with bits of Moroccan oil-cured olive. It offered almost too many competing tastes, and was plated on a slice of Blue Dog pugliese, a bread that I love but that's chewy and very crusty, hard to eat in open-face sandwich form.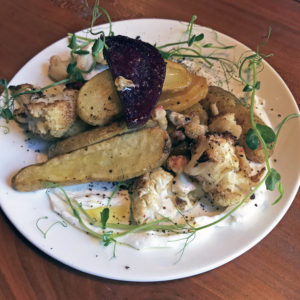 A roasted veggies salad ($8) was creative and delicious. It brought together roasted red beets, fingerling potatoes and cauliflower, surrounded by crisp pea shoots on a base of tangy, creamy Lebanese labneh cheese.
A margherita pizza ($12), pictured above, looked great, showing off the colors of the Italian flag with red tomato sauce, pools of white mozzarella and green basil leaves. It was good with potential for greatness, a very thin crust with crusty bread edges in the Neapolitan style, but it suffered from placement in the wood oven, perhaps, one edge charring toward black while the other side could have used a couple more minutes of heat. Even so, I'll rank it toward the top of Louisville's pizza derby.
A toasted oat panna cotta ($8) for dessert was offbeat but delicious, cold and creamy, with the disparate flavors of caramel-poached pears, toasted oats and almonds and tiny dried cherries working together in flavor harmony.
With exceptionally good coffee ($2.50), a filling dinner for two, with a couple of pizza slices left over for lunch the next day, totaled $57.77, plus a $12 tip for our courteous and on-the-spot server, Kortney.
Lupo
1540 Frankfort Ave.
409-8440
pizzalupo.wordpress.com
facebook.com/LupoLouisville
Robin Garr's rating: 90 points