Ahh, it finally feels like autumn, and I'm thinking of comfort food.
This nostalgic meme rarely attaches itself to the light, low-calorie and cooling dishes of summer. "Comfort" means stews and hearty soups, spaghetti and meatballs or maybe a thick pan of lasagna – the kinds of warming, stick-to-your-ribs dishes that Mom used to make, or at least you wish she had. Nor need comfort food be complicated or hard to cook.

Consider, if you will, the simple grilled cheese sandwich. Recently, in discovering one delightful new spot and one appetizing new weekend brunch at a familiar spot, I've encountered new takes on a grilled cheese capable of winning the people's ovation and fame forever.
The new is Atlantic No. 5, a spiffy breakfast-and-lunch eatery and coffee bar recently opened by the partners in NuLu's excellent Rye restaurant, located in a lovable old Corinthian-pillared storefront on Main across from the 21c hotel. The old – well, not that old – is Clifton's popular Bourbons Bistro, which this month began offering a tempting menu of brunch dishes from 10 a.m.-2 p.m. Saturdays and Sundays, times when the eatery was previously dark.
Atlantic No. 5, named, its proprietors say, for an old-fashioned worker's lunch box, offers breakfast items, sandwiches and salads, a short list of five each to fit the "No. 5" concept, plus a couple of soups, all priced to sell at $8 or less, and all inspired by the not-inconsiderable culinary creativity of Rye Chef Tyler Morris.
My friend Laura and I sampled a curry chicken salad sandwich ($6), a golden beet-couscous salad ($3 for my side portion, $9 for a meal-size bowl) and deep, rich rustic tomato soup with black-pepper goat cheese ($5), but it was Atlantic's grilled cheese sandwich ($8) that took the prize.
Two thick slices of coarse-grained, chewy country French bread were loaded with a mix of sharp white cheddar, funky Italian Fontina and mild goat cheese, then grilled crisp and unexpectedly finished with a layer of caramelized cheese covering one side, a shattery, earthy added layer of texture and flavor to put it over the top.
At Bourbons Bistro, in addition to Executive Chef Jeff Bridges' fall dinner menu with several new small plates and main dishes, a dozen-item brunch menu (with items from $7 to $15) is now available.
Mary gave two thumbs up to classic French-style steak frites ($15) with a small but juicy and cooked-to-order slice of medium-rare rib eye topped with a dollop of garlicky-spicy pimenton aioli and a generous mound of thin-cut, crisp french fries over a bed of fresh arugula.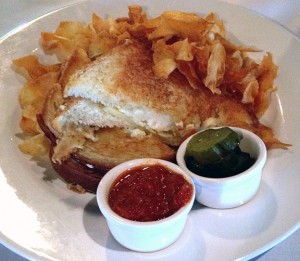 Again, though, the grilled cheese rung the bell. At Bourbons Bistro, it too, got there via a flavorful mix of gently melted cheeses compatible yet contrasting in flavor and texture: firm, sharp Tillamook Cheddar and an earthy, funky blue, thickly layered between grilled slices of rich brioche bread. It's served with paper-thin, crisp potato chips and ramekins of tart-sweet bread-and-butter pickles and a spicy, coarse-textured "tomato jam" that make ketchup seem so, so '70s.
With a cup of strong, fresh coffee, lunch for two at Atlantic No. 5 was $30.62 plus tip. Brunch for two at Bourbons, with iced tea, was $30.74 plus tip.
Atlantic No. 5
605 W. Main St.
883-3398
atlanticno5.com
facebook.com/AtlanticNo5
Brunch at Bourbons Bistro
2255 Frankfort Ave.
894-8838
bourbonsbistro.com
facebook.com/bourbonsbistro