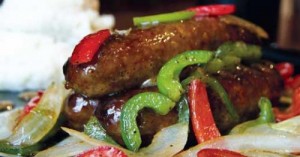 Well, well, well — Hooters has some competition in its previously uncontested milieu. You know: laid-back environment, pub grub, cold beer, multiple TVs ablaze with sports. Oh yeah, and cleavage. Lots of cleavage.
After hearing the buzz about the Tilted Kilt, 6201 Dutchmans Lane (the former Ernesto's building, Oldenburg before that), I considered checking it out. But hey, Hooters is like an old friend; I didn't want to be disloyal.

Still, the reports I got said Tilted Kilt — part of a chain of pseudo-Scottish-themed sports bars based in Tempe, Ariz. — was better than Hooters, especially in one signature department: Female service staff wear red plaid mini-kilts with matching tops that don't cover a whole lot. Kind of trumps the orange shorts and suntan panty hose, eh? One guy I know remarked, "If you go to the Tilted Kilt, you'll never go back to Hooters again."
So my friend Amy and I dropped by the Kilt recently for an unofficial Hooters vs. Tilted Kilt showdown. Let the cleavage wars commence.
The well-polished if somewhat corporate décor at TK could be called Brendan's meets Beef 'O' Brady's. The menu features relatively pricey fare ranging from the usual (wings, sandwiches) to signature dishes like shepherd's pie ($9.99) and the Fat Bastard meatloaf sandwich ($10.49). Many of the dishes seem to have identity crises, however, much like the restaurant itself. (Example: Irish Nachos. Huh?) At least Hooters knows what it is. Advantage: Hooters.
Amy and I started with the Drunken Clams ($13.99), which consisted of a couple dozen cherrystone clams steamed in a garlicky sauce. They were outstanding, and our server was happy to give us extra garlic bread for dipping. On the other side, thanks to BP, Hooters rarely has oysters these days. Advantage: TK.
We then split an order of Kilt Burner wings ($8.99), which were so-so and barely even spicy, as well as a Longshank's Sausage Sandwich ($8.49), which featured sliced braised sausage topped with onions, peppers and plenty of provolone. Not bad, but nothing special. (And what's with the Freudian name?) Meanwhile, Hooters' traditional wings stink, but their Daytona Beach wings are tasty (and not breaded), and the grilled chicken sandwich is under $7 and always outstanding. Advantage: Hooters.
As for the staff, our server was a friendly, upbeat young lady named Irina who was more than happy to answer our questions and take care of our meal. True, the cleavage bordered on distracting (I caught myself not watching the game a few times). Heck, Amy said it even distracted her. Hooters has been hit-or-miss for years on its service, and sometimes even on the eye candy. Advantage: TK.
There you have it, guys — I give Hooters the edge from a menu/value perspective, but the Kilt has a decided advantage in the cleavage department. You get to make the final call. —Kevin Gibson
The Tilted Kilt
6201 Dutchmans Lane • 409-8458
louisville.tiltedkilt.com
LouisvilleHotBytes rating: 77 points