By Robin Garr
LouisvilleHotBytes.com
I'm going to come right out and say it: Meesh Meesh is one of the best new restaurants to come along in Louisville lately.
But wait! What's with that repetitive rhyming name? The restaurant's website explains it all for us: MeeshMeesh means "apricot" in both Arabic and Hebrew.
With the sad fighting going on in Israel and Palestinian Gaza right now, a restaurant that celebrates both of those cultures seems like a good place to be.
The endearing sound of "Meesh Meesh," the restaurant's introduction goes on, "reflects the warm and inviting nature of our restaurant. Israel native Chef Noam Bilitzer highlights the unique flavors and influences that he grew up with … encompassing flavors from Palestine, Jordan, Israel, Lebanon, Syria and more."
"At MeeshMeesh, we are proud to introduce the Louisville community to a piece of our soul and to share the authentic flavors from our hearts."
Meesh Meesh is popular and usually busy, so reservations are advised. We got in on a Sunday evening, and I'm glad we did. Service was attentive despite the full house, and the food was outstanding.
That's not surprising when we consider Chef Bilitzer's background. With a culinary degree from Johnson & Wales University. he's served in executive positions at Proof on Main, Red Hog, and the organization that includes Feast BBQ, Royals Hot Chicken, and bar Vetti. When Susan Hershberg decided to retire from Wiltshire on Main, she invited Bilitzer in as executive chef. He introduced Meesh Meesh as frequent pop-ups in that popular space until the transition became complete in July.
The bill of fare is varied but relatively concise, featuring six small plates, five mains, and three large format dishes intended to feed a group.
It's not budget dining, with mains ranging from $36 (for shawarma spiced chicken thighs or a vegetable tagine) to $45 (for a steak from Indiana's Fischer Farms Natural Foods). The large-format dishes top out at $145 (for a grilled full rack of lamb). It's reasonable to economize, though, as we did, with a single main plus a small plate and a filling side dish. Generously portioned small plates are priced from $9 (for herb falafel) to $16 (for Haifa hot chicken).
Full bar service is available, including an extensive craft cocktail selection and a short but well chosen list of wines, mostly from the Levant, at by-the-glass prices mostly in the lower teens.
All the dishes we tried, these show real skill and attentiveness to flavor in Chef Bilitzer's kitchen.
I was grateful for the menu's handy glossary when it came time to order a main dish, shawarma spiced chicken thighs ($36). The menu explained that it's made with amba, jalapeño schug, and herbs. So what's an amba? What's a schug? Thanks to the glossary, I now know that amba is a traditional curried green mango condiment enjoyed in Iraq, Saudi Arabia and India. The signature house amba includes lemon, spice blend, and apple cider vinegar. Schug? It's a fiery Yemeni chili condiment made in-house with fresh jalapeños, lemon, garlic, and salt.
This dish was so good that even the scents wafting up from the plate inspired a powerful appetite. Three deboned thighs had been coated with a spice, sumac perhaps, and baked very crisp and deeply flavorful. It was garnished with fresh cilantro sprigs and very large mint leaves.
Main dishes come with salatim (pictured at the top of this page), which is Hebrew for "salads" but much more interesting. Small dishes of varied condiments circle around two thick, tender fresh pitas imported from Brooklyn's famous Greens Bakery. Salatim dishes included smooth, creamy hummus; caraway-scented crisp apple and cabbage slaw; spicy olives and pickle; sweet and spicy cubed carrots; deeply flavored marinated chickpeas and gigante beans; matbucha, a North African tomato salad; a schmear of mashed beets; and feta dice coated with chopped mint.
Mains also come with vibrant yellow long-grain rice topped with chewy red currants, crisp almond slivers, and bits of chopped parsley.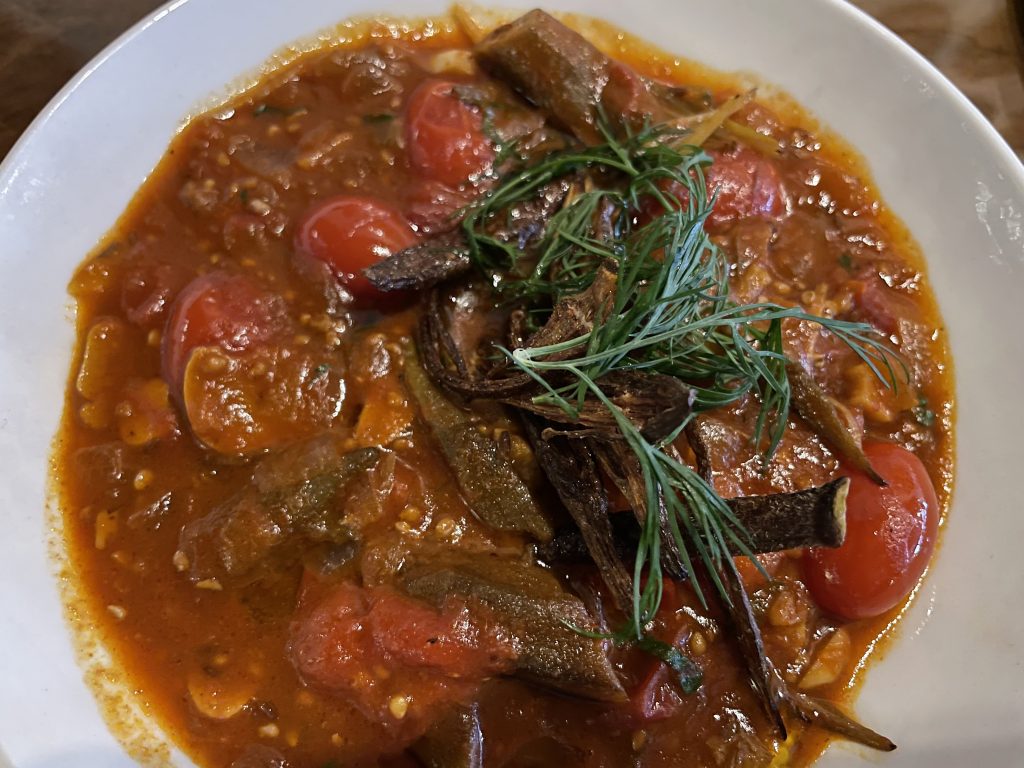 A side dish of bamiya ($9) – the Arabic word for okra – and a small plate of embered beets ($13) together made an ample main dish. The bamiya is a thick stew of organic okra and tomatoes from Barr Farm in Rhodelia, Ky., mixed with crackling crisp fried onions and topped with small plum tomatoes and a sprig of fresh dill. The roasted beets are garnished with dates and pine nuts and perch on a bed of mild, tangy goat cheese sprinkled with chopped mint.
Too full for dessert but unable to resist, we took home a to-go order of Green's chocolate babka ($9). Babka, an Eastern European pastry that's hugely popular in Israel, shows a pretty striped pattern from its many thin layers of rich brioche-type pastry and dark chocolate. It's served with tangy, vanilla-scented whipped labneh, a mild Levantine yogurt cheese.
A memorable dinner for two, with one cocktail, came to $80.56, plus a $20 tip.
Meesh Meesh
636 E. Market St.
589-5224
meeshmeesh.com
instagram.com/meeshmeesh_med_lou
Noise Level: The scene was noisy but not deafening on a busy evening. We had no problem with normal conversation.
Accessibility: The entry and restrooms appear accessible to wheelchair users, but much of the seating is on bar stools or high chairs. It would be prudent to reserve a regular-height table if this is needed for access.