There's this funny thing about plant-based meat analogues, a.k.a. fake meat: Hard-core carnivores and hard-core vegans all seem to get downright angry when they catch someone eating fake bacon, veggie burgers, or even amazing meat-free goodies like those on the menu at Morels Cafe.
I really can't figure this out. The aversion, maybe, but why the hate? The best I can figure it, serious veggievores loathe the idea of dining on tasty animals with such passion that they're grossed out by the idea of even eating pretend meat. Perhaps they figure that if they could go cold pardon-the-expression turkey, so should everyone else. It's sort of like reformed-smokers hating on e-cigs.
I have an even harder time with meat eaters who get so angry about faux meats. Why in Buddha's name should they care? Fine, they'll never give up meat, in spite of all the evidence surrounding its issues with health, humaneness and the environment. But why should they get into a frothing rage about people who abandon cow meat but still harbor a crave for something that looks and tastes like the real thing without any animals being harmed in the process? To them I gently suggest, "Mind your own bidniss, please."
Or better yet, put your prejudices on the shelf just long enough to try the animal-free delights at Morels, Stanley Chase III's new bricks-and-mortar vegan deli and cafe in the middle of the Baxter Avenue strip, a cheeky meat-free eatery that declares its fare "vegan food that doesn't suck."
If your vision of vegan food is something like plain tofu, un-dressed lettuce and a portobello mushroom, prepare for a recalibration. This is vegan as you've never seen or tasted vegan.
Consider for example the Egg McBluffin ($4.99), a deli-counter delight that looks a lot like you-know-who's: A standard English muffin is filled with a sausage patty, an egg, molten yellow cheese and a schmear of mayo. If you think those meat and dairy things don't sound vegan, you'd be right. But this version uses house-made, soy-based vegan sausage, Follow Your Heart brand vegan egg and cheese, and Hampton Creek's first-rate egg-free Just Mayo.
Or consider Chase's trademark Farby -Fake Arby – pictured above, a fine vegan knockoff of Arby's roast-beef original. The $9 Farby Meal piles braised Tofurky roast "beef" on an excellent onion bun, house-made yellow "cheese," and dairy-free ranch dressing. Set it up with a pile of crisp curly fries and a cup of vegan horseradish sauce, and you'd think you were dining at Arby's, except that this model tastes really good.
The mood at Morels fits the food and the neighborhood, with an exposed-brick wall and shiny oak floors fitting a well-kept late-19th century building, with colorful spherical hanging lights suited to the 21st. A classy framed morel mushroom print adorns an off-white wall, and a cheeky black-and-white takeoff of Michelangelo's Sistine Chapel ceiling depicting the creation of a … veggie burger … spreads across a blackboard behind the counter.
The five-entree menu is subject to frequent change; prices top out at $10. A deli case contains goodies wrapped for takeout, including the Egg McBluffin and a worthy Muffuletta ($7.99) that took my taste buds right to New Orleans' Central Grocery, only with fake meat; and an array of artisanal vegan cheeses made from cashews and other good things by vegan producers from California, Oregon, and New York City.
Care for pork sliders ($8)? Two slider-size buns were abundantly loaded with soy-based pulled "pork" with a spicy, vinegary Carolina-style barbecue sauce topped with tangy cole slaw, and a side of nostalgia in the form of vegan mac-and-cheese.
At this point, we banged right up against an issue for my bride: Mary loves good vegetarian food, but she has an unfortunate allergy to soy products. It's not a fall-down-and-die allergy, just an annoying 24-hour-tummy-ache allergy, but still, that's not a thing you want to volunteer for. After an extended conversation with the counter staff, with consultation from the kitchen, we discovered that soy basically dominates every dish.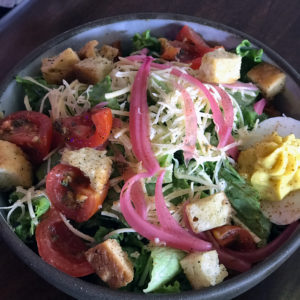 With a little effort, we figured out one soy-free option, deleting the delicious Louisville Vegan Jerky pepperoni bits from the Jeff Salad ($9), which left a generous bowl of crisp romaine tossed with shredded Follow Your Heart brand herb "cheese," assorted veggies, house-made smoked ranch dressing, and a fun vegan deviled "egg" that looked like the real thing. (Technically the egg was probably soy-based, but we kept it because I wanted it.)
I now turn the mike over to Mary for a brief lecture: "If I hadn't asked I would've been in a world of pain. It would not hurt for them to list ingredients on the menu and add a few more soy-free items. Salad doesn't have to have soy. Vegan soups are easy, and so is a portobello sandwich. What about seitan? A few seitan items would be good."
So there you have it. Our filling meat-free meal was $27.56, and yummy take-outs were $13 more; we tipped a total $9.75 on all the goods.
Morels Cafe
619 Baxter Ave.
409-5916
www.morelscafe.com
facebook.com/morelscafe
Robin Garr's rating: 90 points