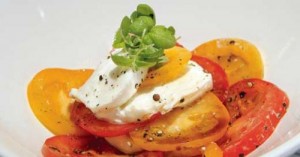 If your idea of mozzarella is bland shreds in a plastic bag from the supermarket, or pale, stringy cheese pulling away from the top of your pizza like bubble gum, you'll want to reset your expectations before dining at Mozz.
This new, upscale and trendy Italian eatery landed this month in the Cobalt Building that once housed Primo. The name means "mozzarella," and mozz' is what they do.
We're talking real, fresh mozzarella, like fior di Latte ("flower of the milk"), cheese that's delicate, sweet and silken, made in-house with fresh, hormone-free milk from locavore cows; a far cry from the Styrofoam stuff in the supermarket bag.

It's too soon for a full review or rating, but this place got so hot, so fast, that we couldn't resist dropping by for dinner during its first week of operation.
Proprietors Matthew Antonovich, the chef, and Michael Cooper, working the front of the house, were at Louisville's Casa Grisanti back in the '80s, and it shows — in studied elegance, in quality Italian cuisine and, it must be said, in service that can veer close to over the top at times. Call me odd, but after the third or fourth time someone other than my server asks if I'm enjoying myself, I'd really prefer to be left alone.
It's also noisy. Really noisy — loud enough to register in the 70s ("annoying") with peaks in the 80s ("possible hearing damage") on my iPhone's Decibel Meter app; a volume that remained consistent when the three-piece combo was playing and even when it was not.
Those nitpicks aside, though, I was impressed with Mozz and its potential. The "farm-to-table" menu makes good use of local and regional meats and produce, as well as the Logan County, Ky., milk used to make the cheeses.
The old Primo space has undergone a substantial redo and is now broken into several distinctive dining areas. You can dine at the bar, or belly-up to a mozzarella bar that resembles a sushi bar with cheese, or enjoy the elegant environs of the white-tablecloth dining room. Italian-accented entrees (said to focus on the regional cuisines of Rome, Naples, Tuscany and Emilia-Romagna) range upward to $95 (for Bistecca alla Fiorentina, a 52-ounce dry-aged porterhouse big enough for four), but you can order plenty of mozzarella-based plates, salumi (meat items) and small plates for $2.25 to $15 or so.
Primo's wood-burning tile pizza oven remains, creating Italian-style pizzas said to be based on the legal requirements of true Naples pie. A fennel-scented sausage model ($10) boasted first-rate albeit scant toppings on a plate-size crust that still needs a little work.
We tried a mozzarella dish (burrata, $15, a luscious mozz-and-cream combo in the middle of a ball of fresh cheese, drizzled with golden-green olive oil and, in this presentation, topped with six green asparagus spears), a couple of small plates ($2.25 each for tiny bowls of couscous-like fregola pasta with white asparagus, and crisp, barely cooked eggplant caponata), a fior di latte salad ($5) with Grateful Greens lettuces, black olives and chickpeas; and budino ($6), a creamy butterscotch dessert.
A fine Italian meal, including a $31 bottle of crisp, light red San Pietro 2007 Schiava from Italy's northeastern corner, was $80, and exceptional service, neither careless nor obsequious, from server Andrea and a team of bussers earned a $20 tip.
Mozz Mozzarella Bar & Enoteca
445 E. Market St.
690-6699
www.mozzlouisville.com