I want to find the culinary genius who invented small plates and give them a hug. Or at least go to Mojito and hug someone there for doing small plates so well.

I mean it now. What food trend of the past generation can you think of that represents such perfection? Not only can make a light, affordable meal out of a small plate or two, but when you're nursing more of an appetite – or dining with a group of friends – you can load the table with a dozen small plates and take a bite from one, a taste from another, a sample from each.
I can't imagine a better way to try a lot of goodies without either breaking the bank or inflating yourself to the size of a rhinoceros. Small plates are good, and that's why lots of hip local eateries provide them. Dim sum, sushi, hors d'oeuvres, smörgåsbord, rijsttafel – how I wish we had a rijsttafel! But tapas might be my favorite.
I find it particularly hard to say no to a tapa – or a half-dozen. These are comestibles that we might eat in full portions on large plates, so there is a certain shock of discovery when we see undersize versions spread out on the table and realize that yes, we can eat all the food without looking like gluttons, at least not too much.
If you want tapas, it's hard to think of a better local destination than Mojito Tapas Restaurant. If your middle name is tapas, you'd better make them right, and Mojito does.
In fairness, Mojito gives the Spanish tapa a bit of a Cuban and Caribbean spin and some international touches, which seems fair, since it's co-owners were on the team that brought us Havana Rumba, the metro's most long-lived Cuban spot. (It should also be noted that the other half of that founding team, the Martinez family, turns out some worthy tapas not far from Mojito at Artesano Vino Tapas y Mas.)
Mojito makes good use of its Holiday Manor shopping-center space, mustering a bit of old Havana and a touch of Spain, with pale avocado-color walls and bright Spanish-themed paintings including a colorful reproduction of Picasso's Don Quixote. Sturdy wood-and-leather Cuban-style chairs, iron chandeliers and heavy undraped wooden tables complete the scene.
The menu is extensive, as a tapas menu should be, with more than 60 options divided into 13 categories, from soups, salads and cheese plates to hot and cold traditional tapas and – an exception to the small-plate rule – a trio of paellas. Just about everything is $10 or below, with only a few exceptions for paella ($38 for three persons) and bocadillos (sandwiches), which are $11 to $13.
Mojitos and margaritas dominate the drinks list, although the full bar can handle other cocktails, many with Latino accents, and short, affordable wine and beer lists. A regular mojito ($8), served in Mojito's familiar curved tumbler, was well-made, a cooling yet potent mix of light rum and soda with mint, lime and sugar cane.
An ensalada de palmito (hearts of palm salad, $8), was good, a standard and well picked-over bowl of spring mix surrounded by a good portion of tender, salty hearts of palm, dressed with wan tomatoes – an unhappy surprise at the peak of the local season – tossed with roasted peppers, red onions, earthy feta cheese crumbles and avocado slices. Props for service with cruets of olive oil and balsamic vinegar so you can mix to your liking.
There was no such complaint about the fine yellow and red heirloom slices that comprised the attractively composed Caprese ($8). It was kept appropriately simple with rounds of creamy fresh mozarella drizzled with olive oil and sea salt. I'd have rather had it without the heavy stripes of dessert-sweet balsamic, but that's just me.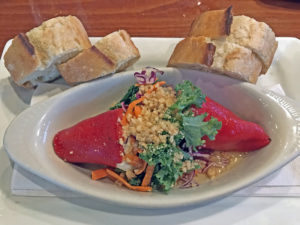 A cold tapa featuring sweet, gently piquant piquillo peppers ($8) stuffed with mild goat cheese and garnished with crushed Marcona almonds and a drizzle of smoked honey hit the spot with its palate-teasing mix of textures and flavors.
A hot tapa, chuleta de cordero (lamb chops, $9, pictured above), demonstrated the beauty of tapas by presenting us with two nicely grilled, medium-rare beauties – enough for a treat, not a filling dinner – plated on a thick, savory swash of piquillo pepper hummus. A small mound of chewy raw kale with julienne carrots, red cabbage and onion – the garnish of the day – was plated alongside.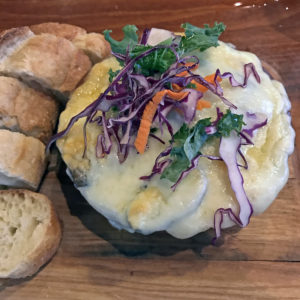 Gratinado de setas ($9) presented us another hot tapa, more filling than the lamb chops despite its meat-free nature: This rich dish placed a ragout of "meaty" brown crimini, portobello and shiitake mushrooms, thin-sliced small potatoes in their brown skins, and bits of roasted garlic in a mini-pie topped with Capriole Indiana goat cheese and molten mild, buttery Spanish tetilla cheese, with plenty of Blue Dog baguette rounds on the side.
A table full of small plates for two came to a very affordable $53, and our server, Antonio, who said he was new but acted skilled and experienced, took home a $12 tip.
Mojito Tapas Restaurant
2231 Holiday Manor Center
425-0949
mojitotapas.com
facebook.com/MojitoTapasLouisville
instagram.com/mojitotapas
Robin Garr's rating: 88 points