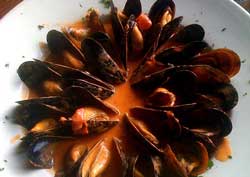 Think of the name "Molly Malone" and get an instant "earworm," the tune that sticks in your head and will not go away. "Cockles and mussels, alive, alive-oh" indeed!
In Louisville, however, Molly Malone gains quick recognition as one of the region's many amiable Irish pubs. A stalwart in the Baxter Avenue club zone for years, Malone's added an East End branch in St. Matthews Station last autumn, replacing the old BW-3 at the corner of Shelbyville Road and Breckinridge Lane, adding another stop to a block-long concentration of watering holes that also includes BBC, Brendan's, Dutch's and 60 West, a collection that's starting to rival the Baxter strip.
The new Malone's is a fun and friendly Irish pub with a really good beer selection, but as I've found the food generally edible but unexciting.

Two bars, heavy rough-hewn wooden booths and simple tables, caramel-color walls and 19th century-look sconces confer a pubby feel, with big-screen televisions scattered around. It could be a splendid option for watching World Cup soccer, which begins this week.
About a dozen appetizers range in price from $7.50 (for stuffed potato skins) to $11.95 (for salmon paté). Sandwiches are $7.95-$9.95, and a dozen entrees are $9.95 (for a burger) to $19.95 (for a grilled New York strip steak).
There's a good mix of beers from tap and bottle including some locals on draught. And Guinness, of course, properly pulled – you have to wait for it. This is, after all, an Irish-style pub.
On one dinner visit I tried the black bean burger ($8.95), a meatless treat that tastes a lot like chili beans, piled on a kaiser-style bun and dressed with lettuce and tomato and sliced red onion.
The corned beef and cabbage ($11.95) featured thick slices of pink, flavorful corned beef brisket. Steamed cabbage was mixed with lots of onions, prompting my wife to joke that it should have been billed as "corned beef and onions, with cabbage." Oven roasted potatoes had picked up a bit of refrigerator flavor, but an application of mustard helped.
The fat fillet in our friend Sarah's fish and chips ($9.95) may have been a bit too thick to fry well, it golden brown, piping hot and crispy, but rubbery within. "Black and tan" onion rings were delicious if a bit greasy.
You can't get cockles and mussels here, but mussels are on the menu, in a garlicky, ruddy pink marinara and cream sauce ($11.99). Our trio shared a sizable bowl loaded with nearly two dozen mussels. Sadly, some of the shellfish were more "mature" than the rest, with an offputtingly strong fishy scent. Most of the bivalves passed the sniff test, though, so we sorted them out by smell and enjoyed most of it.
Smoked salmon ($11.95) was smoky, fresh and fine, rolled in tubes and a rosette, composed on a plate with hard-boiled egg halves, soda bread rounds, capers and herbs and a tub of a creamy dill sauce.
The Black Angus burger ($10.45 with Cheddar) looked good too, a good-size patty, medium-rare as ordered, topped with a slice of melted white cheddar, perched on a toasted bun with lettuce, tomato and thick-sliced red onion. A pickle spear and a pile of sturdy, sizzling steak fries came alongside. The burger looked and tasted good, but my wife was put off by several hairs cooked into the fries.
The Irish lamb stew ($11.95) was disappointing, too. The portion was generous, but it was a bland stew of bagged "baby carrots," overdone cubes of potato and reddish-pink, indeterminate meat in a thin, floury soup.
The share for two, including a few pints, came to $43.56 plus a $9 tip. On another visit our share of the food and brews was about $45 plus tip.
Molly Malone's Irish Pub & Restaurant
St. Matthews Station
3900 Shelbyville Road
882-2222
www.mollymalonesirishpub.com
Also at 933 Baxter Ave., 473-1222 (original location) and in Covington, Ky., at 112 E. Fourth St., (859) 491-6659.