So I surfed into LEO Weekly online the other day, and hey, what's this? Some guy is picking on Butchertown Grocery! And wait! It gets even worse! He's hatin' on foodies!
This all seemed very wrong, and it called for a fact check. Just as quick as that, we took our friends Bill and Margaret over to Butchertown Grocery for dinner, and you know what? Despite what that online rant had led me to believe, I couldn't find any cultural appropriation or microagressions anywhere.
More about out meal shortly, but first, let's take a look at that "foodie" thing. This writer is not the first person I've heard who finds the term offensive, but most of those who do so strike me as epic snobs. I'll stand with the linguist and etymology expert Barry Gopnik, a contributor to the Oxford English Dictionary, who says the word has been around since the 1980s.
"A 'foodie' is someone who is interested in food and drink," Gopnik wrote. "The term is a modern one, less pretentious and mostly replacing the term 'gourmet.'"
That's my take, too. I'd rather be a "foodie" than a "gourmet," because it's a simple, open and affirming moniker that welcomes everyone in without an entrance exam. That's my position, and I'm sticking to it.
Now, let's talk about Butchertown Grocery. We'll begin at the end: You might think that the gift of a small brownie presented upon one's departure in a little cardboard box tied up with silver string might not be all that memorable. You would be wrong. This seeming afterthought, consumed the next day, was a cubical shell of crisp chocolate that gave way to the bite to reveal a rich, creamy interior reminiscent of the finest fudge. Was it the best brownie I ever ate? Yes, it was that good.
Exposed brick, old wood, and undraped hard white marble tables make for an evocative if somewhat noisy environment in the prettily renovated old commercial building that originally housed Gunkel's Grocery in the late 1800s and more recently was home to the Blind Pig. Service was on point, and the drinks program well chosen.
Mary and I were happy with a Negroni and a Campari-and-soda ($9 each), and I later summoned a glass of Sonoma-Cutrer Chardonnay ($15) to go with my meal. A bread plate featuring Blue Dog baguette and cereal bread with whipped sorghum butter kept us busy while we studied the menu, and soon dinner was on its way.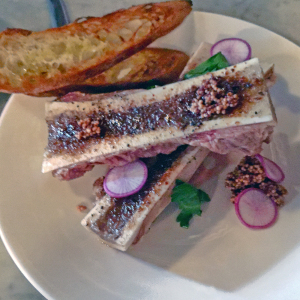 The menu places Chef Bobby Benjamin's creativity and bright imagination on full display, and prices, though not cheap, aren't out of line for fine dining, with mains from $23 (for a cauliflower steak) to $41 (for a lamb rack from Catelli Brothers; the $75 "The Grocery Steak," a bone-in prime rib eye dry-aged for 55 days, is an outlier).
Heirloom tomato salad ($12) was a Caprese-style presentation of tomato wedges artfully piled on a fresh mozzarella round, garnished with thin-sliced rounds of Spanish Gordal olives. basil strips and pine nuts, drizzled with a peppery arugula puree. Roasted baby beets salad was artfully plated, too, a combination of sweet chunks of red and yellow beet garnished with thin raw beet slices curled like hardshell tacos. It was plated on pretty red-and-green salad mix, sprinkled with pumpkin seeds, and drizzled with spicy yogurt crema and a Chardonnay vinaigrette.
Bill praised his $12 cup of chilled watermelon gazpacho, and Margaret was very happy with a split marrow bone "brulee" ($13), topped with Bourbon Barrel sugar and run under the grill.
Avocado "tartine" ($12) might just be a fancy avocado toast, but it was very good. A length of Blue Dog bread was slathered with mashed avocado, topped with peppery arugula salad and a perfectly poached "farm" egg, garnished with bits of pickled red onion and tiny orange segments. House-made potato chips completed an excellent plate.
A side dish of charred long-sliced asparagus with chanterelle mushrooms looked a bit puny for the $16 price, but it was rich and filling, and roasted jalapeño salsa verde put it over the top.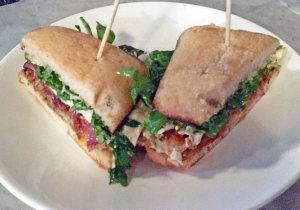 Margaret was delighted with a Butcherblock sandwich ($16), filled with a charcuterie-like selection of sliced meats from the restaurant's own curing room, stacked with arugula, fried eggs and Spanish Manchego cheese. Bill had no complaints about his striped bass entree, prettily plated with celery root and rainbow chard.
Now the bad news: Two of the five large diver scallops ($27) were clearly "off," one slightly past its sell-by date and the other very much so. The dish had potential, plated on a rich, tangy orange-butter sauce and topped with crisp frisee, fried leeks and other exotica, but the fishy scallops took the edge off a dish that went mostly uneaten.
Desserts quickly redeemed the situation: Yeasty, hot powdered-sugar coated beignets ($5) as good as Cafe du Monde's, with sweet, creamy Vietnamese iced coffee ($4.50); and a banana pudding ($9) that Margaret declared as good as she ever ate.
Our share of dinner for two came to a hefty $132.50, and impeccable service from server Chase and an outstanding busser who didn't identify himself fully justified a $30 tip.
Butchertown Grocery
1076 E. Washington St.
742-8315
butchertowngrocery.com
facebook.com/butchertowngrocery
Robin Garr's rating: 86 points