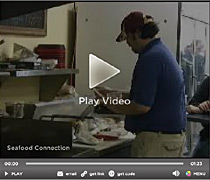 Click the image link to watch a 1-minute video visit to Seafood Connection on a busy Friday in Lent.
Just about every fish-sandwich spot and seafood eatery in town is jammed on Fridays during Lent, and one of my favorites, Seafood Connection in St. Matthews, is certainly no exception.
It's a casual spot, with a small 10-seat lunch counter within a fine fish shop, but the quality of Chef Mike Hungerford's fare makes it worth a special trip for fish sandwiches, fish tacos, lobster rolls, crab cakes, even a salmon "Reuben" and more.
We dropped by today for a fish sandwich, a bowl of clam chowder, and this quick video tour.