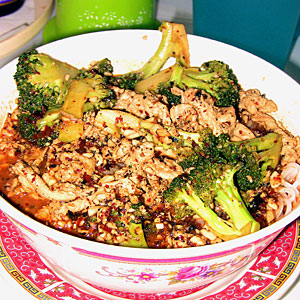 Chile flakes paint Vietnam Kitchen's Gào xào ca ry cay (green chicken curry) a pointillist's palette of fiery red. It is as hot as the furnaces of Hades. Photo by Robin Garr.
LEO's Eat 'n' Blog with Louisville HotBytes
(Thai Smile 5, Sala Thai, Vietnam Kitchen)
A man like me who eats and drinks for a living really needs to be serious about exercise, and I'm not talking about namby-pamby exercises like golf or light jogging, where you barely break a sweat.
No, to survive in the professional dining game, you need to work out until you're breathing hard, dripping sweat, red in the face, nose running and virtually screaming with the pain of it all. No pain, no gain, after all.
Happily, I've discovered an appealing way to achieve this state without having to work out: Simply include in your diet a minimum daily requirement of fiery food. Eat a few hot chile peppers for breakfast, and the chances are that nothing worse will happen to you all day. Indulge in a five-star Thai hot curry for lunch, and you'll find yourself blushing, glowing, sweating and bellowing with happy pain, just as if you had endured an hour-long workout, without any need to move a muscle beyond your fork arm and your jaw.
It works for me. Now let's see what the doctor says.
Meantime, though, while waiting for my next checkup, I've been trying to keep hot-and-spicy dishes as a regular, healthy part of my diet. I tried the new Voodoo Chicken dish at Gumbo A Go-Go and found it fine, and seized on Fat Tuesday as a good excuse to lap up more spicy Cajun fare at Joe's OK Bayou.
But I still wasn't there yet. These dishes weren't badminton, but they weren't tackle football either. I needed an Ironman Triathlon to get my heart rate up and my endorphins pounding. Southeast Asian food can do this, but could I persuade Louisville's top Thai and Vietnamese eateries to let a weak, untrained Westerner sample the joys of "Thai Hot"?
There was only one way to find out, and with my long-suffering bride along to call 911 if necessary, we checked out two old favorites and one newish spot: Sala Thai, Vietnam Kitchen and Thai Smile 5.
In each case, my plan was to look for the fieriest dish on the menu, then request it ethnic-level hot, and see what happened.
Thai Smile 5 invites the diner to specify a preference from one-star "Low" to five-star "Thai Hot." I ordered a lunch portion of Panang curry with shrimp ($7.50), called for "Thai Hot," and the server didn't bat an eye. Within seconds – this place is geared for a lunch crowd in a hurry – I was presented an oval bowl full of a thin reddish-brown broth filled with six plump shrimp, artfully carved carrot rounds, slices of red and green bell pepper and a visible sprinkling of tiny dark-red flakes of chile peppers and seeds. I took a deep breath and a spoonful and … ehhh. Two-star hot, maybe 2 1/2, no more. I frowned, and a Thai gentleman rushed out. "Hot enough?" he asked? Er … no. He brought out more red-pepper flakes in a small earthenware jar decorated with an elephant. I sniffed, suspiciously, and took a taste. Even straight from the jar, they weren't very hot. The dish was tasty, if not quite like other Panang curries I've tried, but it just wasn't very spicy. Five-star Thai hot? Sorry, I don't think so.
Thai Smile 5
5800 Preston Highway
961-9018
Undaunted, I tried the same dish – here identified as Gaeng Panang curry – at Sala Thai in Jeffersontown. I ordered a dinner portion, with chicken ($10.95), and requested "Thai hot." The server discreetly raised an eyebrow with Asian grace. I nodded, firmly, and she agreed, returning a little later with one of the tastiest – and hottest – Thai dishes I've ever enjoyed. A generous portion featured good-size boneless chunks of tender, flavorful chicken meat and crisp-tender strips of red and green bell pepper, anise-scented cooked Thai basil leaves, and a delicious thick sauce of coconut milk scented with Thai Panang curry paste. Only a few small bits of red chile pepper were evident to the eyes, but my mouth, not fooled, jumped up and yelled, "Woooeeee!" Shortly thereafter my face started to sweat, my eyes watered and my nose ran, prompting my wife to jump up and yell, "Gross!" I loved it.
Sala Thai
9114 Taylorsville Road
493-3944
Moving over to Vietnamese, I hied myself out to Vietnam Kitchen for another endorphin-producing lunch, skimming the menu until I found the only dish marked with three stars for heat: Gào xào ca ry cay (green chicken curry, $9). Here I encountered my first serious resistance: "You don't want Vietnam hot," the server said. "This is spicy enough." Well, yes, actually I did want Vietnam hot, but hey, let's not make a scene. As it turned out, she was right, or else she decided to give me the works after all, just to teach me a lesson. A large bowl was filled with a pile of Asian thin noodles (dead ringers for spaghetti), topped with a generous ration of tender, wok-seared chicken bites, enough broccoli florets to comprise an entire head, a deep red, warmly spicy sauce, and enough chile flakes to paint the whole dish a pointillist's palette of fiery red. It was as hot as the furnaces of Hades, but better still, it wasn't just a one-dimensional blast of fire but a deep, textured, complex series of hot, tangy, smoky and gently burning flavors that washed across the palate in waves. This is hot-food-as-art-form, I wanted to stop and burst into applause, but I couldn't stop eating until I cleaned the bowl. Now, that's hot.
Vietnam Kitchen
5339 Mitscher Ave.
363-5154