By Robin Garr
LouisvilleHotBytes.com
When I get a restaurant meal, I look for a number of things whether I'm reviewing or not, but especially if I am.
• I like a sense of design and style that doesn't get in the way of comfort.
• I like good service. Friendly is fine. Fawning is not. And competence matters.
• I like a menu that's clear, informative and easy to read in dim light; that lets me know what a dish is like. Extra points for naming the sources of meats and produce.
• Most of all, I like good food. Isn't that what a restaurant is for? And "like" turns to "love" if the food isn't just good but shows off the chef's creativity and bold experimentation.
A recent visit to Naive Kitchen + Bar in Butchertown ticked off every one of those boxes, cementing its place among my local favorites. When my friend Laura and I dropped in for lunch on a weekday, I noticed that things had changed since my last visit five years ago, not long after it opened.
The scene is cool and stylish now, with a curved bar separated from a dining area. The room is discreetly colored in grays, off-whites, tans, and earth tones, with large windows at the front allowing in plenty of light and offering a few of its Butchertown neighbors. The old quick-service operation – order at the counter, take a number and wait for your food – has been replaced by full table service, and tables are set with quality tableware and white cloth napkins.
Chef Drew Corman's menu fits Naive's declared mission as "a west coast, vegetable-centric restaurant" turned bar at night, with meat options and some healthy indulgences, too, serving local and organic dishes focusing on a vegetarian lifestyle "with options to include carnivores, vegans, and all diets in between."
Our server described the menu as "Japanese-Italian fusion." I could see that, sort of. Plenty of East Asian and Italian flavors meet and mingle, with a few other stops around the world too.
Billed as the spring menu, so possibly due for a seasonal change soon, it featured 15 dishes that segue seamlessly from appetizer-size small plates to entrees, ending with a couple of desserts. Lunch pricing tops out at $26 (for crispy skin salmon with fingerling potato, fava bean, arugula, and garlic), with just about everything else in the middle to upper teens. Come back for dinner and you'll find a longer menu with higher prices for larger dishes, but still fairly priced with only a couple of steaks reaching into the $30s.
Full bar service offers fairly priced, intriguing wine selections and creative cocktails. An extensive espresso bar menu tempted Laura and me with an iced pistachio latte ($6 plus $2 almond milk upcharge) and a large, steaming caffe latte ($4.50 plus $2 oat milk upcharge).
Each dish on Naive's menu is coded according to its status as dairy-free (DF), gluten-free (GF), nut-free (NF), vegetarian (VG) or vegan (V), and our appetizer, tempura cauliflower ($15) ticked off every single one of those boxes. It was spectacularly good, and a splendid example of that kitchen creativity that I value.
If you had asked me beforehand, I might have told you that cauliflower isn't a favorite, and I actively avoid kale. Not this time, bubba! Eight big chunks of tender but not mushy cauliflower were encased in crunchy panko tempura breading and fried just right, then topped with pickled scallions, sweet-and-spicy maple chile dressing, crisp fried kale leaves, and delectable bits of popped sorghum on top just for fun.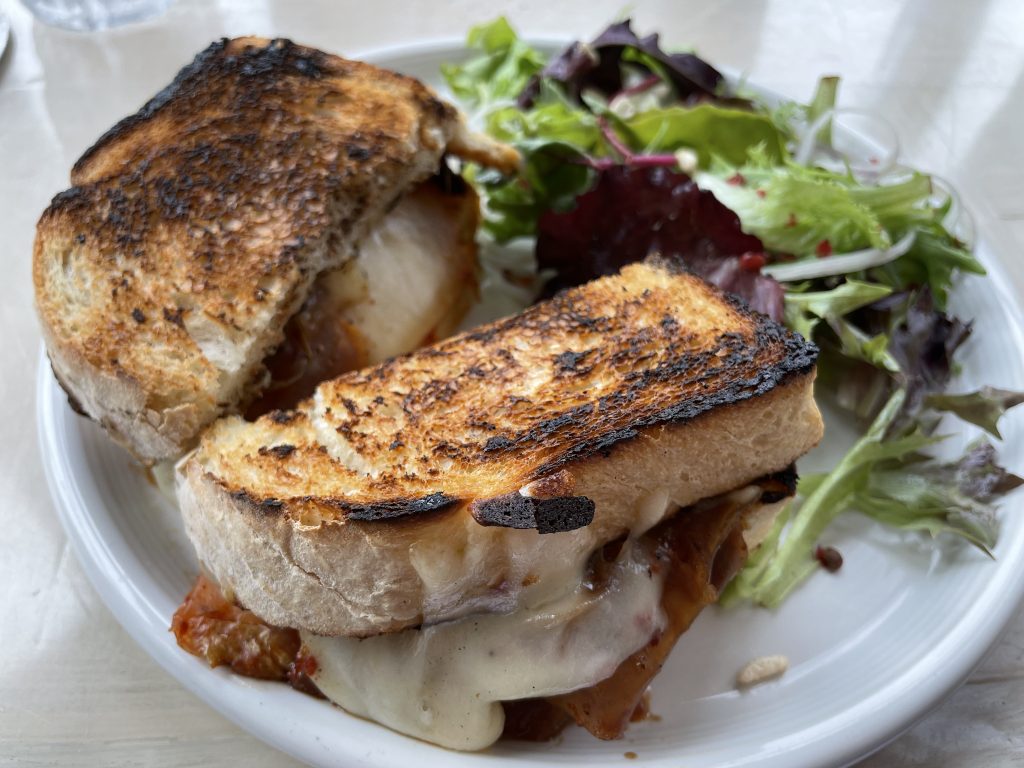 The beets in a roasted beet sandwich ($15) were sliced thinner than paper, interleaved with spicy kimchi, smothered in a blanket of melted mild white cheddar and dressed with aromatic garlic chive aioli on thick-sliced toast. It takes a bold spirit to assemble such a disparate cast of flavor characters and make it work. A small salad alongside ($3) was simple but well made with fresh lettuces and arugula.
A burger ($17) made with Kentucky Freedom Run heritage lamb had a lot of potential, but in this instance we felt that creativity reached too far. The burger and quality seeded bun were fine. But the combination of an exotic aioli made with funky, spicy, salty yuzu koshu – a tart and fragrant Japanese fermented citrus and chile paste – plus basil relish and mozzarella was just a little too far out there for us.
Creativity didn't stop with dessert, and this one got back on the woo-hoo train: Olive oil ice cream with Parmesan ($6) may sound odd, but once you've tried it you may just come back for more. Three balls of white chocolate ice cream were dusted with grated Parm and drizzled with good greenish-gold olive oil, and whoa! The flavors worked.
A substantial lunch for two came to $59.36, with a $14 tip for Emma, our cordial and helpful server.
Naive Kitchen + Bar
1001 E. Washington St.
749-7856
eatnaive.com
facebook.com/eatnaive
facebook.com/eatnaive
Noise Level: Hard edges and a lack of soft, sound-absorbing surfaces kicked the sound level up to an average 74.8dB, a bit above the line for easy conversation.
Accessibility: A step at the front entrance bars equal access to wheelchair users, but there's an accessible path through the rear. The unisex restroom appears fully accessible.