When Tony Palombino opened AP Crafters over the smoking remains of the short-lived Indigo Joe's in Westport Village a year ago last spring, I couldn't help wonder what the guy who might rank as Louisville's most innovative entrepreneur of good eats was up to now.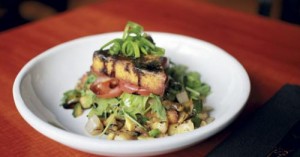 After all, Palombino is the guy who built Tony Boombozz from a tiny pizzeria into a local chain of pizza-and-brew houses more than 15 years ago, while spinning off and incubating one new restaurant idea after another. Thatsa Wrapp, Benny B's, Bazo's … some flared then fizzled, while others have become local standards. Just last month, Palombino opened another new concept, Manny & Merle, in the Whiskey Row neighborhood, a hearty Bakersfield-style mix of Latino and Anglo food and music. I'll head over there one of these days, but first, let's see what's going on at AP Crafters.
Anchoring a corner of the Westport Village shopping center, AP Crafters mirrors the evolution of Westport Village, a modern remake of the old Camelot center that has thrived on a base of local restaurants and indie businesses that make an attractive commercial magnet for its suburban neighborhood. AP Crafters fits right in, taking the place of a franchised sports-bar concept with 47 units in 10 states. Never mind that it seemed to cover much of the same sports bar ground as had Indigo Joe's; there was a familiar face at the helm and clubby dark-wood paneling and antiques, and it was all good.
They called it a "gastropub," which is OK, I guess, as this is a malleable term, although when I hear that trendy buzzword I think of something more like Butchertown's estimable Blind Pig, which at first glance didn't seem to have a lot in common with AP Crafters except for a very good beer list.
But AP Crafters is evolving, and during a leisurely dinner visit the other night, I was delighted to discover that, while it still executes pub grub very nicely, the place has also developed a more upscale persona featuring serious, well-executed entrees such as you might expect at a more trendy bistro on Bardstown Road or Frankfort Avenue or NuLu's urban streets.
The menu begins, as it has from the start, with a good selection of soups, salads and munchies, offering a broad choice among healthy green salads ($7-$8) and delicious fatty and salty goodies, including charred wings ($8) or a platter of crisp beer-battered fried pickle chips with ancho dipping sauce ($7). Those who choose the gastropub route may be infatuated with a charcuterie plate ($11, and none dare call it "cold cuts") or the chef's weekly selection of hummus and olives with pita — whole wheat, of course.
Sandwiches, served with your choice of seasoned fries, slaw or fruit, are mostly $8 (for a griddled cheese sandwich, with 75-cent upcharges for tomato or bacon), to $11 (for a grilled chicken BLT). Burgers include a fancy Reuben burger ($11), a burger topped with pastrami, kraut and Swiss atop your all-beef patty. Or they'll hold the patty on request and make it a plain Reuben. Another option: Schmear your burger with beer cheese, bacon and onions and serve it on a pretzel roll ($11). If a more traditional burger is your style, go for the Build Your Own option, which does burgers the way Boombozz does pizza: Start with the basic dressed patty ($7.50), then make it your own with a smorgasbord of toppings at 75 cents each: cheese, bacon, an egg, onions, sauce … just about anything but the proverbial kitchen sink.
More and more, though, diners are flocking to AP Crafters for the entrees, a short but interesting list of nine items from $10 (for chorizo and pulled-pork tacos or fish tacos) to $28 (for blackened beef filet medallions with blue cheese Mornay).
Twenty craft beers on tap plus shorter selections of bottled domestics for those who insist give Crafters a brewpub feel; there's also a short but well chosen wine list and a good mix of creative cocktails.
We went with a group and enjoyed sharing bites, and not one of us uttered a discouraging word about crisp retro iceberg wedges loaded with blue cheese and BLT toppings ($8); bacon bruschetta ($7), toasted baguette rounds spread with bacon jam, caramelized onions, sun-dried tomatoes, arugula and more; or a tasty side bowl of broccoli florets ($3.50) flavored with garlic and Parmesan.
A trio of fish tacos ($10), served Baja-style with blackened fish, also drew praise, as did the bistro-style braised lamb shank ($22), long-simmered and very tender, served on a succulent slab of potatoes au gratin. Perhaps our favorite entrees were the smoked pork chop ($18), a good-size chop, bone-on, juicy and tender and very flavorful, coated with a tart-sweet sun-dried tomato-basil demiglace atop a rich pool of creamy, cheesy polenta; and the fire-roasted vegetable napoleon ($14), an artful stack of roasted veggie-polenta cakes sandwiched with fresh arugula, tomatoes, chunks of zucchini and mild goat cheese.
Dinner for two, with a couple Crafters-brand microbrews, came to a reasonable $58.28 plus tip.
AP Crafters Kitchen & Bar
1321 Herr Lane
Westport Village
690-5000
apcrafters.com
Rating: 88