By Robin Garr
LouisvilleHotBytes.com
As autumn 2020 chilled into the first Covid winter, one of the hardest hits of a run of bad restaurant news came when Uptown Cafe announced that it was closing on the Saturday after Thanksgiving, seemingly ending a 35-year run as a fixture on Bardstown Road's Restaurant Row.
Uptown was comfortable, cozy, reasonably affordable, yet stylish, more a bistro than a diner. If it wasn't a place where everyone knew your name, at least it was a place where your face was always familiar.
But its time had come, squashed by the worldwide pandemic. Owner Kelley Ledford put it bluntly, calling the closure "totally pandemic related … financially insurmountable." Ledford had taken the reins from her parents Nancy and David Shepherd, who had also founded the more upscale Cafe Metro across the street in 1980.
The Uptown building stood closed and dark through that cold pandemic winter. But then in February good news broke: Longtime Uptown regulars Tom and Lisa Drexler, best known as proprietors of Tom Drexler Plumbing, had bought the business.
Uptown reopened in July 2021, following gentle renovation that maintained its style and spirit but avoiding major changes in a beloved tradition. Executive Chef Matt Weber (who had started at Cafe Metro) and Pastry Chef Jenna Miller remain, and most of the familiar menu items stayed. "This is not a place where you can get rid of the old favorites," a HotBytes forum participant observed.
So here's the new Uptown, pretty much like the old Uptown, so much so that I blinked and suddenly two years had passed before I got back. A delightful recent visit and a very good meal took quick care of that.
The lunch menu is straightforward. Six appetizers are all $12, with soups going for $8. Most of the salads, workable as light meals, are $15, with lighter house salads and caesars going for $14 (large) or $7 (side salads). You can turn a salad into a more serious meal by adding chicken ($5 upcharge) or blackened salmon, shrimp, or chicken livers ($8 additional).
Lunch entrees range i price from $14 (for a maple chipotle pork tenderloin sandwich or chicken in puff pastry) to $18 (for smoked salmon pasta or curried rice noodles). The dinner menu is similar, with larger evening entrees mostly priced in the $20s but topping out at $46 for grilled beef tenderloin medallions. Of particular note on the dinner menu is Uptown's iconic pork tenderloin jägerschnitzel ($23).
Uptown's full bar service includes, its social media proudly proclaims, an "extensive bourbon selection."
I was happy to see an old Uptown tradition continues: As we sat down, a wire basket containing complimentary sliced loaves landed on our table: dark, slightly sweet brown bread and tender white baguette, with plenty of whipped butter.
An appetizer order of fried green tomatoes ($12) started things off right. Five thin slices of properly green tomato were coated with a crispy, crackly fried cornbread breading, plated on a fresh lettuce leaf, and garnished with chopped parsley and tomato dice. A bowl of cumin-laced, gently spicy red bell pepper aioli came alongside. It was a tasty starter, although the cornmeal crust and spicy aioli overpowered the tomato flavor; thicker slices might have made for more balanced flavors in the dish.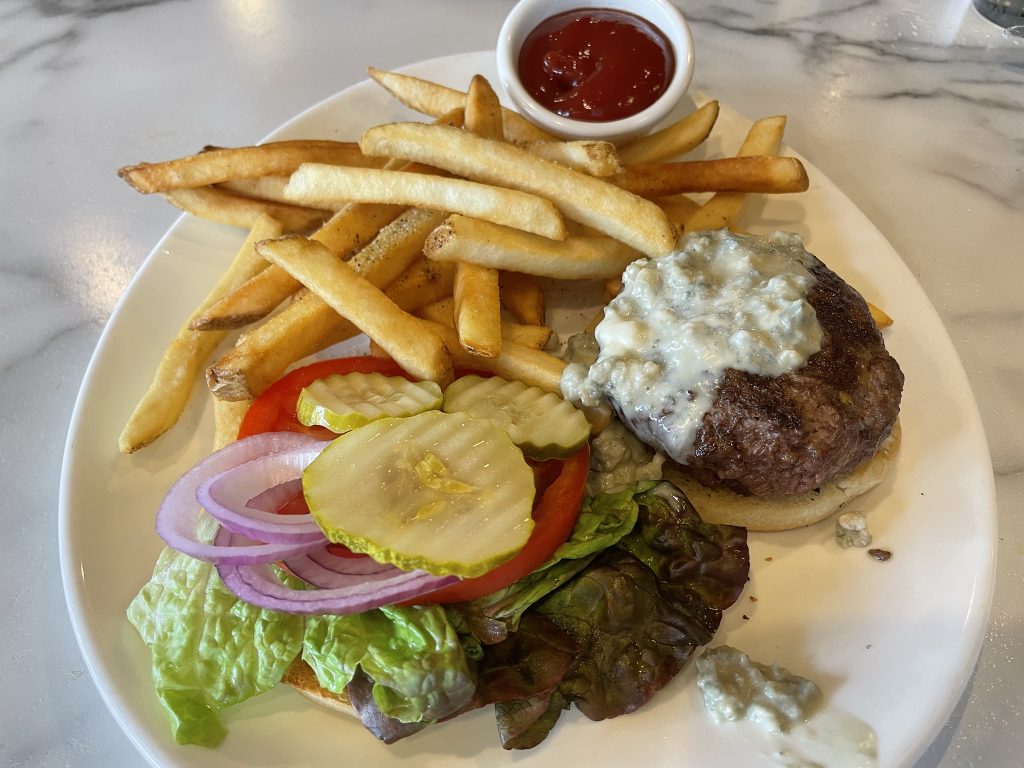 The Uptown burger ($18) has been a menu star since the very start. An excellent homemade patty, shaped by hand and thickest at the center, it was a good fit for the thin, buttered and grilled English muffin that it perched on. Hot-pink medium-rare, exactly as ordered, it was served open-faced, with a dollop of blue cheese dressing (our choice from pepper jack, cheddar, smoked Gouda, Swiss or American) atop one muffin half. The other half of the muffin was set up with fresh leaf lettuce, sliced red onion, a ripe red tomato slice, and mild pickle slices.
Excellent fries came alongside: crisp, not flabby, lightly dusted with mild spice, and apparently cut from very large potatoes: One startling fry measured about 8 inches long.
Several of the menu items are marked as gluten-free, but you've got to figure out vegetarian and vegan options on your own (or, yeah, ask a server.) Two of the entrees, stir-fried vegetables and curried rice noodles (both $18), appear to be vegan.
The Asian-style noodles (pictured at the top of this page) made an exceptional dish, served in a large, shallow white bowl attractively decorated with curlicues of Sriracha sauce around the edge. Tender flat rice noodles in a hot but not fiery curry sauce were topped with an artful selection of tofu cubes, broccoli florets, snow peas, thin-sliced cabbage, carrot, and onion, and topped with a scoop of chopped peanuts and a few cilantro leaves. The vegetables were very well done, quickly blanched so their colors remained bright and they were still crisp-tender to the bite but no longer raw.
A main-meal-size lunch for two came to $50.88, plus a $12 tip.?
Uptown Cafe
1624 Bardstown Road
405-8898?
uptownlouisville.com
?facebook.com/UptownLouisville?
instagram.com/uptowncafelouisville
Noise Level: Just about every table was taken at this popular spot, and that results in a happy hum. Conversation was only occasionally difficult, though, with average sound at 69dB with peaks to a noisy 78.8dB.
Accessibility: The restaurant and its multiple rooms appear fully accessible to wheelchair users.