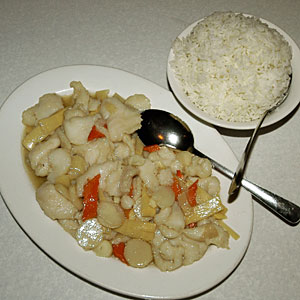 Liang's Snow White Fish is as pretty as its name and tastes even better. Photo by Robin Garr.
LEO's Eat 'n' Blog with Louisville HotBytes
In Western culture, even those of us who've learned to prize the tasty joys of pigmeat can't fully escape our Old Testament heritage: Calling an associate "pig" will not win you friends or influence people.
The Chinese, however, informed by nearly five millennia of pig-loving heritage, take a broader view: In the legend and lore of the mysterious East, the noble swine is considered loyal, chivalrous and pure of heart.
Lunar Year 4705, the Year of the Pig, is coming on Feb. 18, and I for one plan to enjoy plenty of Chinese food before, during and after the 15-day celebration.

Chinese dining in Louisville has seen its ups and downs over the past generation. Back through the '60s, only a handful of Chinese-American eateries offered the then-mysterious delights of sweet-and-sour pork, egg foo yung, chop suey and chow mein, served with knives and forks at such landmark spots as Hoe Kow at Bowman Field, House of Chen in Shively and the still-extant Oriental House in St. Matthews.
Excitement blossomed in the late '70s with the arrival of the hot-and-spicy delights of Sichuan and Hunan dishes; a new wave of eateries arrived to serve them, including the Empress and Emperor of China and Sichuan Garden. We discovered tofu, shark fin and more, and we learned to eat with chopsticks.
The 1980s brought us a Chinese Golden Age that hailed the arrival of many more fine spots including the innovative Asian fusion fare of Chef Peng Looi's Asiatique and August Moon and the lovable dim sum at Jade Palace.
But then, as Asian dining diversified into a range of regional options from Japanese to Vietnamese, Thai and Filipino, much of the Chinese action shifted to shopping-center fast-food eateries, all of which seem to share the same menu; and fancy but forgettable all-you-can-eat buffets, all of which seem to share the same supplier of brass and glass fittings and illuminated bas-relief images of the Great Wall.
In the past couple of years, though, there's been a small but hopeful evolution that's returning excitement to the Chinese dining scene: Here and there around town, a few Chinese spots have begun admitting Westerners to the previously sacrosanct world of the authentic Chinese menu. Historically, these dishes had been reserved mostly for ethnic Chinese out of fear that the proprietor will suffer embarrassing loss of face if a Western customer were served duck feet or fish maw or sea urchin … and didn't like it. Better to err on the side of safety and push the egg rolls and sweet-and-sour.
New management at Oriental House was the first to embrace this approach a couple of years ago. Their "Authentic Chinese" menu of Hong Kong-style dishes is available – in both Chinese and English – to anyone who requests it. (Of course, Grandma and Grandpop may still choose the chow mein.) Jasmine in Middletown took a similar approach, featuring authentic Sichuanese fare. A few other spots, including Liu's Garden in Middletown, will also offer an off-menu selection of authentic dishes on request.
(The late, lamented Peking City in Springhurst was a source of much frustration to wannabe-adventurous Westerners, as it was profoundly difficult to get the highly regarded Chef Chen or his staff to let you order from the authentic menu if you weren't Chinese. I tried pushing it once and was grudgingly given a handwritten, all-Chinese menu but no assistance in reading it. I used my limited command of Chinese food characters to pick out a pork dish and a spicy chicken dish, only to be informed that they were out of both items. We ended up with two bowls of soup.)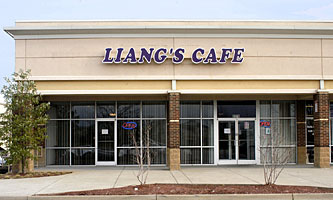 Liang's is a new top Chinese spot, operated by Roland Wong, who used to run the front of the house at Emperor of China.
Today let's celebrate the arrival of a new top Chinese spot, Liang's Café, where the genial yet dignified Roland Wong, who for many years ran the front of the house at Emperor of China, now presides over his own place in Peking City's old digs. Rather than presenting a separate "authentic" menu, Liang's – whose chef hails from the region around Beijing – offers a dozen regional North China dishes integrated into the regular menu as "House Specialties," the only section of the menu in which the dishes are described in both English and Chinese.
Liang's didn't significantly change the former tenant's decor. It's a large, modern shopping-center room with a couple of impressive Chinese screens and discreet, attractive art; no exuberant Chinatown-style Great Walls or dragons or Asian-baroque chandeliers. Tables are undraped blue-gray laminate, and heavy flatware comes rolled in slick off-white cloth napkins; chopsticks are offered only upon request.
We've been in three or four times, eager to try everything on the "House Specialties" side of the menu, and haven't been disappointed yet. The specialties range in price from $9.95 to $13.95; about 40 other chicken, beef, pork, seafood and vegetarian dishes and fried rice run from $6.50 to $12.95.
Among highlights of dishes we've tried:
Vegetable Egg Roll ($1.50) was a good-sized pastry cylinder, deep-fried golden brown and glass-crisp, packed with finely shredded cabbage, carrot, celery and onion, laced with black pepper and aromatic spices.
Another appetizer, Ma La Ji ($4.50), tried twice, was prepared somewhat differently each time. Both versions featured shredded, tender fresh chicken white meat marinated in what appeared to be two different kinds of dried red chile peppers; but one was piquant, the other fiery. The first was served over a small ration of julienne cucumber, the other was chicken all the way down. Both variations were delicious, although the hotter item put out an emergency call for a cooling mug of Chinese Tsing Tao beer ($3.50).
Dan Bing Chicken ($9.95), an unusual, piquant North China dish, consisted of bits of chicken chopped fine and stir-fried with small green peas and tiny diced carrots and black mushrooms in a spicy sauce.
Snow White Fish ($12.95) looked as pretty as the name sounds and tasted even better: Neat squares of fresh, mild white fish, delicately "velveted" with a light cornstarch coating, were stir-fried with thin-sliced white bamboo shoots and water chestnuts in a light, scant white sauce, with rectangular slices of bright, crisp carrot for color contrast.
"Cummins" Chicken ($9.95), a variation on a West China Muslim dish usually made with lamb, was stunning, bite-size cubes of tender chicken meat with lots of diced onion and a remarkable amount of aromatic cumin in a small amount of light, slightly piquant sauce.
Somewhat similar but even more addictive, Shredded Pork with Bean Sauce ($9.95) was a succulent, mahogany-color pile of sizzling strips of pork and sliced onions laced with ginger and garlic, served with thin tortilla-like wheat pancakes cut in quarters, used to roll up and eat the pork in a sort of do-it-yourself Chinese burrito. I wanted to take some home, but it was so good that I couldn't stop eating it until it was gone.
With strong, black hot Chinese restaurant tea, dinners for two have ranged from $20 to $40 plus tip, varying with our main dish and beverage choices. It's a deal at either price, and even the fortune cookies seem above average.
Liang's Café
3571 Springhurst Blvd.
425-0188
Rating: 89 points