LEO's Eat 'n' Blog with Louisville HotBytes
(Nios, Mayan Gypsy, Jeff Ruby's preview)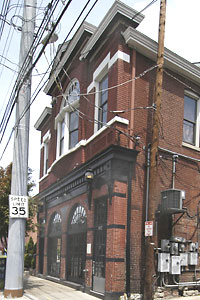 Photo by Robin Garr: Nio's at 917.
If these old walls could talk, what stories they might tell. This stunning, century-old red-brick building, with its big semicircular fanlights over glass-paned front doors, was originally the Gem theater, where actors trod the boards in a small but imposing barrel-vaulted room that now houses a dining room and the open kitchen at Nios at 917.
Did they play Shakespeare? Or vaudeville, or burley-cue? It's hard to say. Before the 1950s, it was Shibboleth Hall, a Masonic lodge, and in recent years it has housed a succession of eateries and bars. The still-lamented Jupiter Grill was here, followed by a short-lived incarnation as a fish-taco spot, then @mosphere, a trendy establishment that ran into licensing problems that turned on the thorny issue of whether it was an eatery or a saloon.
Nios should have no difficulty with this regulatory question. Although it boasts a splendid bar with a lofty wine rack so tall that it needs library-style rolling ladders to reach the top shelves, it's a restaurant indeed, and one that's already showing potential to compete with the city's top tables.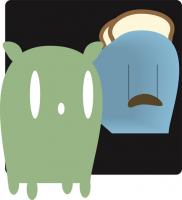 Illustration by Gina Moeller
Owned by Jun Eugenio (the eponymous "Nio" of the restaurant's moniker, which honors his family), former partner in Jicama Grill (now Seviche), Nios is showing sparks of culinary fire with Chef Dave Nelson's hand at the helm. We haven't hit a disappointing item yet, and a couple have ranked among the best restaurant dishes I've ever tasted. The seared espresso-rubbed duck breast, for instance, is to die for, a symphony of dark, deep flavors and a stunning match with Pinot Noir. Not to mention a remarkably elegant dessert that melded dense, rich bread pudding with aromatic tiramisu.
The buzz starts before you hit the front door, especially on warm nights when they throw open the French doors across the front of the building to open up the bar tables to the street scene, and the patio in front of the old white house next door is full and humming. The building looks better than ever now, a thoughtful renovation having exposed brick and antique wood. New windows open up the once-dark back room, and wall treatments by artisan Martin Alan Hirsh are stylish, subtle and discreet.
The restaurant wanders through multiple rooms on several levels through the theater building and the house next door, a funky layout that's esthetically pleasing but that pretty much bones wheelchair users (despite accessibility litigation against former occupants), as even the main-floor rooms are rendered inaccessible by a high step at the front entrances; stored furniture and a locked door block a ramped entrance that gives way to a dingy alley on the side.
Shiny, undraped mahogany tables are attractive, but tend to rock uncomfortably on the old hardwood floors. (Keep your elbows off the table, anyway, my mother would have said.) Black polyester napkins are large but not very absorbent, a small negative; wine glasses are big enough for swirling and sniffing, if a bit on the heavy side.
Enough nitpicking, though: This place is outstanding, and earns my 90-plus rating on the basis of mood, food and service.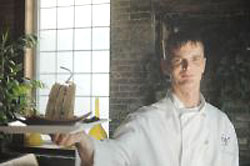 Photo by Kelly Mackey: Nio's Chef Dave Nelson shows off the restaurant's tiramisu bread pudding.
Local foodies who assumed that owner Eugenio would come forward with a menu resembling Jicama Grill's Nuevo Latino bill of fare got a surprise, as Chef Nelson presents something more varied, an appetizing assortment of more than two dozen "small plates" and salads, priced and sized to invite indulgent grazing. International in style, ranging from Italy to the Pacific Rim, they range in price from $5 (for a salad of poached beets and strawberries) to $14 (for the espresso-rubbed duck or an artful trio of Thai-style satays-on-a-stick). More substantial main courses are $18 (for crispy garlic chicken with potato bacon dumplings and asparagus) to $25 (for charred sea bass accompanied by spinach and orzo, tomato consommé and olive tapenade). In an apparent salute to Eugenio's former venue, there's a single seviche, and a fine one it is, a piquant but not fiery mix of thin-sliced lobster and scallops with tiny tomato and watermelon dice, fresh green chilies and a "tiger's milk" marinade of subtly truffle-scented lime ($12).
That lofty wine rack holds a well-chosen collection of more than 100 wines, a few of them loftily priced in the triple figures – a magnum of Phelps Insignia will set you back $375, and a Mondavi Reserve Cabernet $205.
The list doesn't disclose vintages, as it should for wines of this character; it's also riddled with typos, a problem I assume will be remedied with time. Most of the lower-end wines are available by the glass at one-fourth of the bottle price, starting at $6.25 ($24 a bottle) for Beringer White Zinfandel or the good-value Verget de Sud Blanc. Markups are a bit high, many bottles priced well above the twice-retail point that's standard for many local lists. But values can be found – I'm smitten with the Louis Latour Domaine de Valmoissine Pinot Noir ($7 a glass, $28 a bottle), a Burgundy look-alike from Provence.
We've grazed on small plates, mostly, including the duck, a Tuscan-style salad of grilled leek and creamy, garlicky white beans ($8); Thai-style tuna spring rolls wrapped in translucent edible rice paper with a hot-sweet orange mustard dipping sauce ($8); and a hearty baked onion goat-cheese potato tart ($9), an impressive presentation in the shape of a vertical cylinder the size of a can of corn, thin-sliced scalloped potatoes layered with mild white goat cheese. Nio's skirt steak ($12) is grilled, sliced thin across the grain and dressed with "Argentine ketchup" – actually chimichurri, a tart vinaigrette loaded with chopped herbs, garlic and tomatoes – garnished with a tasty nest of thin-shredded sweet potato deep-fried to an addictive salty crunch.
About that $14 seared duck breast, my mojo-wire notes went ecstatic: "Wonderful! Dish of the year!" Tender, dark and rich duck meat, baked to crisp-skinned, defatted perfection, lined with a bittersweet espresso rub that makes a remarkable if unexpected flavor match with the poultry; sliced into a half-dozen tender rounds. It's garnished with soft-boiled eggs, cut in half, yolks just runny enough to make a silken sauce for the dish; light-skinned new potatoes are perfectly cooked, nicely seasoned with black pepper, all on a bed of crisp, bitter frisée.
A filling main course, risotto paella ($20), prompts the question, "Is it risotto or is it paella?" Well, it's both. Short-grained rice is fashioned as a creamy risotto, and it's topped with seafood and sausage, paella-style: four mussels in their shells, four large shrimp; four fat, sweet scallops and several small balls of spicy chorizo sausage, all in a very rich, slightly sweet sauce, so filling we ended up taking half of it home.
It's hard to find room for dessert after all these goodies, but worth the effort to do so, as that remarkable tiramisu bread pudding demonstrated. Save the room. You won't be sorry.
Perhaps surprisingly for its style and quality level, dinner at Nios can be quite affordable by upscale-restaurant standards. We've left quite full after dinners of small plates, mostly, with glasses of wine, for $62 on one occasion and $88 on another, prices that make it easy to do the right thing with a tip well over 20 percent.
Nios at 917
917 Baxter Ave.
456-7080
Rating: 91 points
Beans, beans …
Consider the humble lima bean: Simple, nutritious but far from sexy, it's rarely enumerated among the dishes that make us go "Ooooo!" But Mayan Gypsy transforms it, reports correspondent PAIGE A. MOORE:
"Ewwww … lima beans!" If you said that as a kid and you haven't outgrown your aversion, it's time to check out the Mayan Gypsy. It'll only take one bite of the Gypsy's signature side dish, tok cel, to change your mind.
OK, I'm getting ahead of myself here. There's more on the menu than lima beans – and it's all very good. On a recent visit with my friend Jeni, we enjoyed attentive service and platefuls of complex, Yucatan-inspired goodness. The restaurant's rustic-but-upscale décor reflects the artistic vibe of its East Market Street neighborhood, and the menu represents nothing short of food artistry.
We started with an appetizer – bean and goat cheese empanadas wrapped in a soft yet crispy pillow of cornmeal breading and served with a side of homemade salsa. We also selected two glasses of wine from a list that represents all styles and tastes and, best of all, doesn't knock you over with a huge markup.
For dinner, I selected beef and shrimp Diablo ($20) with lima beans and plantains as sides. Jeni chose the fish special, salmon with a lime-flavored cream sauce ($17), with the same sides. Hey, when you've got a favorite, it's hard to stray.
Our food arrived quickly on brightly colored plates. My shrimp was cooked perfectly, and the tender steak was infused with a complex sweet-spicy-smoky marinade. The plantains, gently fried with a squiggle of sweet glaze on top, nearly melted in my mouth. And the lima beans – oh, the lima beans! – were perfectly cooked and accented with a slightly spicy, slightly citrusy glaze. Jeni reported that her salmon was cooked just right and, like my steak, included a medley of unnamable but amazing flavors.
When you go to the Mayan Gypsy, make sure to leave room for dessert. Every day, the chef features "some kind of chocolate thing," and I've never been disappointed. Eating at the Mayan Gypsy is like taking a little Central American vacation right here in Louisville. And at only $50 for two amazing plates of food and two glasses of wine, I can justify taking this trip over and over again.
Mayan Gypsy
624 E. Market St.
583-3300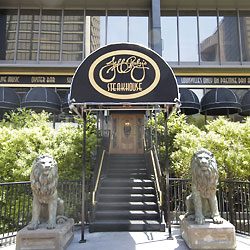 Photo by Robin Garr: Steakhouse is another jewel in the downtown dining scene: The spanking-new Jeff Ruby's fairly oozes a sense of upscale indulgence.
This Ruby's a jewel
Floating mirrors above, African hardwood on the floors, and bold, striking colors and lights … mohair-upholstered seating and a 1,200-gallon shark tank: From the Ali-related collectibles along its "Muhammad Alley" to the collection of complimentary toiletries, marble floors and $125-per-yard leather wall treatments in the men's room, Louisville's spanking-new Jeff Ruby's Steakhouse fairly oozes a sense of upscale indulgence.
Eat 'n' Blog correspondent DOUG RENFRO got the full VIP treatment at a pre-opening media event at this pricey new eatery in the downtown Waterfront Plaza. It's the first Louisville property of a restaurant group that has earned a name for itself upriver in Cincinnati and Northern Kentucky.
Renfro, who got a private tour from general manager Jason Johnson and a handshake from the eatery's eponymous owner, Jeff Ruby, before lunch, took along his notebook and brought us back this report.
The whole bar area, as well as the restaurant in general, has a 1920s Art Deco look and feel. The predominant colors are brown, orange and black, and the lighting is mostly purple and blue. It may sound odd, but it works.
The shark tank – occupied by three species of shark – separates the bar area from the dining room, where you'll find sushi and raw bars, a wall of wine and a bright, open dining room with hanging ferns, potted palms and white-draped tables set with heavy silver and quality wine glasses.
Private dining rooms include the Platinum Room, where a dozen revelers can dine in comfort, enjoying an old-time atmosphere imparted by bronze art deco doors that once graced the elevators in New York's Chrysler Building, plus a 6-foot chandelier from the Cadillac Hotel in Detroit, and the larger Churchill Room, a magnificent venue with antique chandeliers, burgundy velvet walls and an antique mahogany fireplace, plus personal memorabilia provided by Triple Crown winner Steve Cauthen.
I dined in the bar area, beginning with selections from the raw bar and creations from Chef Ota, who came to Louisville from Tokyo to head Jeff Ruby's sushi bar. The king crab leg was sweet and tender, the prawns were huge and perfectly steamed, and the oysters were firm to the bite with a briny note that spoke of the seaside. A sushi plate featured eel, crab, salmon and vegetables, all wrapped in perfectly cooked rice dotted with toasted sesame seeds.
Then it was time to move on to Ruby's specialty: steak, simply presented on a square white plate. There was no pool of butter, nor was it 800 degrees hot. A steak knife was available, but I really didn't need it. I put the knife on the filet and gravity practically did the job. It was cooked medium and had a crispy charred texture; the first bite just about melted on my tongue. Jeff Ruby's patented seasoning was perfect, accentuating the beefy taste of the filet. The small sample was so good that I couldn't resist accepting three more. Service was attentive and professional throughout, an appreciated touch.
Dessert? Don't mind if I do. A quartet of chocolate truffles had been chilled for a bit, and each melted on the tongue into a luxurious stream of chocolate heaven on earth. Jason came by as I was finishing up and asked if there was anything else I wanted or that he could bring me. In my satiated state, I just smiled and told him that everything was delightful and that we are fortunate to have Jeff Ruby's Steakhouse in Louisville.
With the attention to detail, all the small things that add up to a big picture, it's fair to assume that Louisville will be knocking down the doors of this upper-end dining room. From the unique décor to the black-clad waitstaff, from the Japanese sushi chef to the dry-aged beef, lamb and bison, this fine restaurant adds another jewel to the downtown dining scene.
Jeff Ruby's Steakhouse
325 W. Main St. (Waterfront Plaza)
584-0102