I'm delighted to announce a new partnership between LouisvilleHotBytes and The Voice-Tribune, Louisville's suburban weekly newspaper. We'll publish monthly restaurant reviews and wine-tasting reports in The Voice, which is available on East End news stands and by subscription.
For many years, Westerners who craved a taste of truly authentic Chinese food have been pretty much out of luck. Even if we followed the traditional wisdom for tracking down the finest Chinese fare ("look for the places where Chinese people eat"), our round eyes and pink complexions gave us away.
Invariably, even the most impassioned request for those exotic, delicious-looking dishes we could see all around us would meet kind but firm resistance. "You won't like that. Try this."
But the times are a'changing as a new generation of Chinese-immigrant entrepreneurs comes into the restaurant business; and nowadays at least a few Asian eateries are willing to give diners of European heritage a peek at the Chinese-for-Chinese menu.
Here's news that may surprise you if you haven't been paying attention: One of the best places in Louisville to find genuine, home-style Cantonese fare the way the Cantonese like it is the Oriental House in St. Matthews.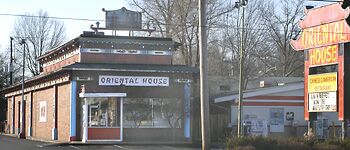 87

Oriental House
4302 Shelbyville Road
(502) 897-1017
The Oriental House? But, you say, isn't that the familiar old Chinese-American place that's been around for 40 years or so? The one that looks like a big red-and-green trolley car all set to chug out onto Shelbyville Road? You bet it is. Oriental House (along with Hoe Kow at Bowman Field, Lotus, China Inn and Oriental House's sibling, House of Chen in Shively) was one of the city's first Chinese restaurants, and in many ways it hasn't changed much since the 1960s.
But there've been big changes at Oriental House, changes taking place so quietly that only the restaurant's regular customers and a few dedicated Chinese-food-loving "foodies" have noticed: The old place has new management. The Chiu family, young Cantonese natives who've spent 15 years in the restaurant business in San Francisco, purchased the business in 2003. Knowing a good thing when they saw it, they didn't change the menu, the prices or the exuberant old-fashioned classic Chinese-American restaurant decor.
If you want it, you can still order the same kind of chow mein and chop suey dishes that Mom and Pop loved, and you can still eat it with a knife and fork. But with Fannie Chiu now presiding over the front of the house and her husband, who is always referred to, somewhat mysteriously, as "Mr. Chiu," in charge of the kitchen, you've never seen chop suey done with more skill or flair.
Better yet, if you're adventurous, you are not merely welcome but encouraged to view the "Authentic Chinese" menu, listing nearly 60 Cantonese dishes in both Chinese and clear, descriptive English, ranging in price from $4.95 (for a number of meal-size soups) to $23 (for a whole Beijing duck, Chinese-style).
More Real Chinese

Two other East End Chinese restaurants that offer their authentic Chinese menus to all diners are Jasmine, 13823 English Villa Drive, 244-8896, and Liu's Garden, 11517 Shelbyville Road, 244-9898. Peking City, 3571 Springhurst Blvd., 425-0188, has an authentic Taiwanese menu, but efforts by non-Chinese-speaking customers to move out of the Chinese-American menu may run into a language barrier and skittish attitude. Jade Palace, 1109 Herr Lane, 425-9878, is famous for its authentic midday dim sum carts, a delicious Chinese custom that's available to all.
If you know of other "real Chinese" spots around the metro, please let us know!
A few of the authentic dishes are outright challenging. I'm still working myself up to the braised duck web ($5), a tasteful way of saying "fried duck feet," and my wife claims she's just about ready to risk fish maw soup ($5), with a whole fish head grinning up at you from its oversize bowl. But most are as appetizing in the translation as they are in the eating. Here's a quick look at some of the many goodies we've enjoyed on frequent visits.
West Lake Beef Soup ($5 for two) is something like egg drop soup with a sharp new suit. A big, steaming bowl of rich, salty broth, redolent of aromatic garlic and fresh ginger, is loaded with finely chopped beef, bits of dark Chinese mushrooms and lots of chopped scallions, all borne on a bed of gently scrambled streamers of egg cooked by the heat of the broth.
Roasted Duck Hong Kong-style ($7.50 for half of a duck) comes cut up in bone-in chunks, reassembled on a large platter. Golden-brown skin contrasts nicely with dark, almost beefy, tender dark meat, with an accompanying sauce that's lightly sweet and full of garlic, enhanced with a whiff of gently anise-scented "five-spice."
Similar flavors infuse Egg Noodle Soup with Roast Duck ($4.95). An ample portion of duck pieces are perched in a large bowl of rich, salty duck broth enhanced with "five spice" and loaded with wide noodles that resemble small dumplings.
Crispy Skin Chicken ($12) is similar in style to the Hong Kong duck, roasted under high heat until its glazed skin is crisp enough to shatter at a touch, cut up and reassembled. It's also gently infused with a delicate star-anise flavor.
Fresh String Bean ($6.50) consists of handsome long beans, stir-fried crisp-tender and tossed with a dark-brown, garlic-laced soy sauce with just a hint of spicy heat. Vegetarians be warned: This green-veggie dish includes a good ration of crisp-fried chopped pork.
Other (meatless) veggie options include Chinese Broccoli ($6.50), with pencil-thin stems and small florets, steamed until crisp-tender and infused with garlic; and Eggplant with Garlic Sauce ($6.50), which is almost like eating dessert first, bite-size chunks of baby Chinese eggplant, long-cooked and tender, coated with a dark-brown, hot-fruity and sweet sauce, garnished with fresh scallions.
Stir-fried Flat Rice Noodle With Beef ($6.95) smells wonderful and tastes just as good. It's tender stew beef, long-cooked and falling into shreds, in a delicious savory sauce with a distinct aromatic note of cinnamon, sitting atop green onions and an odd, leafy green vegetable. Large pale-green leaves, tender but still showing a bit of crunchy bite. What the heck is it? Bok choy? An exotic Chinese vegetable? Not exactly. "Iceberg lettuce," Mrs. Chiu admits with a smile.
BBQ Beef Rib ($10.99), a Chinese take on barbecue, consists of a dozen beef spareribs sliced thin across the bones, deeply beefy in flavor with an elusive salty-spice character and just a hint of sweetness, offering a nice contrast between crisp roasted edges and tender meat.
Seared Whole Pacific Pompano ($10.99) is a fish-lover's banquet dish, two small whole fish, complete with heads, fins and tails, lightly breaded and crisply wok-fried, served with a clear brownish sweet-salty soy-based sauce and garnished with scallions. If you're squeamish about whole fish with eyes on your plate, you may want to steer clear, but this crisp-fried, sweet, delicate fish is truly delicious, and worth the slight effort involved with lifting the meat gently away from the bones.
Steamed white rice and strong, hot black Chinese tea are always perfect here, and if you make it through the full Cantonese meal, the hosts will pay homage to your commitment to authenticity by skipping the fortune-cookie ritual entirely.
We always load up and order way more than we really need, but I've had a hard time pushing either dinner or lunch for two much past $25 plus tip.