A little piece of the Bronx has broken off and come to Louisville, and we couldn't be happier. Especially since the chunk of Jonas Bronck's old dairy farm that landed here reminds us of Arthur Avenue, the Bronx' memorable slice of Little Italy.
So say hello to Palatucci's Italian-American Ristorante, opened last month in the quarters previously occupied by Gary's on Spring. Chef Richard Britney, who owns the place with his wife, Tamara, traces his roots, and his love of Italian food, to a grandmother who lived in the Bronx.
That's a deep background to bring to an Italian eatery; and if Palatucci's is one among many Italian places here, Brittney's touch yields a distinct flavor that stands on its own. It's not quite the ethereal high-end Italian style of the city's white-tablecloth places, but a little more refined than our red-sauce family-Italian eateries on the other hand. And for what it's worth, there's no pizza on the menu – at least not yet.
The dining room's style is right out of Little Italy, too, with old Italian family photos on dark-red walls, striped banquettes, and a mix of white cloth and black-and-white checkered tablecloths laid over white on the tables. Heavy flatware and dishes and quality wine glasses signal casual elegance, but not the kind that forbids noisy conversation and laughter. That goes double for the large bar room upstairs and the expansive patio on the south side of the building.
Britney and Chef de Cuisine John Fields' menu isn't overly long, but it's all-Italian. In proper Italian form, it separates pasta dishes from main courses, assuming that you'll be having a primi ("firsts") pasta course before your secondi ("seconds") entree. If I tried that at Palatucci, I'd be taking a stack of leftovers home.
The three pasta dishes, all made with house-made pasta using Italian ingredients, are $12 (for maccheroni alla chitarra with tomato sauce; add $6 for meatballs), and $18 (for tagliatelle alla bolognese with veal, beef and pork ragu, or paglia fieno with prosciutto). The four mains range in price from $24 (for roast salmon) to $34 (for veal saltimbocca).
A half-dozen appetizers are $6 (for olives and focaccia) to $14 (for calamari). There's also a choice of salads ($7- $9), a salumi plate ($16), and a cheese plate ($18).
The bar offers short but well chosen bourbon and beer lists, cocktails, and a fairly priced wine list. I enjoyed a well-made Negroni ($12), and Mary was happy with a glass of aromatic Big House White ($5) from California.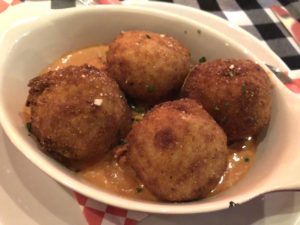 A complimentary plate of focaccia with olive oil got us started. Then, it was on to appetizers. I don't think I've ever had better arancini ($8). This generous portion of four golf-ball-size rice balls was perfect, so good that I might have ordered two more bowls for dinner, if only I hadn't had a review to write. Spheres of perfect, tender risotto, every grain separate, were formed around balls of mozzarella and fried until the outsides were shattering crisp and the mozz' oozy.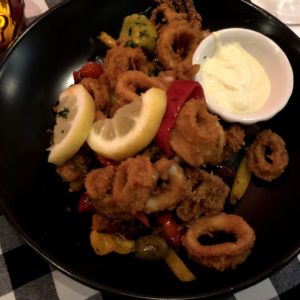 Palatucci's take on fried calamari ($14) hit the spot, too. Not rubbery at all, not greasy, but crisp, their subtle deep-sea flavor was heightened by a spicy mix of hot Calabrian chiles, mild Peppadew peppers and vinegary green peperoncini.
A simple pasta dish, maccheroni alla chitarra ($12), pictured at the top of the page, gave us a chance to sample Palatucci's pasta skills, and they earned an "A." Every strand was tender with a gentle bite, just as al dente should be. A simple, garlicky San Marzano tomato sauce and a fresh basil leaf was all it needed.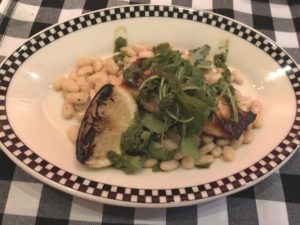 Roast salmon ($24) was wonderful, with all its good flavors working in concert.  A generous crosswise-cut slab of salmon was grilled char-crisp on the outside while still hot pink in the middle. Firm and flaky, mild and not at all fishy, it was plated on a pile of firm-tender, home-cooked white cannellini beans that had been drizzled with a small amount of pesto-scented oil with a back note of mint. A pile of fresh arugula on top merged beautifully with all the other flavors, as did the juice of a large grill-charred half-lemon. Bronx, hell. This dish traces its roots straight to Tuscany.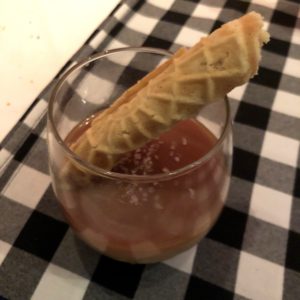 New York cheesecake ($6) was the real thing: rich, creamy and dense, a good balance of tart and sweet, New York Italian cheesecake the way it was meant to be. A bowl of budino ($6), succulent and deeply flavored Italian-style butterscotch pudding garnished with a rolled pizzelle cookie.
Our toll for two came to $92.22, plus a $20 tip for competent but not oppressive service.
Palatucci's Italian-American Ristorante
204 S. Spring St.
618-1049
palatuccis.com
facebook.com/palatuccis
instagram.com/palatuccis
Robin Garr's rating: 89 points.
Noise level: The room wasn't crowded on a weeknight, and conversation was easy at our table. (Average sound was 74dB, the level of normal conversation, with peaks to 85dB, the sound of loud singing.)
Accessibility: The main entrance is up several stairs and not accessible to wheelchair users, and the separate bar area is up a full flight of stairs. An entrance through the patio is at ground level, though, and the restrooms are equipped for disabled patrons.