I got the jingle "two all-beef patties, special sauce, lettuce, cheese, pickles, onions on a sesame seed bun" stuck in my head the other day, and there was no way to stave off the crave. So I blasted off to get one. No, not Mickey D's. Better. The double bison burger at the new Burger Girl Diner takes two all-beef patties to a whole new level.
Actually, just about everything we've tried in two visits to Burger Girl was satisfying. It's good to have a diner and burger joint in the stretch where Crescent Hill meets St. Matthews; and there's more on the way: Owner Dan Borsch, who also operates Burger Boy, Old Louisville Tavern and Toonerville Deli, will soon open Hillcrest Tavern a few blocks west on Frankfort Avenue. If Burger Girl is Burger Boy's East side twin, so Hillcrest Tavern will echo Old Louisville Tavern.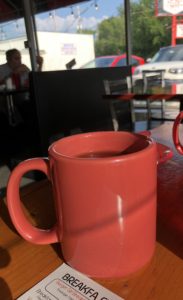 Borsch and crew have rebuilt the former quarters of Bluegrass Burgers, reopening last March in a bright, sunny venue that offers just about everything that a proper diner needs: A row of round, red-topped spinning chrome diner stools lined up along a counter so you can watch the cooks fashioning your meal on a classic flat-top grill while you eat. Not coincidentally, it looks a lot like Burger Boy.
Comfortable black leather-look booths line big plate-glass windows across the front of the small room so you can watch the Frankfort Avenue world go by while you dine. If you'd rather get away from it all, a calming sky-blue side room houses several more tables away from the rush.
Better yet, you can go any time you want to. The slogan, "If you're up, we're open," greets you at the front door. That's what proper diners do: When you want them, they're there.
The tri-fold menu, a virtual clone of the Burger Boy bill of fare, features a full panel for breakfast items (available 24×7), and another panel for all manner of burgers. There's also a choice of sandwiches, soups, salads, and desserts.
Only two of the 20 breakfast options will cost you more than $10: Rib eye steak and three eggs is $13.99; a three-egg Western omelet combo is $11.99. All the rest ranges in price from $4.99 (for buttermilk pancakes) to $9.49 (for a turkey bacon or turkey sausage or Philly cheesesteak omelet).
Ten takes on the burger – all cooked to at least medium, the menu warns – range from $7.99 (for a grilled turkey burger) to $13.99 (for the bison Burger Girl combo with fries and a soft drink). That combo, like the $9.99 Burger Girl combo with Angus beef, features, yes, two all-beef patties with lettuce, cheese, pickles … you get the idea.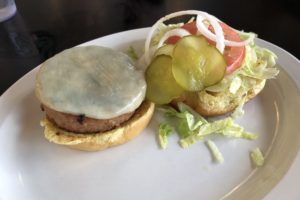 We decided to compare three kinds of burger. The Bison combo was an obvious pick. Why not pair it with a traditional veggie burger ($7.49 for black bean or garden burger) and an Impossible Burger ($9.99)? As it turned out, the Impossible Burger is in short nationwide supply, so we got the almost-as-good Beyond Burger instead.
It was well prepared, sizzling hot, draped with provolone, dressed with lettuce, tomatoes, and pickles, and placed on Burger Girl's standard butter-and-mayo-coated toasted bun. Beyond Burger's pea-protein formula comes pretty close to ground beef flavor, and its trademark pink interior, actually beet-based, looks a lot like a bleeding rare patty.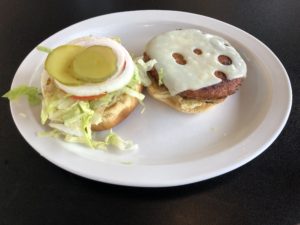 The garden burger showed bright bits of carrot, onion, and tiny whole peas in a meaty, juicy dressed veggie burger topped with swiss.
The bison combo, pictured at the top of the page, featured two tender and juicy Kentucky Proud quarter-pound patties from Kentucky Bison Co., dressed with lettuce, tomato, and pickles on a toasted three-piece bun. The special sauce was an excellent, spicy, remoulade-style concoction that made a great dip for seasoned fries, crunchy grease-free onion rings ($3.49) and jalapeño poppers ($4.99).
Back for breakfast another day, we enjoyed a decent and filling morning meal.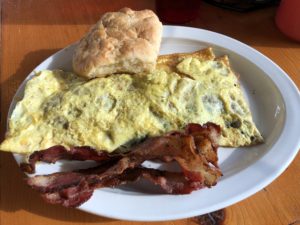 A veggie omelet ($6.99) comes with a choice of veggies, and we chose them all: green peppers, mushrooms, spinach, onion, and tomato, chopped and sauteed before rolling them into a paper-thin omelet. Three slices of bacon were good, thick-cut, crisp, and flavorful; a large square biscuit was good but a little chewy.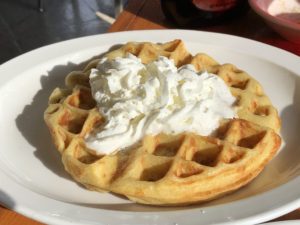 A Belgian waffle ($6.99) was thick and golden, topped with a scoop of whipped cream. A well-made if slightly greasy order of hash browns ($2.49) made a carb-loaded side.
Fresh black coffee ($2.19 each) was strong and clean, so good it needed no cream.
A filling lunch, with lots of leftovers, was $38.83 for three, plus an $8 tip. The share for two would have been about $26 plus tip. Breakfast for two, plus a slice of cake to take home, was $28.97 plus tip.
Burger Girl Diner
3334 Frankfort Ave.
709-5454
facebook.com/burgergirldiner
Robin Garr's rating: 86 points
Noise level: Conversation among our tablemates was easy during a moderately busy lunch hour. (Average sound was 73dB, the level of normal conversation,]
Accessibility: The entrance is level, so wheelchair users can roll in, and the restrooms are equipped for wheelchair users. There was no space reserved for disabled patrons in the small parking area.