By Robin Garr
LouisvilleHotBytes.com
Remember back before Covid when restaurant buffets were commonplace? Lots of people love a buffet meal, and why not? You get abundant choice, all you can eat, and there's no wait for a server and chef to do their work before you can pitch in.
That's a lot to like, but a lot of people are wary of the buffet, and with good reason. In the best of times, you're getting food that's been sitting over heat, overcooking and softening; and you're relying on management (with the Health Department looking over its shoulder) to ensure that sneeze guards are in place, proper temperatures maintained, food replaced while its fresh, and people aren't casually exchanging germs with strangers via serving spoons or careless touches.
All that, and then came Covid-19 and doubled down on all the negatives. Even after restaurants reopened, buffets remained a no-go, with good reason. It's hard to maintain social distancing in a buffet line, and sharing serving spoons? Nuh-uh.
Indian buffet is back
But now an Indian buffet is back, and I'm there for it. Let's give a warm welcome to Paradise American-Indian Cuisine in Middletown. It opened since January in the Middletown shopping center space that previously housed Millions Crab.
Its menu features a broad selection of Indian dishes (mostly priced between $12 and $18) and, for that one person in your party who won't do Indian, an American menu loaded with burgers, sandwiches, pastas, wings and more (mostly from $5 to $15).
In a salute to buffet lovers everywhere, it runs a modest but appealing lunch buffet from 11 a.m. to 2:30 p.m. Tuesdays through Fridays and 11 a.m.-3 p.m. Saturdays and Sundays. A dinner buffet is served from 5-10 p.m. Tuesdays through Thursdays.
I was surprised at first to see no sneeze guards, but on closer inspection, everything except for a few brightly colored chutneys and a basket of crunchy papads was safely housed in warming pans with individual covers that you have to open to dip out your food with a large serving spoon.
Two dozen items
I counted 24 items on the Indian lunch buffet. We managed to sample them all, and also summoned a couple of tall yogurt salty lassis. which unfortunately were almost too salty to serve their intended purpose as a hot-stuff antidote.
Thin rice-lentil papadums on the first table were fresh and good, admirably crisp and dry. They were also the most hot-and-spicy papadums I've ever tasted. I considered this a plus, but some may not. You have been warned. This table also held bowls of spicy onion and mint chutneys and a fiery red sauce.
My overall view is that the food was good, not great. I rarely expect "great" in a buffet setting. Just about all the dishes brought the same level of spice – not fiery but with ample heat – and many of them shared a consistent flavor. It was a good Indian flavor, and I enjoyed it, but I didn't find a lot of individuality or those sudden bursts of taste surprise that I love in Indian fare.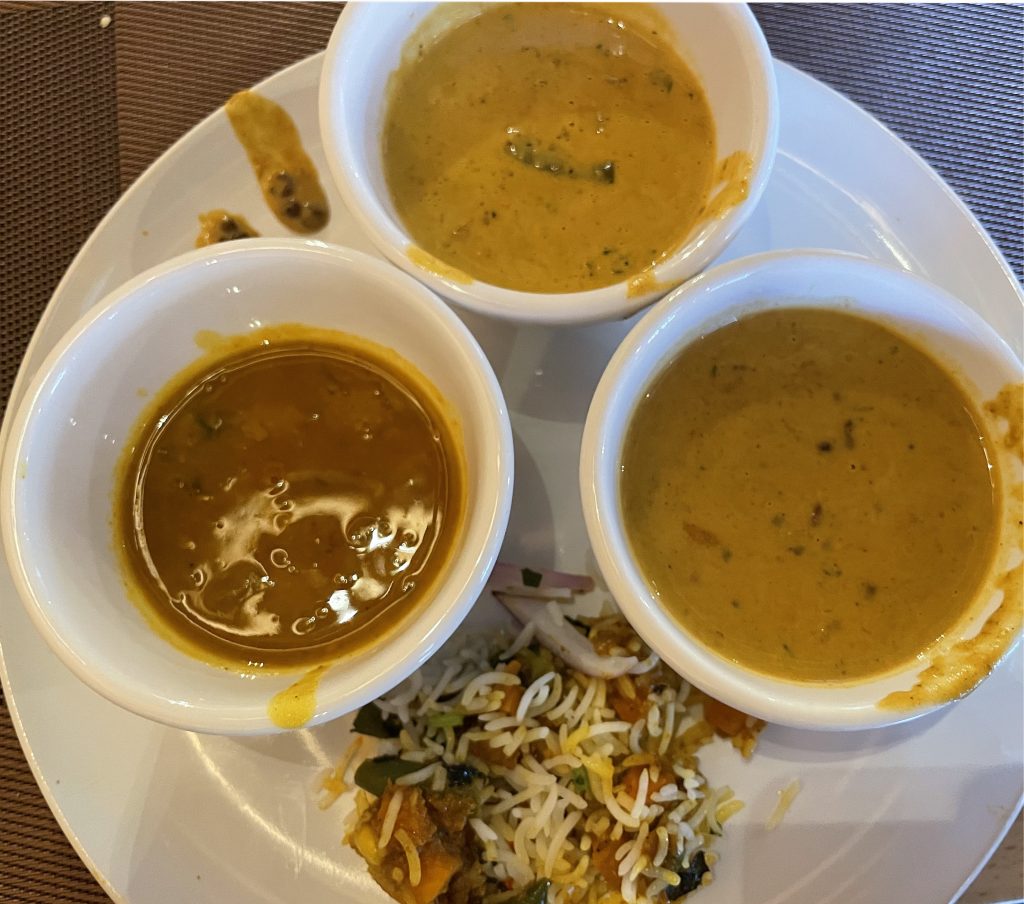 Several of the vegetarian dishes – dal padka, veggie korma, and dal makhani – were exceptionally soupy, requiring one to wade through a deep pan full of savory broth to find a few lentils, green beans, and other tasty goodies lurking at the bottom.
Lamb curry came as big chunks of back or neck bone separated by bits of meat. A thick, spicy-hot brown gravy dominated the dish and worked well over a bed of long-grain basmati rice.
In addition to that pure white rice, fluffy and delicious, a veggie biryani option added bits of onion, yellow and green peppers and spice to a spicy basmati blend.
Street-food fish delights
Amrisati fish pakoras, an iconic street-food dish from Northern India's Punjab, may have been the star of the show. Breaded and crisply fried, they looked a lot like like chicken fingers, but were firm, mild white fish that had been marinated with ginger, garlic, red chiles, and other aromatics.
Chicken tandoori (pictured, with other items, at the top of the page) was the standard item: white and firm chicken meat, yogurt-marinated, tinted red with spices and charred from the tandoor oven. Chicken tikka masala, like the vegetarian dishes, were mostly sauce, with uniformly cut cubes of firm, dense chicken meat hiding at the bottom of the man.
Chickpea chana, another traditional northern Indian dish, came in a reddish-brown sauce that upped the fiery quotient a notch or two. So, surprisingly, did dahi bhala, a fluffy lentil-flour fritter bathed in creamy yogurt with a startling dose of hot chile flavor.
Pakoras – vegetable fritters – were milder in the spice department but oddly chewy, as were otherwise estimable naan flatbread quarters.
We finished with two traditional Indian desserts: not-too-sweet gulab jamun – Indian "doughnut holes" – in sweet syrup, and gajar halwa, a concoction of chopped carrots and cardamom.
With two yogurt lassis ($3.99 each) and two lunch buffets at $15.99, an ample lunch for two came to $42.36, plus a $10 tip.
Paradise American-Indian Cuisine
12951 Shelbyville Road
230-7121
paradiseamericanindiancuisine.com
facebook.com/paradiseamericanindiancuisine
instagram.com/paradise_american_cuisine
Noise Level: Decibel levels during our visit were mostly around a loud but bearable 70dB, with frequent louder bursts that could hamper conversation.
Accessibility: The entrance and free-standing tables appear accessible to wheelchair users, but booths are up a step.