Have you strolled, jogged or biked across the Big Four walking bridge yet? Who hasn't? According to the Waterfront Development Corp., about 1,500,000 people enjoy the mile-long bridge between Louisville and Jeffersonville, Ind., every year. Reopening the abandoned, rusting 1895 railroad bridge as a linear public park has proven to be a great idea.
And now, thanks to another great idea, it's even better. Step off the Indiana end, and what to your wondering eyes should appear, directly across Jeffersonville's Pearl Street from the foot of the bridge ramp, but a beautifully restored, 181-year-old mansion and extensive gardens, now revealed as Parlour, an inviting pizzeria and beer garden.
Open since early this month in the historic Duffy-Hancock House and proudly recorded on the National Register of Historic Places, the stylish, two-story putty-and-white Georgian mansion had been a bed-and-breakfast in recent years.
Now its elegant rooms, fitted out in more casual style with sturdy wooden tables and chairs and, offbeat decor – gallon tomato sauce cans on shelves and a non-representational mural of bright red-and-white triangles on the walls – offer ample comfort for peckish bridge walkers and anyone else who finds their way over. (If you're driving, it's a quick jump off the first Jeffersonville exits on the tolled Lincoln and free George Rogers Clark bridges.)
Note well, though, that this is no mere industrial pizza and boring beer joint. Artisanal pizzas come sizzling from a fancy stone pizza oven, made in Italy, that burns stout Indiana white oak. Beers are carefully curated and pour fresh from 42 taps – 30 in the dining room and 12 more in the upstairs cocktail bar – reserved for quality brews in a good combination of local, craft American and imports, plus additional bottled beers. If beer's not your thing, don't worry, the folks behind the copper-topped bar are prepared to serve your cocktail needs.
The main dining room may have been the parlor in the original Duffy-Hancock home, but the added "u" in Parlour is not a British affectation but a conscious riff on the French "parle," "to speak," signaling management's wish that Parlour will find its place as a hangout where people don't just rush through but spend time, sipping and munching and carrying on conversation.
The menu is simple and focused. This is a pizzeria, and it assumes, mostly, that you have come for pizza. Four salad options range in price from $5.49 (for peppercorn ranch with bacon or a Caesar) to $7.49 (for a Caprese). Garlic bread knots ($5.99) might make a tasty post-bridge-hike snack. Then it's on to the main page, which features a dozen specialty pizzas (from $12.49 for the simple O.G. with red sauce and mozz' to $15.49 (for several choices), plus the build-your-own option, which starts at $12.49 and goes up from there with your choice of add-ons.
Many of the pies are traditional in style, such as the $15.49 deluxe with pepperoni, sausage and a produce store full of groceries; the $14.49 veggie, hold the meat, keep the groceries; or the classic $14.49 meatball. You can also go wild, though, with such wacky options as broccoli-cheddar or Buffalo chicken (each $15.49), or even the love-it-or-hate it Hawaiian ($14.49) with ham, bacon and p- p- pineapple. Our friend Laura reported in from a prior visit that the $15.49 Caprese, mustering the classic trio of tomatoes, basil and mozzarella, was more than worthy.
We went over the other day – okay, I confess, we drove. It was raining – and enjoyed a leisurely lunch. I regret to admit that we passed on that wondrous beer selection with a busy afternoon of brain work ahead, but the iced tea ($2.59), served in pint beer glasses, anyway, was strong and clean.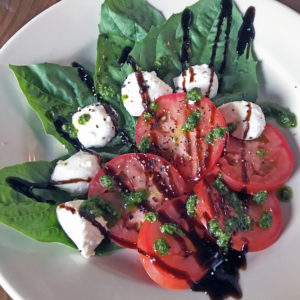 A Caprese salad ($7.49) wisely recognized the seasonality of tomatoes and used bright red plum tomatoes rather than wan, pale-pink winter fruit. It was well constructed, although I'd gently suggest that less is more, particularly when it comes to classic dishes like this iconic salad from Capri. Caprese is perfect as a simple, balanced presentation of fresh basil leaves, juicy fresh tomatoes, and fresh, creamy mozzarella, drizzled with olive oil and a little lemon juice. Parlour fancies it up with dabs of oily, tart pesto and a decorative criss-cross balsamic design, pleasant enough on their own, perhaps, but the culinary equivalent of a little too much eye shadow and mascara.
Artichoke pesto pizza ($15.49) was fine, a thin, crisp crust topped with a thin spread of tomato sauce sprinkled with sliced baby artichoke, brown mushroom slices, dabs of goat cheese and dots of that same oily pesto. The fiery wood oven provided a good light tanning, but I'd have been happy to have had it left in long enough to gain a little more sweet char. A bit more rise on the dough would have also been welcome.
Still, it was a fine pie, and a pleasant lunch. We'll surely return. The toll for two was $27.36, plus a $6 tip for our friendly and competent server, Brittany.
Parlour
131 W. Chestnut St.
Jeffersonville, Ind.
812-914-7400
eatparlourpizza.com
facebook.com/EatParlourPizza
Robin Garr's rating: 86 points