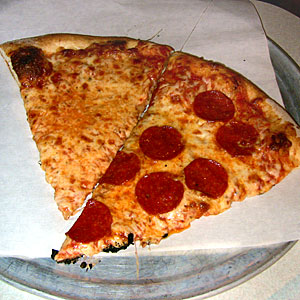 Thin and foldable, NYC-style, a cheese slice and a pepperoni slice from Hero's in Jeffersontown. Photos by Robin Garr
(Voice-Tribune, May 10, 2007)
Pizza has become an all-American food since immigrants from Southern Italy brought it over to the United States in Ellis Island days, and particularly since its popularity exploded nationwide after World War II.
What was originally a simple way for Italian peasant families to get rid of leftovers has become a national passion, with variations that range from New York City's thin, portable pizza by the slice to Chicago's deep-dish, casserole-style pie, and on to some of Wolfgang Puck's far-out California creations. Salmon and caviar pizza with creme fraiche, anyone?

If you grew up in Louisville, chances are that you're a fan of the piled-high pie made famous here by the Impellizzeris, Wick's, Clifton's and others.
But sometimes it's good to get back to the basics. There's something almost stylish in the simple, straightforward appeal of a New York City pizza, which in its turn is not all that far removed from the Neapolitan original. Less is more with these pies, which boast a very thin crust with a thicker rim that resembles quality Italian bread, lightly painted with just a thin coat of tangy, spicy tomato sauce, topped with a thicker coat of creamy molten mozzarella, and baked at a very high temperature – sometimes in a wood-burning oven – that endows the crust with a crisp, golden goodness. Toppings, if any, are discreetly applied, more as a condiment than an all-you-can-eat buffet.
Louisville has been blessed in recent years with a few quality pizzerias that vend pies in this tasty Big Apple style: Luigi's downtown and Fat Tony's in Plainview both do it very well; and the more upscale Bim Deitrich's Primo on East Market puts together a splendid wood-oven pizza that comes closer to authentic Italian than immigrant New York.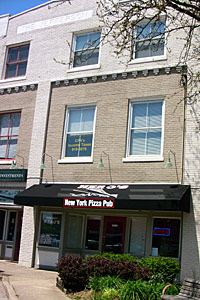 Hero's New York Pizza Pub occupies a storefront in a historic building on Jeffersontown's Town Square.
Now welcome Hero's New York Pizza Pub, a new pizzeria with a genuine New York accent. It's not just a grab-and-go joint but an attractive eatery in a nicely renovated older building on Jeffersontown's Town Square.
Pizza is literally its middle name, but Hero's offers a great deal more, including a variety of hero sandwiches (hey, they call it Hero's for a reason), bar-style munchies, an assortment of salads and even a couple of fish dishes.
Pizza is available by the slice at $2 for cheese or $2.50 for pepperoni. Whole pies range from $12.50 for a 15-inch plain to $18 for a 19-inch with assorted toppings, or $1.50 for individual toppings a la carte. I need to get back and try the "white pie" topped with ricotta cheese and no tomatoes, a New York favorite that's rarely seen west of the Hudson (although Cafe Lou Lou in Clifton makes one). Hero sandwiches range from $6 (for a gyro) to $8 (for a Super Hero's Philly steak or chicken). Fish and chips or baked fish Italiano are $8.
My wife decided to go with the baked fish, a healthy choice. Her dinner started with a particularly fine salad (served with the fish, or $3.50 a la carte). It filled a big white bowl almost to overflowing with chopped lettuce, sliced onions, black olives, diced tomatoes and tangy banana pepper rings, topped with a generous portion of shredded mozzarella, with chunky blue cheese dressing on the side.
The baked fish ($8) consisted of a good-size fillet of tilapia, a firm, white fish with a mild hint of catfish-like bottom-feeder earthiness. It was sprinkled with mixed Italian-style herbs from a bottle and shredded Parmigiano cheese.
The wings ($7.50 for 10) were gently spicy, crunchy and tasty. They disappeared fast.
The pizza was a pretty good example of the New York style, if not quite thin enough to fold in half for eating out of hand in the true Big Apple fashion. The crust was thin, crisp and breadlike, and flavor and proportions were right on, with plenty of creamy, molten mozzarella cloaking just the right amount of tangy tomato sauce, and a generous portion of sizzling spicy rounds on a pepperoni slice. When I've got a hankering for a taste of New York, Hero's now ranks high on my list.
Hero's New York Pizza Pub
10509 Watterson Trail
261-9339