Say what you will about the French, they are a carnivorous people. French cuisine is full of beef, lamb, pork, chicken, fish, toutes les viandes! All the meats!
But I'm pretty sure Julia Child's recipe box never contained a recipe for tofu. When I walk into a French restaurant, I expect a bill of fare centered on meat, poultry, and fish, because that's how the French roll. Or cook.
So I was more than a little surprised when I sat down at Brasserie Provence the other day and noticed that something new had been added since my last visit about four years ago. The large, brasserie-style menu now devotes a designated space to vegan entrees, including a main-dish offering based on sauteed tofu.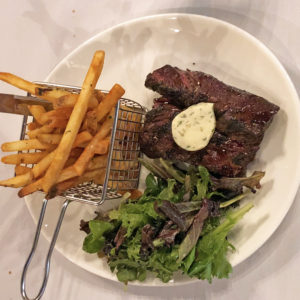 Of course I had to try it, inspired by the same muse that compelled me to try the chicken feet at Jade Palace a while back. You know what? It was good. Really good. Of course, the lamb was good, too, as was the pork and the steak frites. Our dinner group came with high expectations and left in delighted fulfillment.
Coming up on its fifth birthday next month, Brasserie Provence has become a popular spot on the city's dining scene. Owner Guy Genoud has transformed what was once a Tony Roma's into a spacious dining room with off-white walls, paintings of pretty French rural scenes, white-draped tables set with quality plates and flatware.
Brasserie Provence's beverage program amply fits the definition of a brasserie, with abundant liquor and wine selections along with an adequate list of about 20 beers, including some French and Belgian options.
The menu is brasserie style, an oversize single sheet that includes everything on one page. About 16 hors d'oeuvres, salades, and potages (soups) range in price from $5 (for a small serving of pistou white-bean soup) to $18 (for a duck foie gras terrine, pretty much the antithesis of sauteed tofu).
Fifteen main dishes are priced from $15 (for two of the vegan mains) to $45 (for a sea-bass fillet or Chateaubriand beef tenderloin). Most of the dishes, however, are priced in the $20s.
Good house-made baguettes come with herbed olive oil, black pepper and sea salt. I got started with a Tomate cocktail ($6), an aromatic French spin on the bloody Mary, made with layers of fresh tomato juice, grenadine, and anise-scented Pernod.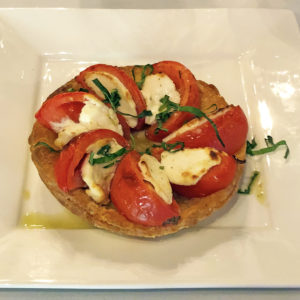 A seasonal goat cheese tart appetizer ($13) was a pretty and appetizing round of flaky pastry topped with fresh tomato wedges stuffed with mild goat cheese and dressed with fresh basil chiffonade, like a caprese salad kicked up with goat cheese and turned into a mini pie. A cast-iron mushroom appetizer ($15) drew praise, too, with its earthy mix of locally grown Frondosa farm oyster mushrooms sauteed in butter with garlic and shallots, served sizzling in a small black-iron skillet.
I know you're waiting for my report on the sauteed tofu ($15, pictured at the top of the page), right? Yeah, tofu is widely loathed, but there's really no reason for that. Bland on its own, it's great at picking up surrounding flavors, and this dish takes full advantage. A thin square was cut diagonally into diamonds and fried until its surface was shattering crisp and its interior creamy, then served atop a bed of fingerling potatoes and haricots verts (okay, green beans), topped with sauteed red onions.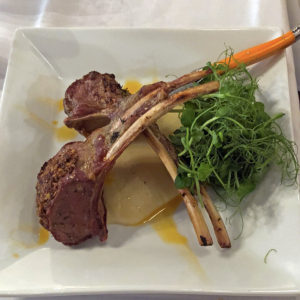 I grabbed a glass of Delas Cotes-du-Ventoux, a dry red wine from Provence ($8.50) as my friends' entrees arrived, and everyone was pleased. Rack of lamb ($35) included two pairs of thick chops, trimmed back from the bone French-style; they came medium-rare as ordered and gained a piquant edge from a whole-grain mustard crust. A nest of fresh green pea shoots made a happy accompaniment.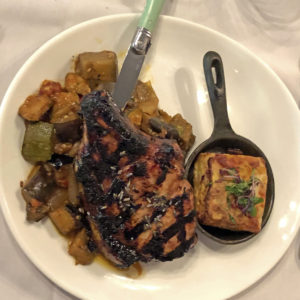 The prime pork chop ($27) also won applause. A thick, tender chop was marked with pretty criss-cross grill marks. Its deep pork flavor sang harmony with a sweet-floral lavender-honey glaze, and a base of eggplant-based ratatouille and a small, rich side of gratin dauphinois made it a hearty meal.
Classic steak frites ($25, pictured above), the progenitor of French fries, was a fine representation of this iconic dish: A small, flavorful square of hanger steak was topped with a round of shallot tarragon butter that melted and lent its flavor to the beef; a side of perfect crisp fries was served in a tiny fryer basket.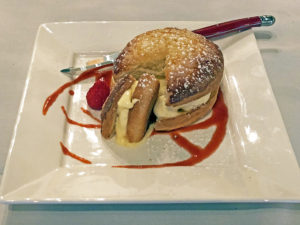 Tarte Tropèzienne, a classic, rich dessert of the French Riviera ($9), made a decadent finish that was impossible to pass up. A round of sugar brioche was split and filled with a sweet. creamy butter-and-sugar filling, topped with powdered sugar and served with raspberries. What's the French word for "yum"?
With an aperitif, a glass of wine, and a shot of espresso ($3), my share of the tab for one came to a very reasonable $57.77, plus a $12 tip.
Brasserie Provence
150 N. Hurstbourne Parkway
883-3153
BrasserieProvence.com
Facebook.com/brasserieprovence
Robin Garr's rating: 88 points
Noise level: White-draped tables and a large, sprawling dining room with high ceilings soften the edges of a happy buzz, holding noise levels within reason for table conversation. (Average sound level 66-78 dB.)
Accessibility: No steps or obvious barriers bar full access to wheelchair users.