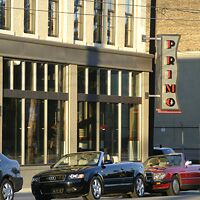 Restaurateur Bim Deitrich has been serving fine food in Louisville for just about as long as I've been writing about it, and he's not slowing down any more than I am. Deitrich, who was a key player in several of the popular spots that started Louisville's modern restaurant era back in the '70s (Hearthstone Tavern, the Bristol and Formally Myra's) and more recently honchoed Deitrich's Brasserie, Allo Spiedo and Red Lounge, is launching his latest effort and potentially one of the hottest: Primo, 445 E. Market St., (502) 583-1808. (Related review and rating: Click here.)
Primo, featuring Italian cuisine from one end of Italy (Piemonte) to the other (Sicily) opens to the public Monday, Oct. 3, but held several "soft openings" by invitation this week. Since my anonymity is blown here in any case (Bim has known who I am for years), I sneaked in the other night with an invited crowd of "foodies" from our Louisville Restaurants Forum, and I'm glad I did.
I think the group's responses (many of them posted on our forum) were close to unanimous: This place is going to be hot! The airy, open space in a new building at Market and Jackson is sleekly designed, the service is excellent (most of the staff are experienced folks who've been with Bim at his various ventures for years), and the food is outstanding – Chef George Punder was the guy in the kitchen at Allo Spiedo, and he's brought Allo's excellent pizzas over intact, along with an expanded all-Italian menu that ranges from $6 (for the more modest appetizers, soups and salads) to $34 (for an oversize steak Fiorentina). Most of the main dishes are in the upper teens and lower $20s, however, placing Primo well into the moderate range for upscale dining. A lunch menu features soups, salads, pizzas and panini, all $12 and under.
There's full bar service, and a particularly well-chosen Italian wine list (plice a few pricey French bubblies) , with nine wines by the glass for $6 to $9, plus "Otto per Venti," a choice among eight low-end but good-value wines at $20 a bottle. The main list is $24 and up, with plenty of choices in the $20s and $30s and just a couple at the high end (Il Poggione '99 Brunello for $125 and Pio Cesare 2000 Barbaresco for $135).
The forum group was seated at four tables for four along a serpentine banquette that divides the room from front to back. There's also a striking open kitchen (and magisterial open wood-burning pizza oven) in shiny white brick at the back of the room.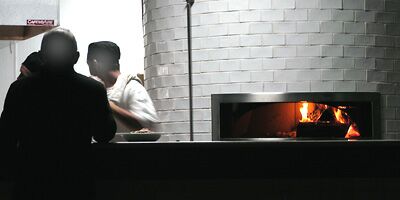 Our group of four agreed to share everything, and we were delighted with just about all of it. I'll return for a more formal review and rating in due course, but at this dress rehearsal, we were particularly impressed with calamari fritti ($8), crisply breaded squid bits deep-fried grease-free, with a tangy preserved-lemon aioli; insalata di mare ($9), a beautiful cold seafood salad topped with perfectly cooked, gently marinated bites of shrimp, scallops, squid and smoked mussels; a pizza Margherita ($10), crisp and cracker-thin, savory tomato sauce painted on and topped with molten pools of creamy mozzarella and shredded fresh basil … and main courses including the Steak Fiorentina ($34), large and tender and blood-rare as ordered, topped with a round of anchovy-laced compound butter; Costellete di Agnello ($28), beautiful lamb chops ("Bonnie Maid milk-fed rack of lamb," the menu notes), tender enough to eat with a spoon; Arista alla Romana ($21), sliced "Berkshire all-natural pork tenderloin" redolent of rosemary and garlic with a dusting of anise-scented fennel pollen, this year's trendy-restaurant signature spice; and my chioce, wide pappardelle pasta tossed with veal-and-gorgonzola meatballs with a creamy wild-mushroom ragù ($18), a dish that left everyone at our table smitten, although one of our group at another table didn't care as much for it.
The dessert of the evening, a rich and vaguely decadent chocolate almond souffle, somewhere between cake and fudge in texture, with the almond flavor mostly in the creme anglaise-style sauce, put an exclamation point on an impressive meal. With a fair number of glasses of Fattoria di Pancole Chianti ($9) around the table, our virtual bill would have come to $295 for four, plus tip. Chances are that most of us wouldn't have tried quite so many different dishes if the meter had been running.
Primo will be open for lunch and dinner daily, and reservations are taken. Look for this to be one of the city's hot spots this autumn and winter, and you most likely won't have to wait in line for dinner nearly as long as you would at The Cheesecake Factory. Don't ask why.