UPDATE: After only a few months, Benny's new place has gone out of business. We're back to one Impellizzeri again, but happily, brother Tony recently celebrated his 11th anniversary in business at Vieux Carre. Ardent fans of the Impellizzeri style of pizza – and they are legion – have been bereft since early this year when Benny Impellizzeri abruptly shut down the familiar pizzeria on Bardstown road that his father had founded a generation ago.
The fact that Benny's brother, Tony, had gone off on his own 10 years ago and was producing virtual clones of the family pie from the identical recipe failed to soothe them, because Tony's new spot was way the hell out in the suburbs, a long trek through traffic for hungry Highlands residents.
Now there's good news and bad news: The good news is that Benny is back in business, so the city now has the option, somewhat colored by sibling rivalry, of choosing either Benny's version ("The Original Impellizzeri's") or Tony's spot ("Tony Impellizzeri's Italian"). The bad news is that Benny is out in the 'burbs too, only a mile or so from his brother's place.
Let me tell you: Upon careful analysis, I'm prepared to assert that both Impellizzeri eateries are well worth the trip. And if you already live or work in the East End, you're more fortunate still, able to choose either, or if your appetite is truly enormous, both.

87

Original Impellizzeri Pizza
808 Lyndon Lane
(502) 423-5770
In a move reminiscent of historic debates about the Papal succession, Benny claims continuity with to the family's history on Bardstown Road with the slogan "Six times voted Best of Louisville and a wall full of framed restaurant reviews of the old establishment that go back to the '80s (including some of mine, very likely).
The new space is larger, and frankly more inviting. It's a large, two-room venu in the newish Lyndon Crossing shopping center, on the west side of Lyndon Lane just north of the railroad tracks. Oversize red-and-green booths and simple tables draped in black oilcloth and furnished with simple stacking plastic chairs serve diners with low-budget functionality.
The menu is unchanged, save that prices have gone up a bit since my last review at the old Bardstown Road eatery. There's a selection of pasta dishes, appetizers, salads and sandwiches, but people come here for the pizza, and there's a wide range of shapes, toppings and sizes. The familiar Impellizzeri "traditional round pizza" ranges from $12.99 for small (12-inch) with cheese to $34.49 for a five-topping large (16-inch). Sicilian deep-dish pizzas range from $14.99 small to $35.99 for extra-large with everything.
The 20-inch party pizza that serves 8 to 10 revelers is $35.99 for cheese, $5 each for toppings; and if you've got a really hungry group on your hands, the Impellizzeri Super Pizza, a 16-inch traditional round style, loaded with toppings and cheese and designed to serve up to 16, weighing in at 12 pounds (not counting the box) is a cool $49.99.
There's another page of specialty pizzas, but at that point we gave it up and summoned a 12-inch pizza ("small," but plenty) with Italian sausage, green peppers and onions, with a Coke and a Widmer Hefeweizen beer, a microbrew from Portland and the only non-industrial beer on the otherwise all-Anheuser-Busch draught list, to wash it down.
It was just as good as I remembered, a classic Impellizzeri pie with a yeasty, breadlike crust, thin but firm, heavily laden with toppings so generous that it stands a good inch thick at the center: Tangy tomato sauce painted on with a properly prudent hand, lots of tender, molten mozzarella, fresh and crisp onions and peppers diced with such a careful hand that a French chef would call it a brunoise, and plenty of tender, savory if very mild crumbled Italian sausage. For perfection, I could have used a little more hot red pepper and a little more anise-scented fennel in the sausage, but that's nitpicking. It was a memorable pizza, and so filling that a small filled up two hungry diners and provided leftovers for two more lunches.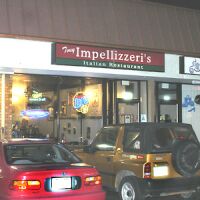 87

Tony Impellizzeri's Italian
108 Vieux Carre Drive
(502) 429-0606
Website: http://www.tonyimpellizzeris.com/It's been a couple of months since I last visited Tony Impellizzeri's, but if memory serves me right, the mood and the food and even the prices are about as close as you'd expect from, well, sibling pizzerias.
Tony's is in a shopping-center setting, too, hidden in plain sight on Vieux Carre Drive, a short street that primarily serves an apartment complex just one block east of Hurstbourne Lane on the south side of Shelbyville Road. It's similarly light, bright and spartan, with functional tables and chairs and maybe just a bit more of an effort at decoration than Benny's wall of restaurant reviews and museum shadow-box cases filled with logo-bearing shot glasses.
You'll pay just a skosh less for Tony's version of the family's pizza, though, from $11.79 for a 12-incher with cheese to $29.95 for a "sampler" 16-inch model with Italian sausage, onions, green peppers, mushrooms, pepperoni, green olives, black olives, meatballs, banana peppers, ham and Canadian bacon … surely enough to feed at least a small army.
We had the identical three-topping pizza, made it last for the same number of leftover lunches, and would have been hard pressed to tell which pizza was Tony's and which was Benny's if you handed me a slice without showing me the box.
Which would I recommend? Both!