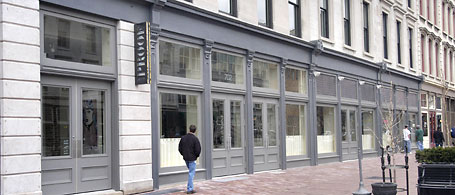 First, a rant: I've always thought there's something kind of needy and pathetic about the way that Louisville looks to New York to validate the things we do here. Bring in a speaker from the Big Apple to make your fund-raiser a success; punch your chef's ticket by jetting off to Gotham to cook dinner at Beard House. Get a review in The New Yorker or a mention in The New York Times, or choose a New York architect for your landmark building … if it doesn't earn a New York stamp of approval, we seem to think, it must not be worth much.
So naturally it comes as no surprise that the strong New York connections of the city's hottest new item – Proof on Main – have dominated the early buzz and almost fawning media coverage about this stylish new spot on West Main Street, our neighborhood that's often, and accurately, compared with New York's SoHo for its impressive collection of historic cast-iron storefronts.
For the record, yes, we know Proof on Main is managed by a prominent New York restaurant firm, Drew Nieporent's Myriad Group, the folks who operate such culinary Manhattan landmarks as Tribeca Grill, Nobu and Montrachet.

But this is Louisville, not New York. How does Proof stack up against its local competition? In fact, it's doing very well indeed. I can't rate it head and shoulders above Louisville's top restaurants, but it's certainly nudging its way into the city's top tier, and it earns a place just into my four-star range based on food, style and service.
Its setting – in the beautifully rehabbed 19th century buildings that will shortly house the posh 21C Museum Hotel – is sophisticated in concept and decor. It makes fond use of the original old brick and sturdy poplar beams seamlessly combined with discreet walls, mirrors and large, bold art and artful sculpture. Large, fabric-covered oblong lighting fixtures overhead are computer-controlled to shift colors gradually through a range of pastels that can be set to move the mood from cool to hot depending on the crowd and the time of day. Three rooms house a stylish bar, a comfortable dining room, and a third room alongside an open kitchen that's usually reserved for private groups. Even the rest rooms are stunning … it's worth a special trip to check out the roving eyes over the sinks and the remarkable men's room waterfall.
The main dining room's current art – by a Dutch photographer, we were told – features poster-size prints of outdoor scenes, some with a surreal but appealing quality, including one featuring young people standing silently in the branches of leafless trees. Banquettes along the walls provide seating just a bit low for the white-draped tables; stylish, lightweight chairs around four-top tables in the center appear more ergonomically engineered.
Proof benefits from skilled and experienced staff, including Florida emigré Michael Paley in charge of the kitchen and Cassandra Hobbic, once of Lilly's, presiding over the front of the house. They've also clearly recruited waitstaff from other top Louisville properties – I've seen familiar faces there from North End Cafe and Jack Fry's – creating a team with instant experience, a move that helped get the restaurant off to a sailing start with few new-eatery jitters.
The proof of the pudding, though, is in the eating, and on a recent dinner, Proof proved out, with no serious missteps in a well executed and indulgent dinner.
The menu is eclectic, a melting-pot blend of Mediterranean influences with Kentucky and regional flavors, making good use of local produce. A half-dozen "first course" appetizers range in price from $5 (for butternut squash soup with chicken-liver toast) to $10 (for sushi-style yellowfin tuna crudo or bison tartare). Other starters include the down-home (country ham fritters, $6) and the exotic (pork cheek Milanese with arugula, $8).
Listed separately is a variety of apps that might be called "deli style" if your idea of a deli is posh indeed: "Cured meats" including Newsom's country ham, coppa, mortadella and finocchiona (a Tuscan-style salame laced with anise-scented fennel seed), $6 for one or $16 for an antipasto-style platter; "Relish," roasted beets, radishes, sweet-and-sour winter squash or curried cauliflower, $4 each or $14 for a tray; and "from the hearth," roasted asparagus ($10) or baked octopus ($12).
A dozen main-course choices are divided into "pasta and greens" from $15 (for hand-rolled penne pasta with tomato sauce) to $18 (for a rock-shrimp risotto with red-eye gravy, perhaps a Tuscan take on Southern shrimp-and-grits); and "main course," $12 (for a Proof burger featuring a Kentucky bison patty topped with smoked bacon, Kenny's Kentucky Cheddar and Jezebel sauce) to $26 (for bone-in bison tenderloin). Given Proof's sleek, upscale tone, it's a pleasant surprise to find most entree prices under $20, including such appetizing options as a wood-roasted half of a chicken for $16 and crispy duck with turnips, oyster mushrooms and sweet-and-sour garlic for $18. There's no escape for vegetarians, I regret to report, other than perhaps an assembly of vegetable side dishes ($5 each) such as herb fries, brussels sprouts, glazed carrots or lacinato kale.
Daily specials, which I'm told will likely vary frequently, include Naples "sidewalk-style" pizza on Mondays ($15), steam pot mussels on Thursday ($15) and seared diver scallops on Saturday ($26).
The wine list is nicely chosen, with about 80 wines available by the bottle, at a fair if not generous markup of about double retail, in a good range of prices from $25 (for a nice Austrian white, Hopler 2004 Grüner Veltliner Brietenbrunn, or Hook & Ladder 2004 Russian River Chardonnay from Sonoma County) to $165 (for Ristow Estates 2002 Quinta de Pedras Vineyard Napa Cabernet Sauvignon). There's plenty under $50 for the thrifty, and a good selection over $100 for the spendthrift; and to wine geeks' joy, there's hardly a mass-market industrial wine on the list other than perhaps the obligatory Bolla Amarone from Brown-Forman ($89).
In a very attractive alternative to wine-by-the-glass, a half-dozen items are available by the quartino, a pretty glass flask that holds about one-third of a bottle for $10 to $12, just right for two to share with a single course or to facilitate a side-by-side impromptu wine tasting with dinner. For perfection, I'd love to see them add a few somewhat more interesting wines to what's basically a low-end selection in this format, and would gladly pay a few bucks more per quartino for the privilege.
Our dinner got off to a fine start with a length of fine crusty European-style bread (almost certainly Blue Dog's, by the look and taste of it) served in a paper wrapper with a crock of soft butter. We were attended throughout by a professional and competent server who may have erred slightly on the side of overly attentive and chatty service. (Was I recognized as a critic? I don't think so … she simply seemed to be genuinely friendly.)
We shared a pair of appetizers: The aforementioned baked octopus, bite-size bits, surprisingly tender for this chewy seafare, grilled in a subtle "blackened" style with plenty of garlic and oil. My gold standard for grilled octopus is the Greek seafood restaurant Elias Corner in the Astoria neighborhood in Queens in, yes, New York City; this version came very close. We also shared a pork cheek, a thin slice of tender, flavorful pork crisply breaded and fried grease-free in the style that Italians call Milanese, Germans and Austrians dub Schnitzel and Southerners call chicken-fried; it carved out its own niche, though, with an exceptionally crunchy breading that might just have been Japanese panko crumbs, and a haunting floral perfume that spoke of balsamic and fresh herbs.
A quartino of Feudo Arancio 2004 Grillo ($10), a Sicilian white wine with a rather full body and aromatic profile, went well with both apps. The wines, by the way, are served in excellent wine glasses with large, thin bowls, one of the many small touches in which Proof does things right.
We lingered over many appetizing options before settling on a red-meat dinner to go with red wines: Charred flatiron steak ($22) and the bison tenderloin ($26), both ordered "medium rare … or less." The flatiron was sliced into about four rectangular slices, seared around the edges, cool rare within, on a bed of fine-shredded sauteed onions, topped with a salad-quantity garnish of fresh, peppery raw watercress leaves and fresh-made, herb-dusted fries almost of Belgian frites quality; the Kentucky buffalo tenderloin came in a large oblong chunk, bone-on, and was served over perfect sliced roast fingerling potatoes and a smallish ration of sweet chopped leeks sauteed in butter. The menu mentioned rosemary oil and smoked sea salt, elements whose presence was homeopathic at most. Table service for the steaks included fine French Laguiole steak knives, and the steaks, though flavorful, were just resistant enough to make a sharp knife useful.
Two more quartinos made for a good dinner tasting: Casamatta 2004 Sangiovese Toscana ($12) and Bonterra 2003 Mendocino Merlot ($11). Both were a bit on the "mass-market" side, fruity and soft, drinkable but not really exciting; the Bonterra (another Brown-Forman wine) was particularly disappointing, a chocolate-covered cherry in a glass.
We shared a vegetable side dish ($5) of lacinato kale, a Tuscan bitter green also known as cavolo nero (black cabbage), simmered with lots of garlic, olive oil and a touch of piquant spice.
Dessert? Of course! Gelato and sherbet made on the premises ($6) vary nightly in flavors; we chose a stunning pairing of sweet basil gelato, a pale-green ice cream that breathed the essence of fresh summer basil leaves; and lemon-thyme sorbetto, a zingy, lemony sherbet tart enough to wake up your tastebuds. "Traditional cannoli" ($6) proved to be not one but three small Sicilian-style fried-pastry tubes loaded with sweet ricotta, just as good as, yes, I'll say it, the real thing from New York.
Single-shot espressos ($3 each), were fine: Strong and smooth, with an almost chocolatey character, and a proper golden crema foam. Well done!
A fine meal, served with style in sophisticated surroundings that really wouldn't be out of place in New York's SoHo, came to $131.44 plus a $26.56 tip – not cheap, but frankly toward the low end for Louisville's top tables. $$$$
ACCESSIBILITY: The renovated restaurant is fully accessible to wheelchair users throughout, and there's no smoking in the dining rooms.