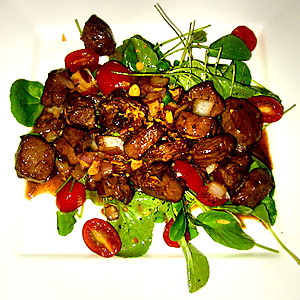 Basa Modern Vietnamese's Shaking Beef, a dish made famous by San Francisco's Slanted Door. Photos by Robin Garr.
LEO's Eat 'n' Blog with Louisville HotBytes
(Basa Modern Vietnamese, Mojito)
Derby is big in Louisville, not just for racing but for restaurants, too. If you don't have reservations already for the popular spots, you're pretty much out of luck unless you're willing to take a place in line.
Restaurateurs rush to get new eateries open for Derby frenzy, scheduling grand openings to catch the Derby tide. Last year it was Proof on Main, Nio's and the short-lived Danielle's. In 2005 we got Blu in the Marriott, 316 Ormsby and that wacky Fourth Street Live.
This year two sophisticated new eateries with ethnic flavors form a winning daily double: Basa Modern Vietnamese in Crescent Hill is named after a Vietnamese fish. Mojito in Holiday Manor is named for a Cuban libation. Both spots are welcome additions, already generating a noisy buzz. You can put them both into an exacta box: They're sure winners.

Basa opened at the end of March in an old building that had housed a recording studio. Owners Michael and Steven Ton have done a stunning job of creating a simple but stylish space, painted in bold but unobtrusive colors – dark tomato red, olive gray, eggplant purple – with simple undraped tables, rough-grain wood so dark it almost looks black. Votive candles and recessed lights make for a romantically dim setting, light enough, though, to read your menu and see what you're eating. Hard edges make for a loud environment, but it's a happy noise.
Like the decor, the cuisine is Asian with a twist: Vietnamese "fusion" with a French accent, reminiscent of San Francisco's trendy Slanted Door, right down to a short, affordable wine list well chosen to match the fare.
The current menu features 10 appetizers and salads from $6 (for spring rolls or a Vietnamese crepe) to $12 (for pan-seared Massachusetts diver scallops). A dozen main courses range in price from about $12 (for a meatless course of Japanese eggplant with egg noodle, garlic chips and aromatic wild mushroom ragout) to $27 (for grilled beef tenderloin, with sautéed baby vegetables, wild mushroom demiglace and potato puree).
A complimentary palate teaser, crispy shrimp and rice toasts, resembled the shrimp chips served at many Vietnamese eateries but weren't as "shrimpy." Served with intense, gently spiced tomato "chutney," they were addictive.
Basa spring rolls ($6), tightly wrapped in edible rice paper, were as good as I ever ate, with a row of shrimp showing through the translucent wrapper. They held thin-sliced pork, rice noodles, cilantro and mint, served with a creamy peanut sauce.
Vietnamese BBQ beef ribs ($8) – three thin-sliced beef ribs cut across the bone flanken-style and marinated in Vietnamese spice – came sizzling from the grill, spicy and caramelized, perched on a small ration of julienne carrot and daikon. They made a great match with my wine choice, a Tomero 2004 Mendoza Malbec from Argentina, fairly priced at $26.
Vietnamese beef salad ($12) was similar to Thai laab, a mound of finely chopped chicken and beef scented with lemongrass and lime and perhaps a touch of Vietnamese fish sauce, garnished with crispy house-made chips studded with black sesame seeds. A side dish, garlic noodles ($4), were lightly coated with a golden-brown sauce and elusive Asian flavors.
Shaking Beef ($18) is a dish made famous by San Francisco's Slanted Door. Bite-size cubes of tender, tender beef tenderloin were marinated in soy and spices and stir-fried medium rare with onions, plated atop fresh watercress and halved grape tomatoes and served with a bowl of jasmine rice.
For dessert, a lime tart ($6) was topped with a dab of gently lemongrass-flavored meringue browned under the broiler, plated with a ginger "gastrique," a thick syrupy sweet-tart sauce, striped in decorative circles around the plate. All the individual flavors were good, but tasted together they were amazing. Heine Brothers coffee is served in individual press pots ($2.50), a nice touch.
Service was professional, friendly but unobtrusive throughout, underscoring the food and the mood to build a definite four-star experience.
Dinner with wine and tax came up to $92.22, plus a $20 tip.
Basa Modern Vietnamese
2244 Frankfort Ave.
896-1016
www.basarestaurant.net
Rating: 90 points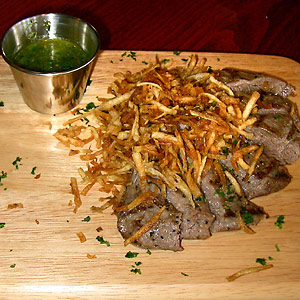 The Argentine beef chimichurri from Mojito, which has opened in the space formerly occupied by La Peche II in Holiday Manor.
Mojito fills the shopping-center space formerly occupied by La Peche II. Its decor is not unlike its sibling Havana Rumba: Spanish-style chairs with leather seats and backs surround heavy, undraped tables. Booths line one side of the room; a long green banquette runs down the other, and there's an inviting bar at the back. Light guacamole-green walls sport Cuban memorabilia, a few colorful paintings and framed black-and-white photos.
The menu features tapas, both hot ("calientes") and cold ("frias") along with tablas (Spanish-style snacks served on wooden cutting boards), pinchos (skewers), bocaditos (Cuban-style sandwiches) and paellas for heartier appetites. Everything but the paellas is priced under $10, with many options as low as $3.99. The paellas are $14 to $15.99 a person and must be ordered for groups of two to four; expect a 45-minute wait while it's cooked to your order.
There's a short list of fairly priced international wines, heavy on Latin selections from Argentina, Chile and Spain; the beer list, too, highlights Latino brews. In honor of Derby season, though, we ordered the Cuban answer to mint juleps: mojitos ($6.75 for a glass, $25 for a pitcher).
We tried five small plates:
* Ensalada de palmito ($4.99), a salad of mixed lettuces topped with avocado wedges, sliced hearts of palm, chopped red onions and slivers of sweet roasted peppers, topped with a good ration of crumbled, mildly earthy queso blanco.
* Croquetas de jamón y pollo ($3.99), four golden-brown croquettes of coarsely chopped chicken and Spanish serrano ham, formed into football shapes and deep-fried golden brown. They were plated with a streak of salsa antillana, a thick, spicy orange sauce, and lettuces topped with green and black olives and a couple of lightly grilled grape tomatoes.
* Chuletas de cordero ($6.99), two juicy, thin-sliced garlicky lamb chops sizzling from the grill, tender and medium-rare as ordered.
* Tortilla Española ($4.99), not your Mexican burrito wrapper, but a Spanish tortilla that falls somewhere between a French omelet and an Italian frittata. Flat golden-yellow wedges of omelet were filled with thin-sliced, tender potatoes and slivered onions and, if the menu is to be believed, chorizo and roasted peppers, although these ingredients were present only in homeopathic doses. It was prettily drizzled with parallel stripes of aioli, a thick, garlicky mayo.
* Tabla de chimichurri ($6.99) is a classic Argentine dish: A sizzling, thin slice of marinated, grilled skirt steak was cut crosswise into strips and topped with a generous portion of what appeared to be fried "tobacco onions," although the menu described them as papitas fritas, which I take to be fried potatoes. Could have fooled me, but I'm not complaining either way. The dish was great, and further improved with a crock of chimichurri, the dark-green Argentine puree of parsley, herbs, oil and vinegar and piquant spices.
Desserts are $5.99, but were being given free as an opening-week special.
Goat-cheese flan was a creamy, dense custard with caramel on top, a streak of caramel down the side, topped with whipped cream and a ripe strawberry. The goat-cheese component is subtle at most, just a distant tangy whiff, but it's an excellent, authentic flan, one of the best I've had. A trio of paletitas, homemade fruit "ice cream bars" molded on sticks, were pure essence of tropical fruit: light yellow, tart passionfruit, pale pink and creamy guava, and aromatic yellow-orange mango, redolent of peaches and a whiff of pine.
Strong, dark Cuban coffee ($1.50) served in espresso cups put an exclamation point on a fine Latino meal.
Even with a couple of tall, soothing mojitos, the tab for an indulgent, filling dinner of small plates topped out at an affordable $47.12 for two, plus a well-earned $10 tip. (Since Mojito is so new, I'll go back for further meals before committing to a rating.)
Mojito
2231 Holiday Manor Center
425-0949