Once upon a time, not all that many years ago, the closest Indian restaurant to Louisville was in Cincinnati. I know, because I used to make that trip as often as I could. Indeed, as recently as the turn of the millennium there were still only about three Indian eateries in town.
But those days of deprivation are past! The recent arrival of Louisville Cafe India, popped up in the Middletown quarters abruptly vacated by Peking City Bistro last winter, pushes the metro's count of Indian restaurants past a dozen, all of them on the Kentucky side of the river. Get with it, Hoosiers!
I was already feeling pumped by the arrival of Shreeji Indian Vegetarian Street Food on Hurstbourne last winter, so when I learned that Louisville Cafe India also features a substantial selection of Indian street fare – and more substantial entrees from many Indian regions as well – it didn't take me long to race over there.
The decor seemed familiar if a bit dissonant, until I realized that the Indian restaurant's thrifty owners apparently moved right in to the Chinese restaurant's space without changing a thing. Chinese chariots sketched on pale gold walls, bright red-and-gold abstract patterns, and white tile floors remain. Window walls around two sides of the shopping center space afford plenty of light even through darkened glass. Sweet pungent incense wafted through the room from a burner under the counter, and two big-screen televisions were tuned to an Indian cricket game.
The colorful four-page laminated menu contains more than 100 Indian delights, about half priced under $5 and nothing over $8.99. Yes, that's right: The menu tops out at $8.99 for a half-dozen entrees, including a few lamb and mutton dishes and entree-size rice-and-meat biryani. There's a broad selection of both vegetarian and carnivore-friendly dishes.
We filled the table with large and small plates, and only belatedly realized that everything had been made quite spicy-hot, without discussion. We didn't mind, but you might, so don't hesitate to ask in advance.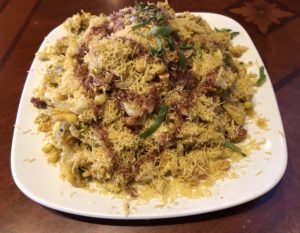 Dahi bhel chaat ($3.49) is a crunchy, salty snack that makes me think of a savory Indian take on trail mix. It's a generous mound of puffed rice, potatoes, chickpeas, crushed whole wheat puri bread, and chopped red onions, along with something that looked surprisingly like broken Ritz crackers, all drizzled with a sweet-sour mint-and-tamarind sauce.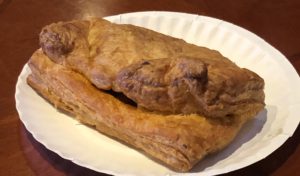 A veggie puff ($1.99) consisted of a square of puff pastry folded over a dollop of spicy curry-scented green peas and mashed potatoes, then baked until the pastry expanded into a crisp and flaky block.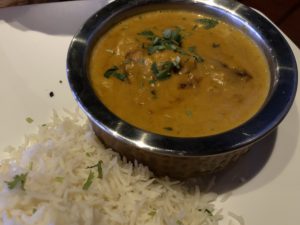 Malai kofta ($6.99) is one of my favorite Indian dishes, and Louisville Cafe India does it well. A vegetarian alternative to meatballs and gravy, it consists of a half-dozen veggie balls fashioned from Indian farmer cheese, potatoes, nuts and spices all ground together and formed into deep-fried spheres, presented in a rich, creamy light-brown sauce of pureed onions, tomatoes, cashews and mysterious aromatics, served in a brass bowl with plenty of perfect long-grain rice.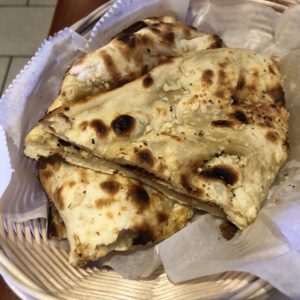 Four good, garlicky slices of naan bread ($1.99) came sizzling from the tandoor, charred in spots and brushed with ghee.
One of the most beloved Indian dishes is biryani, pictured at the top of the page. It's a festive rice preparation that originated in Muslim North India and Pakistan but has become popular all over the Subcontinent – and the world. Our goat meat dum biryani ($8.99) would have made a fine party centerpiece. Like the malai kofta, it was served in a cylindrical brass bowl that made us think of the iconic tiffin boxes that bicycle messengers ("tiffin wallahs") use to deliver food quickly through the crowded streets of Mumbai. Dum biryani is a variation cooked in a heavy, tightly lidded pot so that the rice, meat, and other ingredients all steam together.
The goat was particularly good, with four or five appropriately stringy but tender chunks of goat meat the size of 3-inch lengths of fat sausages, with only a few easily separable bones. The meat had been permeated with an aromatic spice rub that enhanced the flavor while making it fiery enough that the accompanying bowl of cucumber-yogurt raita was welcome. The meat pieces were mixed in the biryani with exceptionally long-grained rice, some of which had been died with yellow and orange saffron to make it a pretty three-color mix, and garnished with half of a hard-boiled egg.
Non-alcoholic beverages include commercial soft drinks, Indian coffee, salty, sweet or mango yogurt lassis. Thick salty lassis ($1.99) were indeed salty and also loaded with cumin. The rich dairy drink made a pleasing antidote to the fiery fare.
As we almost always do at Indian restaurants, we ordered way too much and ended up taking a stack of leftovers boxes home. Even so, we were able to push the toll for two only up to $29.08, plus an $8 tip.
Louisville Cafe India
12412 Shelbyville Road
253-6777
louisvillecafeindia.com
facebook.com/cafeindialouisville
Robin Garr's rating: 84 points
Noise level: Conversation was easy with the restaurant less than half full. (Average sound was 70dB, the level of normal conversation, with peaks at 79dB, the sound inside a moving car.)
Accessibility: The entrance and restrooms appear to be accessible to unassisted wheelchair users.