We've made it through January, Groundhog Day is tomorrow, but we've probably got six more weeks of winter regardless of what Punxsutawney Phil sees. bLet's face it: Winter is no fun. But one of the best things we can do to brighten the season is to settle down near a warm fireplace!
Some of my favorite restaurants boast comfortable fireplaces, too. I'm looking at you, Bistro 1860! And now I'm looking with deep and soul-satisfied appreciation at Red Hog, the newly arrived little artisanal butcher shop and small-plates eatery on Frankfort Avenue!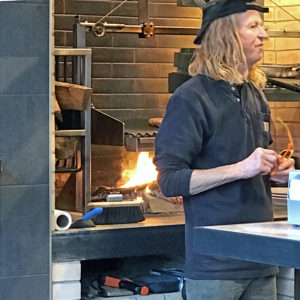 Okay, technically Red Hog doesn't have fireplaces in the usual sense. But you get a similar effect from its two roaring wood-burning ovens. One's purpose-built for pizza; the other serves Red Hog's other cooking needs, and both provide a comfy, warming glow.
Hancock and his wife, Kit Garrett, are no strangers to wood fires: They're the couple who gloriously brought us the city's unparalleled Blue Dog Bakery just a few blocks down the avenue nearly two decades ago. Blue Dog's fancy, Spanish-made brick wood-burning oven makes its loaves Louisville's favorite. And now Red Hog brings its own brand of primal fire.
Hancock's interest in locally grown, pastured meat goes back quite a way. He and Garrett have been raising heirloom swine on a farm near Louisville for years, and briefly opening a "Red Hog at Blue Dog" dinner operation within Blue Dog back in 2011.
Now they've gone full time, as Hancock, Garrett, and meat geeks Jay Denham and Duncan Paynter opened Red Hog's artisan butcher shop in September. The restaurant operation came a bit later, but it's going full blast now, filling all of its 50 seats nightly during its brief operating hours from 4-9 p.m. Thursdays, Fridays and Saturdays. (The bar is open until 11, with pizzas available until 10.)
The butcher shop, featuring "local, sustainable and humane" pork, beef, lamb, and poultry from local farms committed to sustainable, humane, and ethical farming practices, is open Tuesday-Friday from 11 a.m.-7 p.m., and Saturday from 9 a.m.-4 p.m.
The small former gas station has been cleanly renovated in simple, minimalist style with little in the way of decor beyond a spherical light fixture that resembles a glowing AT&T logo. High tables made of new butcher-block wood fill the room in even rows, set with backless but surprisingly comfortable stools.
A blackboard menu is subject to change to reflect what's available. Small plates, including sandwiches built on Blue Dog breads, "odds & ends," and meat or cheese boards, show off Red Hog's wares in creative combinations. The $10 cured ham sandwich, for example, is built on focaccia with the ham, Comte cheese and pears. Oysters "Red-Hog-a-Fella" ($9) are dressed with bacon and gouda cheese.
Two wood-fired pizzas, both $12, feature sausages and peppers, onions and mushrooms, or a three-cheese mix with spinach. You may summon a chef's meat or cheese board for $12, or chow down on redneck sushi ($8), a tasteful board of bologna and cheese with saltines and hot sauce. The top-price item on the menu is the $15 burger, oddly enough, but it's quite a burger.
Short but well-chosen beer and wine lists, an extensive selection of liquors and cocktails, and even a few creative non-alcoholic options offer plenty of choice. We enjoyed a sweet-tart blueberry-pom sangria ($6), a shot of Jameson's Irish whiskey ($4 during happy hour), a non-alcoholic cranberry-ginger "shrub" ($30, and a Campari and soda ($7).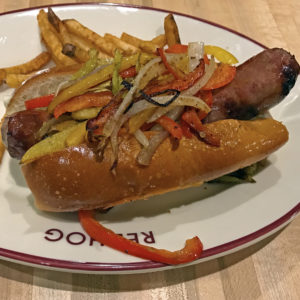 Jody Maroni's grilled Italian sausage sandwich with peppers and onions ($11) was very tasty, mild and infused with the traditional light-anise scent of fennel. It was served on a soft white bun with sautéed onion, peppers and spicy peperoncini, and slathered with whole grain mustard and more mayo than it really needed.
That $15 burger, cheekily dubbed "Really F'ing Good," is gently smoked in Red Hog's wood smoker before cooking (medium-rare, as ordered), mounted on a pretty, golden-brown Blue Dog burger bun, and dressed with sweet bacon and melted blue cheese ($15). The burger was lean and not overly juicy. The combination of smoky aroma and funky blue cheese shouted the burger into silence, though. They sometimes offer a more spartan burger, and I'd like to try that.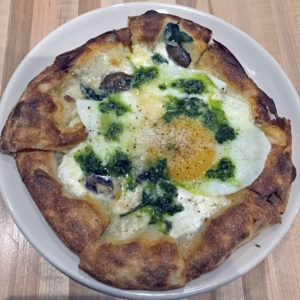 The combination of Blue Dog bread skills and searing wood fire makes an estimable pizza, ranking with the city's best. The three-cheese pizza ($12) topped with dabs of sauteed spinach and tender mushroom was first-rate; a soft, sunny-side-up farm egg on top was delicious, but didn't lend itself to picking up and eating on a slice. I resorted to knife and fork, and that was fine.
Most dishes come with thin-cut fries, tasty but on the limp side. A side order of fries may be ordered with curry aioli, Belgian-style ($5), or huevos rotos, topped with an egg and hot sauce ($7).
Two dinners came to $42.93 with a $9 tip, and $35.51 with a $7 tip. Artisanal meat isn't cheap, but it's definitely worth it.
Red Hog
2622 Frankfort Ave.
384-0795
redhogartisanmeat.com
facebook.com/redhogbutcher