I can't believe it's Labor Day weekend already and I hadn't made my annual (short) road trip across the Ohio to enjoy old-style roadside dining at two local favorites, A.J.'s Gyros and Polly's Freeze.
We rectified this lapse today with a delicious lunch of gyros and falafel sandwiches and a plate of dolmades at AJ's, followed by a soft-serve Brown Derby cone and a butterscotch shake at Polly's. "This is what fast food was like before there was McDonald's," Mary mused over gyros. True. It's fast food as our parents knew it, and our grandparents, too, before there were interstates.
There's still time to get in a trip over there this season, but for Polly's you'll have to hustle, as signs on the front warn that Sept. 22 will be the last day of the season, less than three weeks off. In the past, A.J.'s has taken a shorter winter break, usually closing for the season around Halloween and re-opening in February.
IF YOU GO: Haven't been? Here's how, repeated from last year's report: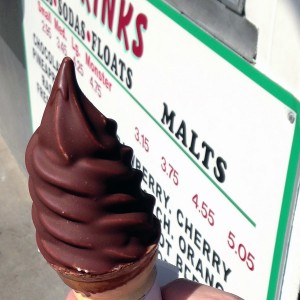 Head west on I-64 from Louisville over the Sherman Minton Bridge. Drive through New Albany, haul the long Floyds Knobs hill, and a couple of exits later hop off at the Georgetown exit, Indiana Hwy. 64. Here you face a delightful decision: Head to the right for a delicious gyros at A.J.'s Gyros? Or hook left under the highway for ice cream delights at Polly's Freeze, celebrating its 61st anniversary in business this year? I highly recommend doing both. Begin with a Greek repast on the picnic tables in front of A.J.'s little white stand. Then make the short trip to Polly's for a '50s style shake or malt or sundae. There's hardly a better road food road trip in the region on a sunny summer's day.
A.J.'s is a couple of miles west of the exit on Highway 64, on the right just past the village of Georgetown. A.J.'s is the little white stand on the right, with colorful Greek, English and American flags flying out front.
After lunch, head back toward the I-64 interchange, but zip underneath and take State Road 62 less than a mile until you see Polly's iconic neon parrot looming on the right.
Drive safely!
A.J.'s Gyros
9280 Ind. 64
Georgetown, Ind.
(812) 951-1715
Facebook: https://www.facebook.com/pages/AJs-Gyros-To-Go/157664207574
Polly's Freeze
5242 State Road 62
Georgetown, Ind.
(812) 945-6911
Facebook: https://www.facebook.com/pages/Pollys-Freeze/143918515660913