I know this is hard to believe, but a couple of generations back, when our parents and even our grandparents were young, a road trip took some planning. There were no Interstate highways and nothing like McDonald's, Wendy's or Burger King. What was a hungry traveler to do in those days of winding two-lane highways and no familiar burger logos glowing in the distance? As it happens, though it may have taken longer to get to your destination, but our forbears arguably enjoyed a finer, tastier and better quality of road food in those days gone by.

Let's take a road trip to Southern Indiana this week, where it's still possible to get off the Interstates, onto the "blue highways," and within a very short trip from Louisville get a taste of something akin to the goodies that Granddad and Grandmom enjoyed when they fired up the old Rambler and hit the road.
Head west on I-64 from Louisville on the freshly renovated Sherman Minton Bridge. Drive through New Albany, haul the long Floyds Knobs hill, and a couple of exits later hop off at the Georgetown exit, Indiana Hwy. 64. Here you face a delightful decision: Head to the right for a delicious gyros at A.J.'s Gyros? Or hook left under the highway for ice cream delights at Polly's Freeze, celebrating its 60th anniversary in business this year?
I highly recommend doing both. Begin with a Greek repast on the picnic tables in front of A.J.'s little white stand. Then make the short trip to Polly's for a '50s style shake or malt or sundae. There's hardly a better road food road trip in the region on a sunny summer's day.
A.J.'s is a couple of miles west of the exit on Highway 64, on the right just past the village of Georgetown. A.J.'s is the little white stand on the right, with colorful Greek, English and American flags flying out front.
These flags tell the tale of A.J.'s in a nutshell: Proprietors Joe Hanover, a Navy vet from Georgetown, and his English wife Alison met in Greece, where Alison learned just about everything there is to know about gyros. Now they're back in Georgetown, Joe's home town, and turning out gyros – 45,053 sold, at last count – that I would declare Louisville's best.
You can get salads, burgers, BLTs, grilled cheese, chicken or pork sandwiches and lots more here, and it's all good. But you really do want to come for Alison's gyros. Trust me on this. They're available in three sizes ($3.50, $5.50 or $7.50), and fill them with your choice of lamb-and-beef gyros meat, beef, chicken, falafel, feta and olives or bacon and hummus.
We enjoyed a medium lamb-and-beef and a medium falafel, and they were the real deal, quality fillings loaded into crisp, warm pitas; plus a shared set of dolmades ($3.50), delicious marinated grape-leaf packets of herb-scented rice.
A.J.'s Gyros
9280 Ind. 64
Georgetown, Ind.
(812) 951-1715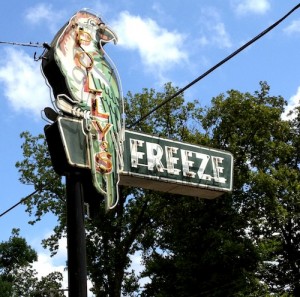 After lunch, head back toward the I-64 interchange, but zip underneath and take State Road 62 less than a mile until you see Polly's iconic neon parrot looming on the right. Pull into a parking space, walk up to the screened windows and place your order. There must a hundred variations on cones, sundaes, sodas shakes and malts, but we kept it simple, the old-fashioned way, capping our meal with a Brown Derby cone ($3.85) and a small chocolate shake ($2.85) so thick that I gave my lungs a workout getting it up through the straw.
Road trip! Who's in?
Polly's Freeze
5242 State Road 62
Georgetown, Ind.
(812) 945-6911