Some of Louisville's top chefs, such as Anoosh Shariat and Bim Deitrich, have built their reputation on a string of restaurants spread over decades, making every one a success.
And then there's Fernando Martinez, who does restaurant entrepreneurship a whole 'nother way. With his wife, Cristina, and cousin Yaniel Martinez, Fernando keeps adding more and more restaurants to a growing squadron of fine eateries that all run simultaneously. This is no cookie-cutter chain either, but a variety of excellent restaurants, all different in style and even national origin.
From Havana Rumba in 2004 to Red Barn Kitchen last month, I count 10 restaurants from the Martinez' creative outfit, and they still have six operating to public and critical acclaim under the umbrella of their Olé Restaurant Group.
The other night, we finally got out to Norton Commons for a visit to Mercato Italiano, and I'm glad we did. It runs a close second to my Martinez favorite, Artesano, putting out good to excellent Italian-style fare.
Its red-brick storefront with striped awnings looks a lot like a corner grocery in Little Italy. Inside, there's a long, U-shaped bar, and plenty of closely spaced wood-look tables furnished with hard red-metal chairs. Walls are bold white with red and black accents, and large window walls afford a good view of the shops on Meeting Street in Norton Commons' village center.
The menu isn't overly long, but it offers good variety. About a dozen starters range in price from $9 (for crostini toasts or an Italian-accented Caesar) to $13 (for fancy salads made with octopus or prosciutto).
Primi (first courses, usually pasta) and Secondi (second courses) are traditionally served in sequence at a fancy Italian meal, but given Mercato's generous portions, one of either would feed one diner well, and a 14-inch "pizzetta" might be enough for two.
Prices range from $14 (for Cacio e Pepe, black pepper spaghetti) to $36 (for Costoletta di Maiale, an oversize pork chop); the $65 Bistecca Fiorentina, a humongous steak, is meant for two or more to share.
The bar offers cocktails, a short beer list featuring Italian brews, and about 30 wines, almost all Italian, starting in the lower $30s, or $9 for the most affordable glass.
Mercato is popular, and it doesn't take reservations. We made the long trek to the outer 'burbs on a Tuesday, normally the least busy restaurant night, and got one of the last tables. We were glad we did, too, as a fine Italian-style dinner followed.
Our meal began with a square of soft, crumbly, rather sweet focaccia wrapped in brown paper, with pools of fruity green olive oil and spicy pink chile-scented olive oil for dipping.
Insalata burrata ($11) salad made a filling starter. Two small spheres of burrata, a creamy, rich mozzarella that's almost liquid at the center, were surrounded with juicy, fresh cherry tomatoes and cubes of tart, crunchy refrigerator pickles. It was drizzled with fruity olive oil, topped with minced chives and garnished with blackberries and raspberries, fruit that I love on its own but found a bit odd in the context of a salad.
You can put together your own cheese and salumi plate from a menu of 10 Italian cheeses and a dozen sausages, or go with the chef's selection for $24. We tried just one, Gorgonzola Dolce ($6), a generous ball of earthy, faintly sweet Italian blue cheese on a wooden board with sweet fig jam, candied walnuts, a chunk of gently caramelized onion, skinny grissini breadsticks and lightly grilled Blue Dog baguette slices.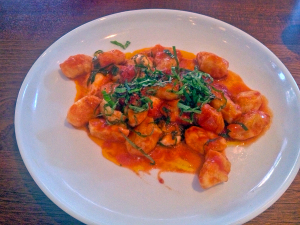 We beat the primi and secondi system by sharing one of each. The primi, Gnocchi Sorrentina ($16), featured bite-size gnocchi and almost-molten bocconcini, miniature mozzarella balls, in a light tomato sauce. I'll take a point or two off for dense, chewy gnocchi – puffy and light is the industry standard – but add back even more points for some of the best tomato sauce I've ever tasted. It was light, complex, faintly sweet, full of summer tomato flavor. They could sell that sauce in a bowl as zuppa di pomodoro, and I'd call it the best tomato soup I ever ate.
Our secundi, half of a roast chicken (Pollo Arrosto, $17, or $28 for a whole bird) was served in a large, oval earthenware dish with big cubes of dry toasted foccacia on the side. Mercato calls this panzanella, but it's an odd version of Italian bread salad, which consists of fragments of dry bread soaked with the delicious juices of fresh tomatoes, herbs, oil and vinegar.
The chicken was fine, expertly roasted, falling off the bone; tender, juicy and flavorful. The server said it would be served with lemon and garlic, but we could taste neither. Frankly, we'd just as soon have passed on the drizzle of sweet balsamic that he didn't mention.
A side dish of cheesy polenta arrived late and was okay but a bit lumpy.
Dinner for two came to $53, a toll somewhat reduced because we skipped adult beverages in favor of iced water; we added a $12 tip for our server Chris, a friendly and very helpful gent.
Mercato Italiano Trattoria and Market
10640 Meeting St.
Norton Commons
690-3200
facebook.com/MarcatoItalianoTrattoriaandMarket
Robin Garr's rating: 86 points