This time it was special. A birthday, an anniversary, and I wanted to treat my bride to the city's best. So who's No. 1? It's gotta be Seviche.
We all know that this city is blessed with a grand buffet of great restaurants, with 20 or more that can dominate on any given day. But Chef Anthony Lamas' pan-Latino gastronomic temple on Bardstown Road rings my chimes consistently loud and clear.

So, Seviche it would be! And then I'm fooling around on Facebook, and there's Lamas, checking in from … Bogotá, Colombia!? "I'll be out of the country until Aug. 16," the peripatetic chef wrote. "Inspiring young cooks, and being inspired myself by this beautiful country!"
Well, shucks and durn! Would it be fair to review a top local restaurant, knowing that the boss is on the road again? I thought about this for at least 60 seconds. Why, hell yes, it would! It's easy to look good when things are rocking, but one real test of a restaurant's deep quality is how well the team functions when El Jefe is away.
With top Louisville chefs like Lamas and 610 Magnolia's Ed Lee shuttling around the nation for television appearances, book tours and competitions, it's entirely fair to ask what they leave behind: a well-oiled machine or a noisy train wreck?
Knowing of the strong team that powers the back and the front of the house at Seviche, I wasn't in much doubt. But I'm not paid to guess, so off we went … and to my delight, Team Seviche was rocking it. Seviche scores on all the fundamentals.
• The venue is attractive, understated and earth-toned, with wacky glass octupus pendants just to show that Seviche, like the city it's in, is delightfully weird.
• Service is consistently warm and welcoming, with sheer competence added to make it meaningful. Whether you hang out at a table, kick back at the bar or take advantage of a private room, you'll feel comfortably at home.
• There's a serious commitment to sustainability: Lamas has become a leader in the world movement to select seafood and fish wisely, scrupulously guided by the Monterey Bay Aquarium Seafood Watch Program. A similar ethos guides the kitchen's choice of locally grown meats and produce.
• Last but not least, the food is exceptional, a creative, chef-driven bill of fare that's Latin in spirit, international in style; focused on flavor, and showcasing that flavor in sometimes unexpected combinations.
Seviche's menu is strongly oriented toward seafood and fish, with a half-dozen creative, striking seviches, ranging in price from $15 to $19. Fin fish and shellfish account for five of the eight entrees ($21 to $39), too.
But make no mistake, meat lovers and vegetarians alike can make a memorable dinner here, if that's your preference. To put this to the test, after enjoying an obligatory seviche dish of Wahoo tiradito ($15) we deliberately chose a beef entree and a vegetarian main dish. This change of pace didn't slow them down. Both churrascos de Argentina ($33) skirt steak and a roasted veggie chimichanga ($21) were memorable and delicious.
Then, saluting summer's bounty, Ambrosia Farm tomato celebration ($13), a daily special, came out on an oversize platter bearing a colorful display of red, green, yellow and bronze tomato slices tastefully decorated with a spicy jalapeño-basil pesto, dabs of Capriole goat cheese and mini-stashes of black lava salt.
The wahoo tiradito featured a half-dozen bites of pristine, light-fleshed Pacific fish, perfectly fresh, of course, topped with watermelon dice and sprinkled with chili flakes for flavor contrast, decorated with dots of tangy yuzu citrus.
Another app, "blistered" grill-blackened Ambrosia Farm shishito peppers ($9), looked simple but tasted amazing, and went down the hatch fast.
The churrasco steak was a good-size rectangle of skirt steak, pinkly medium-rare as ordered despite being a thin cut, was rolled up and skewered. It was juicy and crusty, plated on a mound of rich, cheesy mashed potatoes. It was plated with bites of crisp, barely cooked pattypan squash and tiny carrots (not your cheap bagged supermarket carrots but the real thing). An Argentine-style chimichurri sauce was aromatic with herbs, oil and lemon.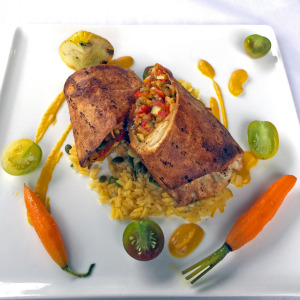 The veggie chimichanga was a winner, too. A roasted-veggie burrito-like roll cloaked in flaky pastry rather than tortilla, it was loaded with smoky, roasted multicolor bell peppers and zucchini from Ambrosia Farm, and a ration of earthy Kenny's Kentucky Gouda. It was plated on tasty yellow rice studded with pumpkin seeds.
For dessert, the "Avocado" ($11), was a fool-the-eye avocado-looking concoction of pale-green, mild avocado ice cream in a chocolate-shell rind with a bourbon-truffle "pit" and dabs of sweet dulce de leche on the plate alongside a line of edible "soil," a wacky but amazing garnish of ground coffee and pine nuts.
Seviche is not a place for a cheap date night. With two cocktails (a $10 mojito and a $9 Hooglimoo), a wild blend of gin with cucumber and lemonade infused with shishito peppers), plus a cup of coffee ($2.25) afterward, dinner for two was $130.65, plus a 20 percent tip for our friendly, cordial and always professional server, Danielle.
Seviche
1538 Bardstown Road
473-8560
sevicherestaurant.com
facebook.com/sevicherestaurant
Robin Garr's rating: 99 points