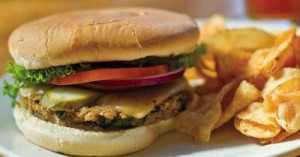 This story appears in LEO's Dining Guide 2010.
Some days you feel like a nut, as the old Almond Joy commercial told us, and some days you don't. As for me, some days I feel like a bloody haunch of barely seared cow flesh. Some days I feel like alfalfa sprouts and tofu.
Is there a name for a wannabe vegetarian who likes meat way too much to give it up? I'm thinking "herbocrite," and I'm willing to bear the label with pride.

The last time I tried going all-veggie, just to see what would happen, the effort lasted 10 days. Then I got pneumonia. The doctor says it was just a coincidence, but I don't know. I'm not inclined to take that chance again.
On any given day, though, I might decide to go for a meatless main dish – even at a restaurant not known for its vegetarian bill of fare – if the chef has made the effort to come up with something that demonstrates a creative approach to food that caused no harm to animals in its production.
But please give me an interesting, flavor-intense dish that takes advantage of the natural flavors of vegetables and dairy. Don't bore me with yet another kiss-off mélange of grilled veggies or even a meaty portabello burger. Tickle my carnivore's taste buds with flavors never seen before, as the original Iron Chef Japan used to say.
For serious vegetarians, Zen Garden and Zen Tea House are as good as it gets, with their inventive Buddhist-style vegetarian dishes. Sweet Surrender, too, brings on outstanding, mostly veggie lunch fare, and the Swan Dive is another destination for great vegan eats.
Is separate-but-vegetarian enough? Let's take a quick culinary trip through some fine local eateries that offer meatless fare and meat as equally valid alternatives.
You may not have noticed if you weren't looking for it, but healthy dining is trendy, and vegetarian options are in. A few of the city's finer restaurants – and a lot of the quick grab 'n' go spots – offer a meatless selection, or two or three.
Starting at the high end, there's usually a fine vegetarian main course at Corbett's, An American Place. Recently it was ravioli with Peruvian potato and sweet mascarpone cheese filling with foraged mushrooms, Marsala wine, sweet potatoes and sage.
At the other end of the empty-your-wallet spectrum, Conez & Coneyz lures ravenous vegans with its all-grain protein Vegi-Dog. Add vegetarian chili if you like. At Joe Davola's, the "Violent Veggie Meat Loaf" is made with sautéed veggies and meatless veggie-protein "crumbles," topped with tomato spread and zippy horseradish mayo.
The Blind Pig is a gastropub temple to the humble porcine. Who knew you can get splendid veggie dishes there? The white bean puree appetizer can make a filling main dish. It's a coarse puree of canellini beans scented with fresh parsley, rosemary and thyme, black pepper and olive oil, served warm with a half-loaf of sliced, crusty Blue Dog baguette. The ratatouille, another virtuous appetizer, can serve as a main dish, too. Zucchini, eggplant, carrots, peppers and onion are chopped into small dice, simmered in a savory fresh-tomato sauce with garlic and herbs until the veggies are al dente.
At L&N Wine Bar & Bistro, Chef Michael Hargrove consistently includes at least one good vegetarian option. The Summer Pasta will probably go off the seasonal menu soon, but if you can still catch it, it's a fine blend of tagliatelle pasta topped with Sheltowee Farm mushrooms, English peas, fine herbs, a tangy Capriole Farms goat cheese sauce and rustic croutons.
On East Market, The White Oak's summer menu included a ragout of beans and greens with herbed grit cake and stewed green tomatoes, a perfect balance of sweet and tangy flavors and an intriguing mix of textures.
Just down the street, Chef Coby Ming keeps at least one creative vegetarian dish on the weekly small plates menu at Wiltshire on Market. Recent examples: roasted pumpkin gnocchi with roasted beets and damu salad, and flatbread pizza with Farmer Fred's roasted garlic, mushrooms and piquillo pepper coulis. I could eat that.
For those who decline the milk-braised rabbit or double-down pigmeat delights of the country ham-wrapped pork chop at Proof on Main, the black-pepper tagliatelle with squash blossoms and pea greens made a light option humane enough for any meat-shunner.
Ditto the new seasonal menu at Seviche, where it is almost impossible for me to pass by the delicious dishes made from once-living sea creatures; but if any veggie dish could tempt me, it might be the roasted vegetable and Kenny's Kentucky Gouda chimichanga with butternut squash, serrano chiles, toasted pumpkin seeds, tomato butter and rice. I believe "Yum!" in Spanish is "Nãm!";
I don't know which I love more: the spicy, textured spinach-walnut burger with pepper jack cheese at Bluegrass Brewing Co. or the tender, healthy white-bean burger with avocado and tahini at Meridian Cafe. They're both so fine, and within walking distance of each other in St. Matthews. Maybe I can have both.
At Caffé Classico, it's hard to pass by the Huevos Fritos al Caballo, an unexpected combination of sizzling Belgian-style frittes tossed with a tangy diced tomato vinaigrette and topped with a pair of sunny side-up eggs. But as good as it is, it's not my favorite vegetarian dish. That honor goes to the memorable saffron Asiago risotto cakes, a dish that earns the overused word "awesome." Three savory rounds are cut from cooled risotto flavored with saffron and Italian Asiago cheese; these cakes are then dusted with bread crumbs, pan-seared, and served atop a healthy and delicious bed of lima bean succotash and topped with garlicky wilted spinach. Meat or no meat, folks, it doesn't get any better than this.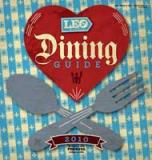 Read all of LEO's Dining Guide 2010.