I've liked Simply Thai ever since it opened in 2006. Since the beginning I have ranked it high among the city's Thai eateries for food quality and presentation of standard Thai dishes – plus a short but appealing selection of Japanese delights and sushi.
But I didn't go to Simply Thai very often, frankly because its popularity swamped its tiny quarters in a one-room hut at Wallace and Wilmington avenues. With maybe eight small tables crammed into a space meant for six, and a line of hungry diners elbowing through the middle of the crowd in search of take-outs, Simply Thai's ambience fell simply short of simply comfortable.
But it's all better now. Around the first of the year 2011, after an exceptionally long delay that now appears to have been spent in a major cosmetic remake, Simply Thai moved a short block to the much more spacious venue that recently housed Bazo's.
Thoroughly renovated and now upscale and attractive, the all-new Simply Thai's spacious, L-shaped dining room accommodates 75 diners or so, I'd guess, when it's packed full, as it often is on busy evenings. The pale saffron and blonde wood room features Thai-accented decor – stylized Buddha and lotuses and more – with walnut-look tables and sturdy wooden chairs. Paper napkins wrap decent flatware.
The menu, on the other hand, hasn't changed much. Most of the familiar dishes are still there, and price increases appear no more than food-price inflation can fairly justify. A long list of Thai and Japanese appetizers (listed on separate menu pages) are mostly under $5.50, and most Thai meal-size soups and salads, noodle and rice plates and curries top out at $12.50 for shrimp dishes, less for chicken, tofu or beef. A dozen more ambitious Thai dinner entrees range in price from $12 to $17.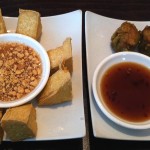 We started with a pair of crunchy appetizers, one Thai and one Japanese, both hitting the spot. The Thai app, crispy tofu ($4.50) consisted of eight thick triangles of soft bean curd competently fried to a pale gold, crisp and grease-free skin enclosing a steamy, soft tofu center, with a sweet chopped-peanut sauce in a small bowl for dipping. The Japanese wasabi dumplings ($4.50) featured minced pork and shrimp with a sinus-clearing jolt of wasabi (the potent green "horseradish" served on sushi plates) formed into balls and enclosed in small purses of won-ton skin, fried crisp and served with a thin, brown, hot-sweet sauce.
Mary and I split two Thai lunch entrees. Green curry with the shrimp option ($11) boasted an appetizing flavor but seemed soupy, and it minimalist in the ingredient department: Lots of green beans cut into 1-inch bites swam with six smallish shrimp, tails off, and a few tiny basil leaves in a medium-spicy coconut broth. Invited to choose a heat level between 1 (mild) and 5 (very hot), I chose 3, and they hit it about right, with a dish that left a warming glow at the back of my mouth. I would have liked a little more complexity in flavor – cilantro would have been welcome. But it was very good, and rice served alongside was well-made, steaming and fresh.
Pad Thai ($8.50 for a lunch portion with the tofu options) was the usual combination of flat noodles and bean sprouts, with bite-size tofu cubes with a crisp fried skin did a good job of emulating chicken. It seemed ingredient-shy, too, with a few peanut chunks and scattered shreds of egg, but it left us wishing for a little more boldness of flavor.
Thai iced coffee was dark, strong and sweet, with creamy sweet condensed milk drizzled on top. An excellent Thai lunch came to just over $30, and service that seemed a little over-stretched at first but ended up courteous and present, earned a $6 tip.
Simply Thai
323 Wallace Ave.
899-9670
www.simplythaiky.com