When you need comfort food, nothing else will do. When you're feeling down, pulling up to a plate full of comfort may be the best thing you can do for yourself. So it was for me last week when I had to say good-bye to my beloved cat Spike, a ginger-color furball buddy who'd been my special friend and constant companion for more than 17 years. It was either ugly-cry or fill up on comfort food, so I decided to do both.
But here's the funny thing: When I needed comfort food, I realized that comfort for me does not come from the nurturing culinary memories of a Louisville childhood. No, my culinary comfort needs are filled with the bright, potent flavors of Southern and Southeastern Asia. Make mine Indian, Vietnamese, Indonesian or Thai, and I can feel the tension and sadness quietly draining away.
I hadn't been to Simply Thai in St. Matthews for quite a while, so it felt like the perfect destination for a bittersweet yet consoling dinner in memory of Spike.
Its decor is simple and attractive, with soft dark gold and wood walls bearing a couple of large images of striking stylized faces. Good-quality flatware comes rolled in soft yellow cloth napkins on undraped wood-look tables.
The bill of fare offers about 50 items divided among appetizers, soups, salads, noodle and rice plates, curries, and Thai entrees. There's also a modest selection of sushi and Japanese appetizers.
?The menu requires a little study to grasp the pricing, as most dishes show both lunch and dinner pricing and also vary depending on the meat, seafood or tofu that you choose. Rice and noodle plates and curries, for example, are all $10.95 or $12.95 at dinner, and $8.95 to $10.95 at lunch, and those prices include your choice of chicken, tofu, textured vegetable protein (fake meat) or extra veggies; there's a $2 upcharge for beef and $4 extra for shrimp. A dozen Thai entrees range from $13.95 (for several dishes) to $24.95 (for "Amazing" seabass pan-seared on green-curry zucchini with fresh Thai basil and rice noodles). The same charges for beef or shrimp apply.
About 18 sushi items, including maki rolls and nigiri pieces, are $3.95 to $10.95.
Thai fare can be fiery, and that's one of the things that make it comfort food for me. Simply Thai invites you to enumerate your fate from 0 (mild) to 5 (Thai spicy). "Please be advised that we will not be responsible if you order your dish too spicy," the menu warns. That seemed fair enough, so we balanced our shared dinner with one dish at 4 and another at 1. Curiously, they both came out at about 3, but no matter, they were still good.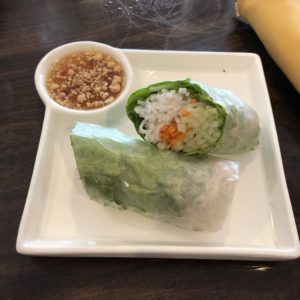 Anyway, our first appetizer order was a cooling dish, not fiery: Two spring rolls ($4.75) were filled with rice noodles, julienned carrots and cucumbers, wrapped in aromatic Thai basil and lettuce and tightly rolled in translucent rice paper. It was a bit on the bland side, except for the basil, but the accompanying dish of hot-sweet peanut sauce set that right.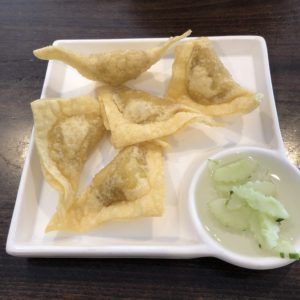 Another appetizer, fried curry puffs ($4.75), consisted of five crisp-fried wonton triangles, each filled with a curry-flavored paste of mashed potato and chicken. Its accompanying sauce is a Thai tradition that I've never quite understood: Bits of chopped cucumber in a clear, sticky, sweet-sour mix of rice vinegar and sugar.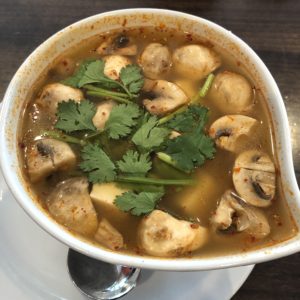 Soups and salads can be main dishes in Thai tradition, but they're served in appetizer portions here. We went with the tofu version of Thai tom yum soup ($5.95) and got a generous portion of silken tofu cubes and quartered white mushrooms swimming in an intense, complex clear broth dotted with enough chili pepper oil to clear even pollen-season sinuses, garnished with fresh cilantro leaves.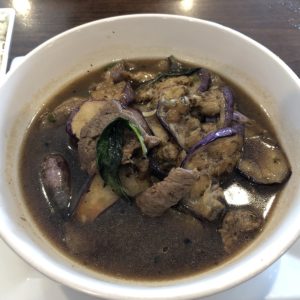 A big bowl of Thai eggplant ($13.95) with the beef surcharge ($2) was soup-like, with thick slices of eggplant, thin slices of beef and a few Thai basil leaves adding flavor to a dark, rich, and sweet beefy, lemongrass-scented broth.
Pad Thai ($10.95), pictured at the top of the page, is surely the iconic Thai dish, and it's said that every Thai cook makes their own particular rendition. It may be spicy or mild; it may contain seafood, meat or tofu; it's usually garnished with scrambled eggs and chopped peanuts; and at its best, it offers a pleasing textural contrast between soft rice noodles and crisp raw bean sprouts. Simply Thai's version was a good one, with one caveat: Perhaps made in advance for the dinner rush, its bean threads had been cooked through until they were soft, not crisp. This is a small quibble, though. Its flavors were on point, and the portion was generous enough to make leftovers for two lunches.
We found abundant comfort and remembered Spike fondly with a filling Thai meal and still held the toll for two to $44.89, plus a $10 tip.
Simply Thai
323 Wallace Ave.
899-9670
simplythaiky.com
facebook.com/SimplyThaiSaintMatthews
Another location: 12003 Shelbyville Road, 690-8344
Robin Garr's rating: 84 points
Noise level: Conversation at dinner time was easy, even with a fairly full room. (Average sound level was 72dB, the level of normal conversation.)
Accessibility: The restaurant appears to be fully accessible to wheelchair users.