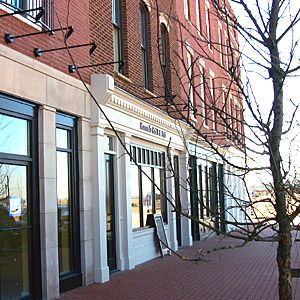 Karem's in Norton Commons occupies a brand-new, three-story red-brick storefront that's made to look a lot like an old one. Photo by Robin Garr
(Karem's Grill & Pub, Shady Lane Café
Voice-Tribune, March 29, 2007)
One of the more unusual suburban developments in recent memory, Norton Commons – billed as a "traditional neighborhood development" or "TND" – brings a touch of nostalgia to Louisville's outer suburbs.
It incorporates acres of parklike green space surrounding a squared-off grid of residential blocks made to resemble an old-fashioned urban neighborhood, with sturdy brick houses lined up side-by-side, most of them equipped with front porches where folks can come out to sit a spell and talk with the neighbors.
And just as in grandpa's day, a short stroll (no need to get out the horseless carriage) will take you down to the quaint town square, with brand-new, three-story red-brick storefronts made to look a lot like old ones.

Located on the old Norton family farm in far Eastern Jefferson County, just past the rapidly developing suburban sprawl of Springhurst, the Summit and the new Brownsboro Crossing with its giant Costco store, Norton Commons makes a striking break from the suburban scene.
And now there's another good reason to go: Karem's Grill & Pub, a new venture of Louis Karem of St. Matthews' Karem's Deli & Catering, has opened the first eatery in the Norton Commons shopping district, and a very good eatery it is.
Inside and out, it carries the look and feel of a neighborhood watering hole. A small bar, glass-front deli case, blackboard menus and a dozen tables fill a rather dark dining space, brightened by primary colors and a couple of large-screen TVs tuned to sports. Big storefront windows offer a view of the growing village and what's left of the old farm.
The test of a restaurant, though, is the food, and Karem's is excellent. The menu is similar to that at the St. Matthews Karem's, featuring sandwiches, subs and wraps, from $3.95 (for a baloney sandwich) to $7.95 (for a grilled mahi-mahi sandwich or the steam-table plate lunch with two sides). A short dinner menu features a half-dozen entrees, from $8.95 (for grilled or blackened chicken) to $10.95 (for grilled mahi-mahi, fried shrimp, or a marinated "Triangle" steak made from a favorite Karem's beef cut).
My wife enjoyed a "Triangle" salad ($7.95), featuring thin-sliced, juicy beef on salad greens garnished with grape tomatoes. Ranch dressing, served on the side, was forgettable, but it wasn't needed anyway, as the hot beef juices moistened the salad just enough and tasted great.
I went with the "boss burger wrap" ($6.95). A burger in a wrap! Who knew? It was a new one on me, and boy oh boy, was it good. Juicy beef burger meat was broken into bite-size pieces and stuffed into a tortilla wrap with lettuce and tomato, dill pickles, crunchy banana peppers and mayo, the whole works grilled hot and crisp. With a slice of splendid chocolate cake (from nearby Costco, we were told), iced tea and a soft drink, we got out for $20 or so.
Karem's Grill & Pub
9424 Norton Commons Blvd.
327-5646
Another attractive East End storefront, Shady Lane Cafe, has been earning good reviews for simple fare served in friendly surroundings. Located in a corner space in Brownsboro Center, it offers an affordable lunch menu, featuring more than a dozen sandwiches and grill items from $3.95 (for a classic BLT) to $6.25 (for a chicken quesadilla).
The "Brownsboro burger" ($4.95) was a good-size patty perched on a bakery-style burger bun, topped with melted Swiss-type cheese and dressed with fresh lettuce, thick-sliced tomato and onions plus a few dill pickle chips. The burger was flavorful but unfortunately well-done and dry, and it needed salt. Fresh homemade potato-chips right out of the frier were a distinct plus.
Benedictine and bacon, served in a tortilla wrap with a lot of lettuce, was a fine rendition of Benedictine, the Louisville traditional cream-cheese-and-cucumber spread, happily not dosed with bright-green food coloring. It was a little shy on crumbled bacon, but passed my clean-the-plate test.
We went back on the weekend to check out Shady Lane's breakfast (served Saturday mornings only), and were reasonably satisfied with diner-style eggs-over-medium, bacon and toast and a thin three-egg omelet with chopped ham, onions and green peppers. Both the lunch, with Diet Coke and iced tea, and the breakfast with coffee came to around $15.
Shady Lane Café
4806 Brownsboro Center
893-5118