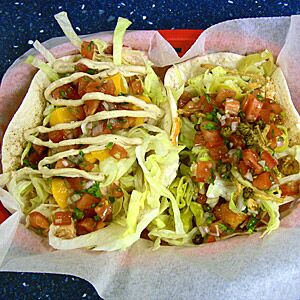 Seafood Connection's salmon taco (left) is topped with peach salsa; fried capers light up the flavor of the fish taco. Neither is your grandmother's Tex-Mex. Photo by Robin Garr
(Voice-Tribune, June 14, 2007)
Travel around the Mediterranean and through the Latin countries, from Greece past southern Italy, Provence in France, Spain and on around Gibraltar to Portugal, and you'll find wonderful seafood and fish restaurants in just about every port.
To my mind, the best of these places are the most informal, and it just doesn't get any better than when the "menu" is a pile of fresh fish and shellfish, still briny from the ocean, piled on ice near the entrance. Pick the fish that appeals to you, point to it, and someone will whisk it away, soon to return it sizzling on your plate.
Louisville is a long way from the Med. Indeed, we're about 600 miles from the nearest seacoast. But you can eat like this – or a little bit like this anyway – in the heart of St. Matthews at Seafood Connection in Chenoweth Square.

Last year, Seafood Connection – heretofore best known as a retail purveyor of fresh fish and seafood – quietly added an eight-seat lunch counter with a short but intriguing menu.
This is no mere fried-fish joint, although Chef Mike Hungerford makes a $5.49 "Fishwich" on white, oatmeal bread, wheat or marble rye that's a match for any in town. In fact, the surprisingly varied menu – recently expanded with several new dishes – offers more than two dozen fish and seafood selections that range in price from $3.99 (for a fish, shrimp or salmon taco) to $9.99 for an oversize combo platter or the best lobster roll I've tasted this side of Long Island Sound.
Best of all, though – taking us right back to those lovable seafood eateries on the Mediterranean coast – is the PYOF deal: "Pick Your Own Fish." Choose anything in Seafood Connection's bright, attractive glass-fronted display cases, point it out, and Chef Mike or shop owner Brendan Mullaney will make it your lunch at market price. Want a softshell crab sandwich (in season) or grilled swordfish? It's yours!
Some of my many favorites, beyond the PYOF, include the aforementioned lobster roll, an unreasonable amount of fresh, sweet lobster claw and tail meat held together with just enough mayo to make it stick, served on a traditional grilled lobster-roll bun. The "Fishwich" ($5.99) is a good-size chunk of fresh cod deep-fried in a crunchy cornmeal batter, served with lettuce and tomato and homemade mayo.
Fish, shrimp and salmon tacos ($3.99 regular, $6.49 jumbo) are all different, and all impressive. Crisply fried shrimp or white fish or a slab of fresh, grilled salmon are placed on a fresh soft wheat tortilla and topped with shredded iceberg lettuce and chopped tomatoes, crispy fried capers (an amazing, addictive garnish), plus hot sauce for the shrimp and peach salsa plus a swish of creamy chipotle-avocado sauce for the salmon. Even the "regular" taco is almost too big to pick up and eat … I'll generally whittle it down with a fork before picking up the remains to eat in the traditional way.
Crab cakes ($4 for Chesapeake crab, $6.50 for premium crab) are juicy and sizable; the grilled salmon Reuben ($6.49) boasts fresh salmon filling in for the usual corned beef.
Here's the ultimate testimony: As a professional diner who's always on assignment, it's tough for me to get back to the same place twice because there's always something new on the horizon. But Seafood Connection is so good, so pleasant and so affordable that it's on my short list of exceptions: places that I'll return to time and again, even when I'm not working.
Seafood Connection
3922 Chenoweth Square
899-5655
Cafe Lou Lou moving to St. Matthews
Café Lou Lou, which has earned a loyal following from its artfully funky quarters in Clifton, will soon move to St. Matthews, transporting its bright art pieces and sunny cuisine over to the former home of Asiatique (most recently MacVittie's) at 106 Sears Ave.
The eatery, whose rhyming name reflects both "Louisville" and "Louisiana," will open in its new location on July 9, Chef Clay Wallace said. The last day on Frankfort Avenue will be June 30. Wallace said expanded parking, with 60 convenient spaces available in the St. Matthews strip center, was the main reason for the move.
He said the menu will continue to feature "Mediterranean Italian with a strong New Orleans influence."