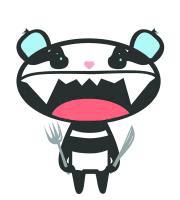 Illustration by Gina Moeller
LEO's Eat 'n' Blog with Louisville HotBytes
(A dozen ice-cream delights, and we beef it up at Palermo Viejo)
When summer comes and the days turn us into overheated crankpots (pun intended), says Eat 'N' Blog correspondent ANDREA ESSENPREIS, she knows what to do: "We need to go out for ice cream. The simple act of sharing a scoop brings back memories of laughter, sticky chins and endless possibilities – which flavor will it be tonight? Cup or cone? Sundae or scoop?"
With Independence Day coming up and July designated as National Ice Cream month, it seemed only right to take on a simple but decidedly appealing challenge: Present a creamy, ice-cold and delicious overview of many things sweet and frozen in the Metro (and a few delights beyond the city limits). Essenpreis was delighted to volunteer for the duty, and I had no qualms about pulling a share of the load. Off we went, in quest of ice cream, and in no particular order, we now present … the Dairy Dozen.

THE HOMETOWN FAVORITE: Graeter's (various locations)
First, I must confess my bias – I spent a large chunk of my Cincinnati childhood slurping down Graeter's Ice Cream. All of the ice cream is prepared using the French pot method, which incorporates very little air into the product. (No air = dense and creamy = good.) Graeter's hits the mark for chocoholics. The legendary slab-size chocolate chips melt on your tongue in a symphony to all things cocoa. Seasonal Tangerine Cream was a winner, a throwback to the classic Dreamsicle. Subtly flavored fresh peach (available in July and August) is a perennial favorite for many, but I'm smitten with Toffee Chip, which combines chunks of rich toffee and those amazing chocolate chips. Feeling saucy? Try a classic sundae. My poison of choice, Swiss Chocolate ($3.99), blends bittersweet chocolate topping with real whipped cream over vanilla bean ice cream, capped with optional pecans and a cherry. -AE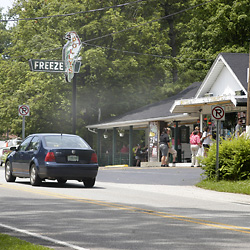 Photo by Robin Garr: Polly's Freeze: What's it gonna be, Polly's Freeze or Zesto? How about Mundt's? Or Graeter's. Decisions, decisions.
THE SUNDAE DRIVE: Mundt's Candies, Madison, Ind.
It's hard to beat the scenic drive upriver to Madison, not just to stroll along the Southern Indiana city's charming streets but to visit Mundt's. This classic ice-cream shop churns out fresh ice cream using quality ingredients in a machine made in 1948. The soda fountain shares space with a candy store, so they know hot fudge. It is the best I've ever found, and trust me … I've tried a lot. My favorite sundae, the "Army Navy" ($3.35), is a spectacular combo of tastes and textures: Coffee ice cream comes with a pitcherette of hot fudge sauce and shredded white chocolate, toasted almonds and a French wafer cookie for toppings. Or try the "'37 Flood" ($13.50), which inundates four to six people with 10 scoops of ice cream, seven toppings, bananas, cookies, whipped cream, cherries and chocolate fish. -AE
ICE CREAM ON A BUDGET: Dairy Kastle, 575 Eastern Parkway
Native Louisvillians like my husband, Mike, hold fond memories of a little ice cream and chili dog stand called Dairy Kastle, where you'll find cheap, tasty soft-serve ice cream (chocolate, vanilla and swirl) with a variety of toppings, mix-ins, dipped cones and classic shakes. My choice was the "super-sized" hot caramel sundae with the works (whipped cream and chopped peanuts, no cherries here). Mike tried a small twist cone and a "Brown Cow" (root beer with vanilla soft-serve; the "Black Cow" is made with chocolate ice cream). The ice cream was more refreshing than creamy, a satisfying backdrop for excellent caramel sauce and whipped cream. Mike decided the cone had a "great chocolate-y flavor" and the Brown Cow was deemed "perfect – perhaps just a touch more root beer." With two first-rate chili dogs, a drink and all that ice cream, the toll was less than $10. An excellent value! -AE
THE LIGHTER ALTERNATIVES: (1) TCBY, 3360 Hikes Lane
The idea of light ice cream draws out the skeptic in me, as I am a fan of the creamy, intense flavors found in the ultra-premium brands. Still, we sought to leave no stone unturned in our pursuit of dairy delights. The first stop was TCBY (a.k.a. The Country's Best Yogurt). If this is the best, I'll pass. We tried three flavors of soft-serve yogurt and one of the new hand-scooped frozen yogurt, and they all tasted pretty much the same, which is to say that they had no flavor. Mike said, "It just tastes … brown." The hand-scooped Cotton Candy was good, though – creamy and intense with the cooked-sugar essence of cotton candy. If you go, stick to the hard stuff. -AE
(2) Smoothie King, various locations
The buzz has been circling about the new Smoothie King on Shelbyville Road (the old Rally's, next to BBC), so we rolled through the drive-thru to try a couple of smoothies. My first thought was, "Wow, these are pricey." The smallest adult size is 20 ounces ($4.79), which was way too much for me to finish. The "Peanut Power Plus with Strawberry" is a virtual blended PB&J. Mike's "Immune Builder" featured bananas, strawberries and a "dynamic herbal nutrient blend." The Peanut Power Plus definitely elicited "ooohs," but while it may be healthy and wholesome, this is no light beverage – it has 632 calories, 20.8 grams of fat and 15 grams of protein. Mike's smoothie had only 333 calories and 1 gram of fat, but didn't give the satisfying "mouth-feel" of great ice cream. I'd rather indulge in the real thing. -AE
FOR SOPHISTICATED PALATES: Gelato Gilberto, The Summit
I am a self-professed Italy freak. I speak the language un po, I travel there whenever I can, and even my home décor speaks to my love of all things Italian. Until now, I have been disappointed that the most wonderful of all Italian sweets, gelato, was hard to find in the United States. Sure, you can get ice cream billed as gelato, but it rarely displays the intense flavor and freshness of the Italian version. Now there's Gelato Gilberto, and I am no longer disappointed. This is the real deal. Owners Justin and Kristin Gilbert use fine ingredients to create an uncompromising taste of Italy in Louisville. On recent visits, I have sampled Pistacchio (rich with roasted Sicilian pistachios), Yoghurt (reminiscent of cheesecake), Frutti di Bosco (mixed summer berries, bursting with freshness), Limone (more tart than sweet, as lemon should be), Gianduia (dark chocolate with smooth hazelnut) and my very favorite, Vaniglia. It floods your mouth with the intense flavor of vanilla without being cloyingly sweet. This decadence comes at a price (almost $5 for a grande size), but it's worth it. We'll be back, again and again. -AE
MORE GELATO: Café Glace, 2716 Frankfort Ave.
While suburbanites flock to Gilberto, Crescent Hill residents have been quietly enjoying the similar pleasures at Café Glace since last autumn; brothers Aziz and Azim Ghazipour are Iranian, not Italian, but their fancy, imported-from-Bologna Carpigiani gelato machine is the real thing, and as another self-professed Italy freak, I'm a regular customer. A dozen flavors change frequently; favorites include Pink Grapefruit, a grown-up ice cream that's more tangy than sweet; silken Mocha, gently coffee-and-cream; and a luscious, exotically scented Tiramisu. A small cup is only $2.35, and it's so rich that a little goes a long way. -RG
CUSTARD'S LAST (TWO) STAND(S):
Twyster's Frozen Custard, 10490 Westport Road
Starlight Frozen Custard, 4169 Shelbyville Road
So what makes frozen custard different from any other kind of ice cream or gelato? Isn't all ice cream basically "frozen custard"? The difference lies in the freezing process, I'm told: Frozen custard is dense, with less than 15 percent air, while many ice creams incorporate up to 65 percent of the stuff, enough that in theory you should be able to breathe in it. Twyster's Frozen Custard, and its cousin, Starlight, offer rich, dense vanilla and chocolate frozen custards that make unassuming backdrops for a variety of toppings and mix-ins. At Twyster's, we tried a traditional chocolate shake and the "Peanut Butter Luster." The shake was creamy but not especially "chocolate-y" – if you are a chocoholic, ask for your shake with chocolate custard rather than the standard vanilla. The sundae struck a nice balance between the creamy, warm peanut butter, cool custard and ripe bananas. -AE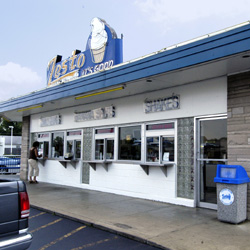 Photo by Robin Garr: Zesto
HOOSIER ROADFOOD:
Polly's Freeze, Ind. 62, near Lanesville, Ind.
A.J.'s Coffee 'N' Cream, 9280 Ind. 64, Georgetown, Ind.
Zesto, 2740 Charlestown Road, New Albany, Ind.
Back in the days when Highway 62 was the main road from Louisville to Evansville, Ind., and points west, Polly's Freeze was a welcome oasis to travelers along the highway. Now this pleasant roadside stand with its shady picnic groves sits a mile off I-64, and only locals and Polly's-bound pilgrims find their way. But there are plenty of those. In some 50 years dishing up ice-cold summer treats, burgers and sandwiches, Polly's has built a fanatical following. Frankly, the soft-serve ice cream is on the bland side – a chocolate milkshake was hard to tell from vanilla with your eyes closed, and a Brown Derby cone definitely gained a dimension from its hardened chocolate shell. But a trip to Polly's is still like a ride back to the '60s, and I love it. A.J.'s Coffee 'N' Cream, at the same I-64 exit, is a more recent arrival, and quite frankly, the food is better. Gyros ($4.71) are as good as you can get in Louisville, and hand-dipped ice cream is available, although it's store-bought, not homemade. Pale-green Mint Chocolate Chip was satisfactory, and a small chocolate shake was rich, thick and deeply chocolate-y, with a dab of whipped cream on top. Zesto, which is as much an old-time favorite in New Albany as, say, Homemade Ice Cream and Pie Kitchen is in Louisville, is still going strong (it also has a newer sister location on Lewis and Clark Parkway in Clarksville). Zesto's old-fashioned walk-up windows resemble Polly's without the shade trees, and it offers a huge variety of icy confections including both swirl and hand-dipped ice creams, frozen yogurt and more. There's even a dish called, inscrutably, "Dirt Sundae," which might make a good combination with a topping at Polly's called "Blue Goo." Perhaps you have to be a Hoosier to get these jokes. I'm sticking with Zesto's hand-dipped ice cream: A Praline-and-Pecan cone ($1.79) was first-rate. In fact, I think I'll go back for another right now. -RG
SPEAKING OF: Homemade Ice Cream & Pie Kitchen (Various Locations)
This old-time Louisville outfit has been a local favorite for at least a generation, and its made-on-the-premises ice creams – and yes, pies, too – earned a great reputation the old-fashioned way. It's gone corporate in recent years, though, expanding to a local mini-chain with three locations under the ownership of cheesecake king Adam Matthews. There's no way to put this but bluntly: It has lost its edge, and both the ice cream and pies now seem mass-market and commercial. The new location in the old Vogue Theater complex in St. Matthew is attractive, and the ice cream is certainly edible. But with a Graeter's two blocks away and Café Glace just a mile or so in toward town, it's getting harder to justify the expenditure of cash or calories here. -RG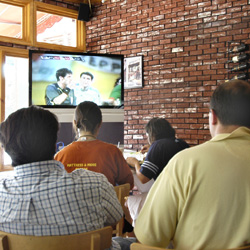 Photo by Robin Garr: Palermo Viejo, the city's only Argentinean restaurant, specializes in beef. Recently, about 40 local Argentines gathered to watch the country's soccer team defeat Mexico in the World Cup.
Palermo Viejo has a way with fire
Of course man (or woman, either) does not live by ice cream alone. You've got to have meat. And when it comes to meat, hardly anybody does it better than the Argentinians. Eat 'N' Blog writer PAIGE A. MOORE checked out the beef at Louisville's Palermo Viejo and files this report:
A man, an open fire, a hunk of meat. It's an image as old as time, destined to be repeated at thousands of Independence Day cookouts. While beef on the grill is as much an American tradition as baseball and apple pie, we can't hold a long-handled match to Argentina. Argentines have a love affair with beef, and they eat more of it, per capita, than anyone else in the world. The country's European settlers introduced cattle nearly 500 years ago. The animals took to the climate quite nicely and have been happily roaming the Pampas ever since.
The legendary meal in Argentina is asado – meat cooked over an open fire or a charcoal grill called a parrilla. And we're not just talkin' hamburgers here. A traditional asado features several cuts of meat, as well as chorizo sausages and even sweetbreads. (If you don't know, don't ask. Oh, all right, but we warned you: It's the cow's thymus gland. It's good, too.)
Is your mouth watering yet? Are you wondering if Uncle Frank can pull off an asado at your picnic? The good news is you can get a true Argentine meal in Louisville, where the owners of Palermo Viejo have transplanted their family's Argentine traditions to Bardstown Road.
I decided to indulge my inner carnivore with the house special, "La Parrillada," which includes flank steak, Argentine sausage made in-house, short ribs and sweetbreads ($16 for one person, $31 for two). And lest you think it's all about meat, the friend who joined me is a vegetarian, and Palermo Viejo is one of her favorite restaurants, too.
My entrée was brought to the table on a small grill – about the size of a toaster oven – to keep the meat warm and ensure that you fully experience its smoky, charcoal-grilled aroma. The lean cut of free-range beef offered fuller flavor than you get from most steaks. The chorizo sausage boasted lots of heat from flecks of red and black pepper, with a coarse texture you can only get from a homemade link. The short ribs were tender and, while definitely not diet food, not as fatty as ribs I've had elsewhere. And yep, I even tried the sweetbreads.
Palermo Viejo's chimichurri, an Argentine sauce made of garlic, herbs, oil and vinegar or lemon juice – like Italian vinaigrette with a kick – is light yet potent, swimming with large flecks of garlic, oregano and red pepper. I'll have to learn how to make this stuff myself – it's good enough to make you swear off A-1 forever.
After one meal at Palermo Viejo, I understand why Argentina has a love affair with beef cooked slowly over an open flame – and I'm certain the crush I've developed won't go away anytime soon.
Palermo Viejo
1359 Bardstown Road
456-6461
Rating: 93 points