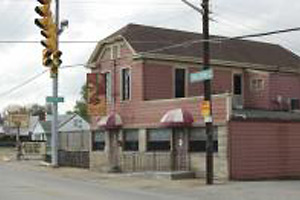 Steinert's in New Albany serves basic pub grub at reasonable prices and is a great place to hear a band or watch IU sports. LEO Photo.
LEO's Eat 'n' Blog with Louisville HotBytes, with Guest Blogger Kevin Gibson
Grover Cleveland would have loved Steinert's.
Steinert's Grill and Pub (aka Steinert's Tavern) looks like pretty much any other neighborhood restaurant/bar, tucked into a largely residential area at the intersection of Charlestown Road and Silver Street in New Albany.

But Steinert's has a long and interesting history, having endured tornadoes, floods, the Depression and Prohibition, having been handed down through five generations of the Steinert family. Founded in 1883 (yes, Steinert's was doing business before Grover Cleveland was elected president) by German immigrant Michael Steinert, it has seen six different locations, finally settling into its current spot in 1938.
The notorious 1917 tornado destroyed one location – a photo reportedly still exists in New Albany's city directory of Michael Steinert Jr. standing in front of a pile of rubble and glass that only a day before had been his thriving restaurant business – and Prohibition forced the family to turn it into a grocery store/restaurant for several years. Still, it endured.
Today, Steinert's, with its signature horseshoe bar in a beer-sign-covered atrium area smack in the middle of the place, continues to serve basic grub at great prices, while also doubling as a club, with live music several nights a week, and even a sports bar, as TVs adorn the walls and typically are showing ESPN or Indiana University sports.
On a recent visit to Steinert's to hear local band the Rumors, my friend Kirk and I decided to feast on the tavern's concise menu (one laminated page, front and back), which features standard fare like nachos, pizza, fish, burgers, chicken strips and the like. One of my favorite Steinert's items is the chicken wings, so we started there.
Let me say right up front that these are not your standard wings – they are whole wings, marinated and then grilled, with a peppery hot sauce that isn't quite buffalo, yet is spicy enough to be worth the effort. For $6.95, we got five wings (which equals 10 of the normal separated "wings" most restaurants serve), a mound of celery and plenty of ranch and chunky bleu cheese.
I can sum up these wings in a single word: messy. Do not wear your Sunday best if you intend to order these things; and do request plenty of extra napkins. On this particular trip, the issue was exaggerated slightly as the wings weren't grilled quite as crispy as they had been in past visits, making them a bit slippery and hard to handle. (Those grill marks make excellent grips, mind you.)
Kirk, halfway through his second wing, muttered, "It's like performing surgery." Well said. Nevertheless, they were delicious as always – just be prepared to do a little extra work for the succulent payoff.
Moving on to dinner, Kirk decided on the signature Steinert's burger ($5.95), while I ordered a 12-inch pizza pie at the recommendation of our server, adding pepperoni, mushrooms and Vidalia onions for a total of $10.95 ($7.95 plus $1 per topping).
The burger was of fair size and relatively basic, slightly overdone but solid, and dressed with lettuce and a huge tomato slice. He also got a mountain of french fries to help balance out the substantial meal. (Steinert's doesn't skimp on its portions; I once had the grilled cheese, and it was nearly an inch thick.) If I ever order a burger, however, I'll likely ask for medium rare, as the edges on Kirk's burger were a bit on the crispy side.
My pizza was a pleasant surprise – crispy crust, heavy on the mozzarella, and plenty of toppings (although when my friend Ben joined us later, he balked at the onions). The pizza reminds me of the pies made by a former Louisville and Southern Indiana staple, Pasquale's Pizza. Light on sauce and cut into squares instead of pie slices, the pizza was also sprinkled with oregano and other Italian spices, a la Impellizzeri's.
And while it was a relatively thin pie, it provided plenty of substance – once I was full, I took the rest home. My girlfriend had a couple pieces as a snack that night, and I got two small meals for myself out of the leftovers. Not bad for 11 bucks.
I'm not sure exactly when Steinert's started doing pizza and wings, but I feel certain Grover Cleveland would have been proud. And if you find yourself in New Albany with a hunger for good pub grub, or you'd like to hear some music or watch a game, this could be the place for you.
Steinert's Grill and Pub
2239 Charlestown Road
New Albany, Ind.
(812) 945-8827