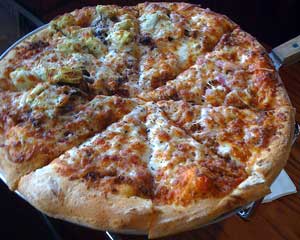 If you've noticed a little restaurant do-si-do around the corner of Frankfort Avenue and Cannon's Lane, here's the story: After Chef Amber McCool closed her Patron restaurant (destined for eventual reopening downtown, McCool has promised her fans), in the spring of w010 the old Boombozz Pizza moved down the block into the Patron's old quarters.

So the new Boombozz is the old Patron, across the street from the old Boombozz, which was actually the second Boombozz. Let's pause for a little history here: Back in the '90s, pizza guru Tony Palombino opened the original Tony Boombozz pizza in the tiny St. Matthews building that now houses Kayrouz Cafe. (That's not the old Kayrouz, it's the new Kayrouz.) He moved to the Cannons Lane quarters a few years later and has become a fixture there for a decade.
Over the years, earning local popularity for a classy, creative style of pizza that's won him tons of awards in national and international competition, Boombozz – er, Palombino – has expanded the concept to its current list of four properties, in St. Matthews, Jeffersontown, Westport Village and Louisville's Highlands. The last two boast the mini-chain's new "Taphouse" concept, blending pizza and excellent beer in a sports-bar setting with high-tech silvery overhead beer delivery tubes a proprietary "ice bar" to keep your frosty mug cold (if you want it that way).
Although the Patron's quarters aren't all that much larger, but the move is definitely an upgrade, turning the Crescent Hill-St. Matthews Boombozz into a smaller version of the Taphouse, with a good choice of beer but a smaller selection of taps and no ice bar.
Beers range in price from $3.75 for BBC "Boombrew" to $4.50 for seasonal draught (currently Browning's refreshing Helles lager). Domestic bottled beers are $2.99, and there's a selection of craft, import and local bottled beers. A simple wine list is also affordable, priced from $16-$21 a bottle, $3.95-$7 a glass.
Boombozz does offer a decent selection of Italian-style goodies beyond pizza – toasted ravioli, calzones, pasta and sandwiches – and some not-so-Italian munchies, too, if loaded potato nachos or a ration of wings suits your fancy.
Pizza is their core competency, though, with an extensive pizza menu that includes both Boombozz's "Famous Creation" pies and "Classic favorites," building your own from a broad selection of sauces, meats, veggies and "gourmet toppings" on thin crust or whole wheat.
"Can't decide?" the menu invites. "Go side by side," dividing your pie half-and-half. We went for the medium ($14.99), with the Quattro ("Four Seasons") on one side, and a standard Italian sausage and onion pie on the other.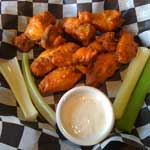 Buffalo wings
First, though, we warmed up with a ration of Buffalo wings ($7.99), and a cool pint of a local microbrew, Browning's golden Helles lager ($4.25), to cool back down. Ten wings, a good mix of drummies and middle sections, were crisp and spicy, coated with a bright red hot sauce that I'd rate as three-alarm heat. They're served on black-and-white-checked wax paper in a plastic basket with crisp celery spears and creamy ranch dressing.
The pizza came on a thin crust with a puffy Italian-bread edge. The Quattro contains a topping for every season: Artichokes, prosciutto, portobellos and sausage. On the other side, sauteed onions blended with aromatic Italian pork sausage, redolent of fennel.
Boombozz is our go-to pizza for home delivery, and it's mighty good even after a ride in the insulated box; maybe better still when re-heated in the toaster oven the next day. But it's never better than sizzling from the pizza oven on the premises. It's definitely worth making Boombozz your eat-in destination as well as your take-out option.
Dinner for two, including the wings, the pizza and a couple of artisan brews, came to $32.34, plus a $7 tip.
Boombozz Famous Pizza
3400 Frankfort Ave.
896-9090
boombozz.com
facebook.com/boombozzfamouspizza
Boombozz Taphouses are also at Westport Village, Westport Road at Herr Lane, 394-0000, and 1448 Bardstown Road, 458-8889, and Boombozz Pizza Bistro, 12613 Taylorsville Road, 261-0222. An Indianapolis location is coming soon.