If you're the least bit interested in the Louisville dining scene, you know how many of our vibrant local restaurants have been struggling since the Covid-19 pandemic brought strict, but necessary, restrictions starting last March.
Things may have looked a little better during the summer when good weather invited patio dining and improving case rates fostered slightly loosened restrictions including resumed dining in with limited, socially distanced seating.
But the expected autumn Covid spike brought about the return of strict rules. On November 18, Governor Andy Beshear announced that Kentucky bars and restaurants would have to discontinue indoor service from Friday, November 20 through at least Sunday, December 13, assuming the contagion numbers have eased by then. Beshear said the order was a "tough but important step" to counter the growing pandemic and keep Kentuckians safe.
Is there anything that all of us who love local restaurants can do? I suppose we could try complaining, but that hasn't worked with the governor so far, and with good reason: To be fair, restaurant indoor dining is one of the few pandemic activities, other than loud singing in church – that fosters viral spread through extended unmasked interaction. Let's just do it, folks.
So how can we be effective? We can still support our local restaurants, and we can do it a lot. Before any more old favorites join Uptown Cafe, Harvest, Rye, now Couvillion, and so many other victims of the hard times in permanent closure, let's support them with our dining money.
No, we can't dine in. But just about every eatery that's still open in town is offering takeout and delivery. Many of them have easy online ordering forms, and many will bring your prepaid order out to the car in a no-touch transaction. Bring it home, and bring a drink or two home too, under Kentucky's newly permissive takeout regulations. Plate it on your own dinner table, enjoy it, and then do it again.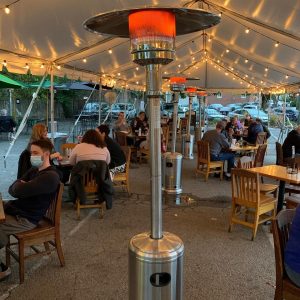 What's more, we might not be able to eat inside restaurants, but we can still eat on their patios and outdoor dining areas. Yes, the weather is turning cold, but a typical Louisville winter still brings mild spells. More important, tons of restaurants are installing powerful patio heaters to keep the outdoor spaces warm (see El Mundo photo at the top of the page); and some, like Cuvee Wine Table, also offer heated single-use blankets! Some are adding overhead tents to keep the winds down (although walled tents look too much like indoors. They block airflow and thus are verboten).
So carry it out – that's better than using delivery services that may charge the restaurant a fee. Come, sit down in a warmed patio. Be sure to tip well, and direct a little extra back to the gang in the kitchen. Your servers and the kitchen crew need it right now. Also consider buying restaurant gift certificates for later use by you and your friends.
Also, if you can, consider making a donation to organizations that help troubled restaurant workers. APRON Inc. is a personal favorite, but The LEE Initative's Restaurant Workers Relief Program is good to support, too, and the new Adopt A Server Louisville group looks like another good way to help.
But do what you can, one way or the other, and #StrongerTogether we'll hope to see our famous restaurant scene make it through this hard winter.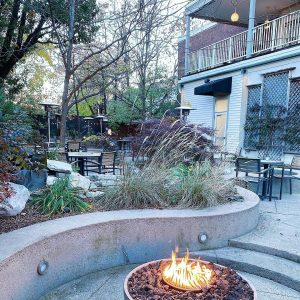 Now let's go eat! If you're looking for specific restaurants or bars with heated patios? This is @City Concierge Louisville's comprehensive list. If you'd like to suggest additions or changes, please message Laura Wallace of City Concierge Louisville with updates. If you find this list useful and want to offer Laura a tip, you'll find her tip jar at Venmo:LauraisLouisville
@City Concierge Louisville's list of Restaurants and Bars with Heaters on their patios
Monday, November 23 edition. Check the City Concierge Louisville Facebook page for frequent updates.
Agave and Rye, 426 Baxter Avenue, Mon-Sun 11-11
Ainsworth Louisville, 3929 Shelbyville Road, Mon-Sun 4-10
Barn8 at Hermitage Farm, 10500 W Hwy 42
Goshen,Wednesday-Sunday 4pm-8pm
Blind Squirrel-592 N. English Station Road, Mon-Sun 11 a.m.-11 p.m.
Boombozz Westport Village,1315 Herr Lane 11-9 Mon-Thurs, 11-10 Fri-Sat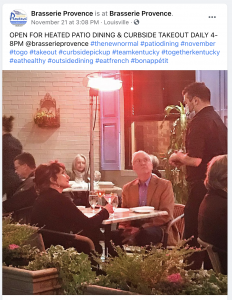 Brasserie Provence, 150 N. Hurstbourne Parkway, Mon-Sun for dinner 4-8
Brick House Tavern and Tap, 871 S Hurstbourne Parkway, Mon and Thurs 12-10, Tues-Weds 12-9, Fri-Sat 12-10
Brooke & Billy's Bites Bourbons & Brews, 751 Vine Street, Lunch Tue-Fri 11am-2pm
Dinner Tue-Thur 5-8, Fri-Sat 5pm-10pm, closed Sun-Mon
Bungalow Joes-Louisville, 7813 Beulah Church Road, Mon-Sun 11-10
BurgerIM, 3733 Lexington Road, Mon-Thurs 11 a.m.-8:30 p.m. Fri-Sat 11 a.m.-9:30 p.m. Sun 11 a.m.-9 p.m.
CASK Southern Kitchen & Bar, 9980 Linn Station Road, Tue-Sat 11-9
Cheddar Box Too, 109 Chenoweth Lane, Mon-Fri 8-2:30
Chik'n and Mi, 1765 Mellwood Avenue, Dinner Mon-Sat 4-10, Brunch Sat-Sun 10-3
Chill Bar Highlands, 1117 Bardstown Road, Mon-Fri 2-12, Sat-Sun 12-12
Christmas Morning Cafe, 2359 Frankfort Avenue, Wed-Sun, 8-2
Chuys 104 Oxmoor Court,11-8 Sun-Thu, 11-9 Fri-Sat
Ciao Ristorante, 1201 Payne Street, Mon-Sat 11-10 p.m.
Come Back Inn, 909 Swan Street, Tues- Sat 4:30-8:30 p.m.
Copper and Kings, 1121 E. Washington Street, Wed-Thu 5-9, Fri 5-10, Sat 12-10, Sun-12-6
Cultured 1007 E. Main Street, closed Mon-Tues, Wed-Thur 12-9, Fri-Sat 12-10, Sun 12-9
Cunningham's Creekside, 6301 River Road, Prospect , Sun-Thur 11-9, Fri-Sat 11-10
Cuvée Wine Table, 3598 Springhurst Boulevard, Tues-Thur 4:30-9:30, Fri-Sat 4:30-10
Decca , 812 E. Market Street, 5:30-9:30 Mon-Sat
Diamonds Pub and Billiards, 3814 Frankfort Avenue, Mon-Sun 11-11
Diamonds Pub Highlands, 630 Barret Avenue, 11-11
Difabios on Frankfort Avenue, 2311 Frankfort Avenue, Thurs and Sun 5-9, Fri-Sat 5-10
Dundee Tavern, 2224 Dundee Rd. Mon -Sun 11:30-11
Eagle, 1314 Bardstown Road, Mon-Thurs 4-11, Fri-Sun 11-11
El Mundo 2345 Frankfort Avenue, Tues-Sat 4-9
Emmy Squared Pizza, 825 E. Market Street, Tues-Thurs 4-9, Fri 4-10, Sat 11-10, Sun 11-9
Equus and Jack's Bourbon Restaurant/ Lounge, 122 Sears Avenue, Mon-Thurs 4-10, Sat -Sun 4-Midnight, closed on Sunday
Fante's Coffee, 2501 Grinstead Dr. Mon- Fri 7 a.m.-8 p.m. Sat-Sun 8 a.m.-8 p.m.
Fork and Barrel, 2244 Frankfort Avenue, Tue-Sat 4-9
Gallant Fox Brewing, 2132 Frankfort Avenue, Tues-Thu 3-10, Fri-Sat 3-11, Su 1-7
Game restaurant, 2295 Lexington Road,Mon-Sat 11 a.m.-9 p.m.
Gold Bar Louisville, 1601 Story Avenue, Mon-Sat 5-11, Sun 12-3
Grape Leaf, 2217 Frankfort Avenue, Mon-Sun 11-8
Harry's Taphouse and Kitchen, 130 W. Riverside Dr, Jeffersonville, Indiana, Mon-Thurs 11-11, Fri-Sat 11-Midnight, Sun 11-10
Holsopple Brewing Company, and Hand pi food truck , 8023 Catherine lane
Beer, Mon-Thu 4-10, Friday- Saturday 2-11
Sunday 1-7
Food
Thursday-Saturday 5-9
Gallant Fox Brewing 2132 Frankfort Avenue, Tues-Thurs 3-10, Fri-Sat 3-11, Sun 1-7
Irish Rover, 2319 Frankfort Avenue, Mon-Thur 5-9, Fri-Sat 12-9
Joes Older Then Dirt, 8131 New La Grange Road, 11-Midnight
Le Moo 2300 Lexington Road, Brunch Thu-Sun 10-3, Dinner Tues-Sun 5-9
Limbo Tiki Bar, 411 W. Chestnut Street, 5-Midnight Tues-Sat
Limon y sal , 10000 Brownsboro Road, Mon-Sun 11 a.m.-10 p.m.
LouVino Middletown, 11400 Main Street ( Douglass Hills), 11-2 and 4:30-9 Tue-Thur , Fri- closed, Sat-Sun 10-2 and 4:30-10 Sat, 4:30-9 Sun
Martini Italian Bistro, 4021 Summit Place Drive, 11:30-9 Sun-Mon
Mercato Italiano 10640 Meeting Street, Prospect, 4-8 Mon-Thurs, 4-9 Fri-Sat, 4-8 Sun
Merryweather, 1101 Lydia Street, 4-12 Weds-Fri, 12-12 Sat- Sun with Brunch 12-3, closed on Mon and Tues
Mesh Louisville, 3608 Brownsboro Road, Mon-Sat 11-8, Sun 10-8
Mitchell's Fish Market, 4031 Summit Place Dr, Mon 4-9, Tue-Thu 11-9, Fri-Sat 11-10, Sun 12-8:30
Nachbar 969 Charles Street, 3-11 Mon-Sun
Napa River Grill, 1211 Herr Lane, Mon-Fri 11-2, and 4-9, Sat 4-9, Sun 10-2 and 4-8
Noche Mexican BBQ, 1838 Bardstown Road, Mon-Thurs 11 a.m.-10 p.m. Fri-Sat 11-11, Sun 9-3 for Brunch and 4-10
Nouvelle Bar and Bottle, 214 S. Clay Street, Sun-Fri 4-10, Sat 1-10
Ostra, 1758 Frankfort Avenue, Tues-Thur 4:30-9:30, Fri-Sat 4:30-10,
Outlook Inn, 916 Baxter Avenue, Tues-Sun 4-10
Parlour on Frankfort Avenue, 2636 Frankfort Avenue, Mon-Sat 4 p.m.-9 p.m.
Pearl Street Taphouse, 407 Pearl Street, Jeffersonville, Indiana, closed Mon, Tue-Thur 11-10, Fri-Sat 11 a.m.-Midnight, Sun 12-10
Pine Room 6325 River Road, Tues-Sat 5-10, Sun 5-9
Pizza Lupo, 1540 Frankfort Avenue, Mon-Sun 5-9
Play Dance Bar Louisville, 1101 E. Washington Street, Thu,Fri,Sat, and Sun 7pm-midnight .
Porcini, 2730 Frankfort Avenue, Mon-Thur 5:30-10, 5:30-11 Fri-Sat, closed on Sundays
Ramsi's Cafe on the World, 1293 Bardstown Road, Mon-Sun 4-11
Red Hog 2622 Frankfort Avenue, Tues-Sat 11-3 for lunch & 5-9 for dinner.
Redlands Grill/ J Alexander, 802 Oxmoor Court, 11-9 Mon-Thurs, 11-10 Fri-Sat
Riot Cafe, 574 S. Fourth Street, 5- Midnight Tues-Sat
River House, 3015 River Road, 11-10 Mon-Sun
ROC 1327 Bardstown road,4-8 , very limited seating , call first .
Roosters, 4420 Dixie Highway, Mon-Sun 11-11
R Place Pub, 9603 Whipps Mill Road, 11 a.m.-Midnight , Mon-Sun
Saints Pizza and Pub, 131 Breckinridge Lane, Mon-Sun 11 a.m.-11:30 p.m.
Sarino, 1030 Goss Avenue, Sun-Thur 5-9, Fri-Sat 5-10
Selena's at Willow Lake Tavern, 10609 LaGrange Road,M-f 11-9, Sat/sun brunch 10:30-2, Dinner 3-9
Shady Lane Cafe, 4806 Brownsboro Road, Mon-Thu 11-3, 5:30 a.m.-8 p.m. Fri-Sat, closed on Sun
ShopBar, 950 Barret Avenue, Mon-Fri 5 p.m.-12 a.m. Sat- Sun 3 p.m.-12 a.m.
Stooges Bar and Grill, 6 a.m.-12 midnight Mon-Sun
Street Grub and Hops, 3922 Shelbyville Road, Mon-Thur 11-9, Fri-Sat 11 a.m.-1:30 a.m. Sun 1-9
Taco Choza, 3922 Westport Road, Sun-Thu 11-9, Fri-Sat 11-10
Tandoori Fusion, 4600 Chamberlain Lane, Tue-Sun 11:30-2, and 5-9
Tea Station Asian Bistro, 9422 Norton Commons Boulevard, Prospect, Mon-Thurs 11 a.m.-9 p.m. Fri 11-10 p.m. Sat 12 p.m.-10 p.m. Sun 12-9 p.m.
Tim Tam Tavern 1022 Clark's Lane , 11-8 Mon-Sun
Toast On Market, 620 E. Market Street, Wed-Fri 8 a.m.-2 p.m. Sat-Sun 8 a.m.-2:30 p.m.
Union 15, 816 W. Kenwood Drive, Sun-Sat 11-9
Varanese, 2106 Frankfort Ave. 5-10 Sun-Thu, 5-11 Fri-Say
Village Anchor, 11507 Park Road, Anchorage, Lunch 11-2, Dinner 5-9, Mon-Sun
Wagner's Pharmacy, 3113 S. Fourth Street, Mon-Fri 8-3, Sat 8-1:30
Wild Eggs, 153 S. English Station Road, M-F 6:30 a.m.-2:30 p.m. Sat-Sun 7 a.m.-3 p.m.
World of Beer, 9850 Von Allmen Ct. 11am-10pm daily
Zanzabar, 2100 S. Preston Street, Sun-Thu 5-10, Fri-Sat 5-11
21st Amendment Tavern, 1481 S. Shelby Street, 4-12
8UP Elevated Food and Drinkery-350 West Chestnut Street-Rooftop- Mon- Thurs 5-10, Fri-Sat 5-11