Wouldn't it be a wonderful thing if every restaurant followed the pay-what-you-can model of The Table in Portland? What if Vincenzo's or Jeff Ruby's, for example, made its menu pricing variable depending on what the diner could afford? Or offered creative alternatives like putting in a few hours serving tables or helping out with kitchen chores? Or invited you to pay your tab forward so someone else could take a seat at the table?
Yeah, I know. Not. Going. To. Happen.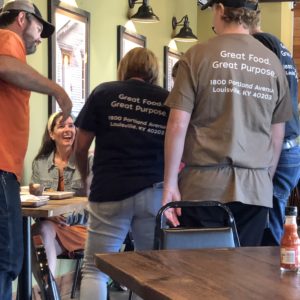 But the Table – and a few other compassionate eateries around the region and the nation – stands as a shining light in a harsh world divided by growing income inequality.
Perhaps this approach is one of the reasons why LEO readers selected The Table as Best Restaurant in West Louisville in this year's Readers' Choice Awards. But it's not the only reason. Add an interesting menu, exceptionally good food from local sources, eager service, and a pretty old brick building that's been attractively renovated.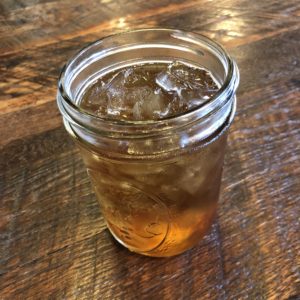 The dining room's vibe is down-to-earth, a mix of exposed brick, rough wood, exposed wooden rafters, and pale-green walls. Heavy rough-grain wood tables are set with flatware in paper napkins; non-alcoholic drinks come in glass canning jars.
The Table describes itself as a non-profit, social entrepreneurship, operating under a pay-what-you-can model that makes it accessible, and welcoming, to everyone without regard to their ability to pay in cash. "Everyone," they declare, "has a seat at our Table."
It's open only for lunch Mondays through Fridays from 11 a.m. to 3 p.m. You're invited to pay the full menu price if that's comfortable for you, or even add, in lieu of a tip, a "pay it forward" bonus toward another diner's meal. Or you may pay less than the menu price, or pay nothing at all if that's where you are right now. And no matter what you pay, you're also welcome to volunteer service time to cover your own share or pay for a neighbor's meal.
No matter what you pay, you'll find the menu surprisingly affordable, and the dishes, while limited to soups, salads, sandwiches and sides, are as creatively imagined and carefully put together as you might expect of a pricey bistro.
Soups are $3 for a bowl, for instance; salads are $5; but you can order any of them in smaller portions for $2. A half-dozen large, filling sandwiches range in price from $5 (for a fancy grilled blended white cheese sandwich with jalapeño tomato jam on onion walnut wheat bread) to $7 (for a dressed smoked chicken sandwich on a cheddar jalapeño bun or a smoked pork sandwich with watermelon pickles and chili mayo on a poppy-seed roll).
Everything we tried treated our taste buds with flavor combinations that sang. Watermelon salad, for instance ($2 for a still-generous small portion) started with a bed of locally grown field greens and red-onion slices, topped with a half-dozen cubes of ripe red watermelon sprinkled with grated peppered farmer's cheese. It all had been drizzled with a tart, flavorful cilantro-lime vinaigrette that kicked up the watermelon and lettuce to make a refreshing and nicely balanced salad.
A summer squash salad ($2 for small order) was impressive, too, although I'd have liked a little more tasty char on the roasted yellow squash chunks. They were plated on chunks of raw, curly-leaf kale, which I planned to leave until I discovered how good it tasted with the sun-dried tomatoes and earthy roasted-eggplant dressing.
Sandwiches continued to impress with thoughtfully created flavor bursts. A pair of meatloaf sliders ($6), pictured at the top of the page, featured fluffy, beefy meatloaf like Mom used to make. Thick slices were perched on good golden-brown brioche buns dressed with a leaf of dinosaur kale, a slice of smoked cheddar that melted into the meat, a smear of red-pepper jelly, and a house-made pickle slice. The meat was the right size for the bun, overhanging the base just a bit, sized to assert its flavor in balance with the cheese and condiments.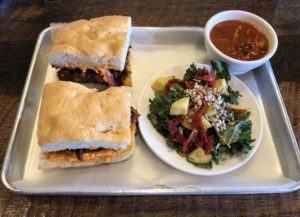 Vegan pepperoni? I had to try this $6 sandwich to keep up with the evolving field of animal-free meats, and whoa! These crisp, chewy chunks really taste like pepperoni! It's made in house from a spice-infused soy-protein base. Could have fooled me, especially with spicy peppered vegan cashew cheese and a fresh basil leaf on herbed focaccia.
Parmesan fries ($2) were first-rate. Thick hand-cut fries, skin on, were fried crisp but not greasy, dusted with grated Parmesan.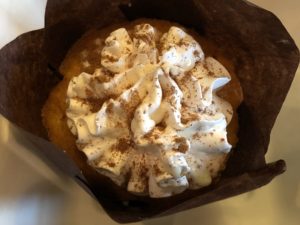 Of course they had to have something pumpkin spice. A cupcake ($3) was surprisingly good, tender and just moist enough, with subtle, not strong pumpkin-spice flavor and a dollop of whipped cream on top.
All these good things came to a thrifty $28.62; we paid another $28.62 forward.
The Table
1800 Portland Ave.
708-2505
tablecafe.org
facebook.com/tableKY
Robin Garr's rating: 91 points.
Noise level: A happy buzz didn't hinder communication during a busy lunch hour. (Average sound was 74dB, the level of normal conversation.)
Accessibility: A tall step bars wheelchair access to the front door, but a ramp and level entrance are available at another door a short way west. The restrooms are accessible.