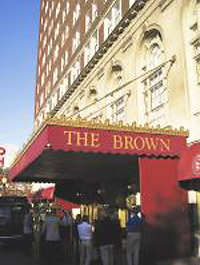 English Grill: The Brown Hotel's English Grill is worth a trip, but try the regular menu. Photo by Ben Schneider.
LEO's Eat 'n' Blog with Louisville HotBytes
(English Grill's pre-theater menu)
If you want to create an impression of class in your restaurant, just drop in a little French.
Unfortunately, some French words aren't easy for English-speakers to handle. Take "prix fixe," which means "fixed price" – a full meal of several courses offered for a set tab. Neat concept. Not easy to spell and pronounce. I've seen it rendered as "prefix" and pronounced as "pricks fix," but nooooo: Make it "pree feese," and you'll hear no snobby Frenchmen snickering at you.
Whatever you want to call it, we invited Eat 'N' Blog correspondent ANDREA M. ESSENPREIS to try it, sampling the pre, er, pri, um, fixed-price dinner at the Brown Hotel's English Grill on the company tab. Her conclusion: You get what you pay for. Better to open up your wallet and let this fine downtown eatery do what it does best for the full price. Here's Andrea's review:
With a toddler in the house, my husband and I don't get to enjoy fine dining as often as we did in our footloose days. However, with our anniversary approaching, we wanted to enjoy a grown-up meal in a swanky environment without breaking the bank. A recent discussion on the LouisvilleHotBytes.com Restaurants Forum brought inspiration: The English Grill at the Brown Hotel offers a discounted three-course prix-fixe menu for $29.
Sounds good, right? As it turned out, this option is a great idea, but it misses a few steps in the implementation.
The first problem came up when we tried to make a reservation for Friday at 8 p.m. The $29 deal is now a "pre-theater menu," offered only before an 8 p.m. curtain time. Fair enough. We rescheduled for an early Wednesday dinner at 6 p.m.
We showed up on time, and the hostess asked us to wait while she finished her phone conversation, a project that took her five minutes or so. Eventually we were seated in plush upholstered chairs at a lovely table for two and presented menus and a wine list. We asked for the prix-fixe menu. The captain encouraged us to order from the regular menu instead, and frankly, it did look a lot more appealing.
But we had a budget and needed to stick to it, so we gently insisted, going for prix-fixe (three courses including salad, entrée – a 4-ounce portion of chicken, beef tenderloin or salmon – and a "chef's choice" dessert), plus a glass of wine each. Whoa! My glass of 2004 King Estate Pinot Noir was a whopping $12, half the price of an entire bottle at the Oregon winery. An amuse-bouche put us back in a good mood. A crisp piece of nappa cabbage was spread with creamy goat cheese and topped by a crisp piece of prosciutto. Bread service was fine, too, but vegetarians beware: The most delicious of the breads in our silver tray was laden with bacon (our server told us that sometimes they use country ham instead).
Unfortunately, things went downhill from there. The salad with "marinated tomatoes" was lackluster, and the tomato had never seen a marinade, not that it would have helped these wan wintry rounds. An inedible chunk of radicchio core turned up in my salad, an unpleasant oversight for a restaurant of this caliber. My husband's beef was cooked medium-rare as ordered, but still seemed dry; and salmon caviar in the sauce did not improve the fishy flavor of my salmon dish. Side vegetables were fine, but the entire entrée seemed more like convention fare than fine dining.
A fresh fig soufflé had caught my eye on the regular menu, but we recalled the captain's warning when our server brought out a tiny sliver of Derby Pie on a large plate with a scoop of vanilla ice cream.
The tab for our "budget" dinner mounted up to $82, with the tip rounding up the toll to nearly $100. Frankly, Louisville offers many superior dining experiences for this price. The English Grill can offer a splendid dining experience if you're prepared to shell out real bucks for it. But take my advice, don't bother with the "pre-theater," prix-fixe menu. It's no value.
The English Grill's pre-theater dinner
Brown Hotel
Fourth and Broadway
583-1234
www.thebrownhotel.com/dining.php3