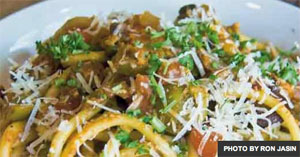 The Blind Pig's Spaghetti Puttanesca
LEO's Eats with LouisvilleHotBytes
When I heard The Blind Pig in Butchertown, just down the street from that bacon-makin' factory the neighbors are trying to run out of town, was ready to open last month, I was right there. And so were about 5,000 other foodies who've kept this charming new spot slammed since Day One.
Now, The Blind Pig isn't only about pigmeat, although in honor of its historic neighborhood, partners Joseph Frase (once of El Mundo) and Michael Grider do offer a bill of fare with plenty of pork dishes featuring locavore meat, sausages and bacon made in-house.

Count 'em: Cassoulet with homemade garlic sausage ($19), fresh pork sausages with braised Savoy cabbage ($12), even a ration of house-made chorizo in a pan-roasted cod dish ($14) that gives new meaning to "surf 'n' turf." But wait, there's more. Rillets ($6.50), a pork paté appetizer on Blue Dog bread topped with tiny cornichons. Three of the six sandwiches feature pork or bacon, including the intriguingly named bacon butty ($8.50), a rasher of bacon on Blue Dog bread slathered with fresh butter.
You may even enjoy — get ready for it — a bacon Manhattan ($10), a wacky concoction of bacon-infused Sazerac rye whiskey with coffee bitters and sweet vermouth. Shaken or stirred?
Actually, the original blind pig has nothing to do with pork, bacon or ham. Nor is it a visually impaired porcine. It's Prohibition-era slang for a place where a person could slake his thirst for alcohol back in the days when alcohol wasn't legal. While "speakeasy" connoted an upscale place where tuxedoed gents might sip champagne from their sweeties' high-heeled shoe, "blind pig" was all about hard times, hard liquor and the blues.
Happily, Louisville's Blind Pig is a far cry from the down-and-dirty model. Like unrelated Blind Pig pubs in San Francisco, New York, Athens, Ga., and elsewhere around our land, Louisville's Blind Pig bears the name with pig tongue firmly in pork cheek.
It's located in a beautifully restored brick Butchertown building now gutted of its six apartments and rebuilt with a high level of environmental consciousness as a charming space with lofty ceilings, exposed-brick walls and old wood, an open kitchen and long, inviting bar.
Akin to New Albany's popular Bank Street Brewhouse & Brasserie and the soon-to-arrive Village Anchor Pub & Roost in Anchorage, it's a "gastropub," featuring creative dishes — small plates, sandwiches and heartier main courses — paired with a well-chosen and attractively priced selection of artisan beers and wines from around the world. (The latter is the work of Jeremy Johnson, general manager and sommelier and one of the more drinks-savvy guys around the local eats scene.)
Gastropub menus go well beyond mere "pub grub," and The Blind Pig is no exception. The bill of fare includes appetizers and substantial salads ranging from $6 (for a mixed greens salad with bacon croutons and Dijon vinaigrette) to $8.50 (for oyster fritters in champagne batter or a smoked duck-breast salad with walnuts).
A half-dozen sandwiches, all served with seductive pommes frites, are $8 (for a grilled marinated Portobello sandwich with goat cheese and red-pepper rouille) to $9.50 (for a Kentucky bison patty melt on sourdough with grilled onions, Swiss and garlic aioli on caraway rye, or fresh cod fish and chips).
The main-course list comprises seven dishes from $12 (for spaghetti alla puttanesca or fresh pork sausages) to $19 (for a stick-to-your-ribs cassoulet of white kidney beans slowly simmered with house-made garlic sausage and duck confit).
Twenty beers, eight on tap, come from across the country and around the world. I'd like to see a few local microbrews, and I'm told they're coming. Meanwhile, we've been happy with pints of Brooklyn Pennant Ale ($4.50) from the Big Apple; Hobgoblin Brown Ale ($4) and Old Speckled Hen Ale ($4.50) from Blighty; and Three Floyds "Robert the Bruce" Scottish Ale from Hoosier country ($5). Our pal Sarah shared a bomber bottle of Brooklyn Local 2 Belgian Style Dark Ale ($9 for a 750 ml flask the size of a wine bottle). Johnson's wine list features about three dozen interesting choices, highlighted with intelligent tasting notes and mostly priced to sell in the $20-$40 range (many by the glass from $7-$12).
We dropped in on "soft opening" night and found the crew maintaining grace under fire with a huge and happy crowd.
Entree samples were offered as canapes on Blue Dog bread rounds. We enjoyed hot-and-spicy chorizo, creamy pork rillets, a Toulouse-style sausage, an intensely flavored, spicy salmon croquette and an off-menu delight, a buttery bite of roasted pork belly atop a dab of leafy greens.
We liked it so much we came back with our friend Sarah for dinner another evening, and we all left mightily impressed. The white-bean puree appetizer ($6.50) turned the humble bean into a creamy app, with Blue Dog rounds to spread it on. Oyster fritters in champagne batter ($8.50) were airy fresh bites, redolent of the sea, in a light, golden crust.
Spaghetti alla puttanesca ($12) was actually made with fat bucatini in a thick, spicy red sauce with lots of olives. The traditional anchovies were AWOL, but it was still fine. Shepherd's pie ($12) put rich mashed potatoes atop ground lamb and bison, with root veggies. The roast cod and chorizo ($14) made an unexpectedly harmonious combination.
Chocolate creme brulee ($6) was outstanding, deep and complex in flavor. Brown butter tart ($7) proved that it's a gift to be simple. Caramelized pineapple with cinnamon glaze and mascarpone "creme" ($8) didn't send our OMG-o-meter to the top, but the plate went back clean.
With a few pints of excellent beer, the bill for three reached $103.44 plus a $25 tip.
The Blind Pig
1078 E. Washington St.
618-0600
www.theblindpiglouisville.com
Robin Garr's rating: 91 points