The other night, as we rolled across the Sherman Minton Bridge to New Albany for an evening at Brooklyn and the Butcher, it crossed my mind that New Albany is actually a little bit like Brooklyn.
New Albany, like Brooklyn, is a city across a river from a larger city, long ignored by its neighbors, but suddenly awash with excellent new places to dine, drink and have a good time. And as with Brooklyn, crowds are starting to make their way over to check it out.
Brooklyn and the Butcher, an attractive steakhouse in the old Monsch Hotel, was opened in February by Ian Hall, whose Exchange Pub + Kitchen helped kick off the New Albany restaurant renaissance.
The hotel hasn't operated for years, but guests still have plenty of options. An inviting bar fills a good-size room to the right. Downstairs, the cozy Lantern Room offers relaxing sofa space for a small group. The charming patio out back offers an enticing option on mild evenings.
We proceeded directly to the dining room with its soft gray and white wood walls, mixed-style chandeliers, wooden floors and undraped white marble table tops, and settled in with adult beverages from the well chosen wine, beer and cocktail lists. (A $9 Pimm's Cup made a particularly refreshing summer cocktail.)
A recently introduced seasonal menu starts with about 20 small plates from $7 to $21. Non-steak entrees, dubbed "composed plates," are $16 for a house-ground beef burger with steak fries to $36 for a North Atlantic lobster tail stuffed with lump crab.
The "Big Steaks" menu features seven or eight steak from an 8-ounce shoulder tender ($21) to a 28-ounce dry-aged rib eye big enough for two ($70). Make your choice, then "build your plate" from a half-dozen treatments that add from $6 (for Gaucho-style with chimichurri) to $25 (for surf-n-turf with a lobster tail and scallops).
With our food-loving friends Anne and Don in tow, we loaded the table with all manner of goodies, and piled in.
A Caprese salad ($9) was first-rate: Juicy red and yellow heirloom tomatoes were cut in wedges, tossed with shredded fresh mozzarella, drizzled with good olive oil and a little sweet balsamic, and garnished with fresh basil leaves.
Another filling small plate-as-appetizer, warm ricotta ($10) was both simple and seductive: A ramekin of creamy fresh ricotta was kicked up with a hint of horseradish and a dollop of earthy truffle oil, with slices of grilled baguette.
Caesar salad ($7) was crisp and cold, with a good amount of traditional Caesar dressing, topped with thin curls of Parmesan and an offbeat twist, cornbread croutons.
Oysters Rockefeller ($15) were outstanding, five large, perfectly fresh and sweet oysters on the half-shell, showing a delicate mix of flavors – sun-dried tomato, spinach, parmesan and a licoricey hint of absinthe.
About 15 smallish mussels, Moules Marinières ($16), fresh blue mussels, were okay, but the portion seemed puny for the price, and the cream and lemon sauce flavors didn't really snap.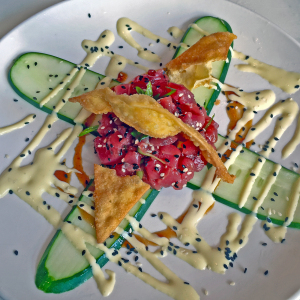 Tuna tartare ($16), on the other hand, got our taste buds singing. Ice-cold chunks of sushi-grade tuna added a crispy fried wonton garnish and mild aioli with just a hint of zippy wasabi, beautifully plated with cucumber slices.
An 8-ounce outside skirt steak ($26) was seared dark on the outside and left hot pink medium-rare in the middle, just as ordered, sliced across the grain into thin strips. Served "Oscar style" for an additional $10 charge, it was loaded with well-picked-over lump crabmeat and rich Béarnaise, with a half-dozen thin grilled asparagus spears on the side.
Roasted cauliflower ($11), made a fascinating meatless main. A generous portion of perfect, snow-white cauliflower florets, just barely cooked through, looked plain at first, but taken in company with gently spicy curried tomatoes, flavorful shishito peppers, fried capers and dabs of Capriole goat cheese, it was a remarkable, filling flavor symphony.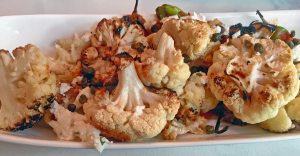 Sides of limas ($5) and brussels sprouts ($8) were good, but we thought they would have been better with a little more cooking time. Sure, crudités can be consumed raw, but I'd rather have cooked veggies for my side dish.
Desserts were right up to the quality of the rest of the meal: A generous slice of Brooklyn's cheesecake ($6) was the real New York deal, light and full of cheese flavor, more tart than sweet. House-made peach ice cream ($6) was heavy and dense, full of the delicious flavor of fresh peaches in season. Big Ass chocolate cake ($8) was a delicious European-style torte, rich without being too sugary and sweet, with a creamy mousse layered with light cake and a hard chocolate glaze on the outside.
Our share of dinner for two came to a fairly hefty $123.93, which may put it a bit above everyday dining; but in fairness, this was an excellent steakhouse meal, including adult beverages and many courses. Our server, Bradley, earned a $30 tip for first-rate service, a stellar blend of friendly-and-casual with attentive-and-professional.
Brooklyn and the Butcher
148 E. Market St.
New Albany, Ind.
(812) 590-2646
brooklynandthebutcher.com
facebook.com/brooklynandthebutcher
Robin Garr's rating: 90 points